Uruguayan FA demand action over FIFA vice-president's Luis Suarez comments
The Uruguayan Football Association have hit back at FIFA vice-president Jim Boyce's comments over Luis Suarez.
By Andres Garavaglia
Last Updated: 12/10/12 9:09am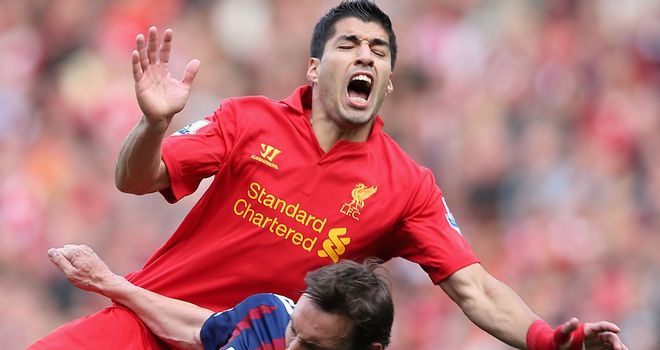 Boyce accused Suarez of cheating when he went down dramatically in the box against Stoke last weekend with the FIFA chief going on to claim diving was a "cancer within the game" that must be cut out.
The Uruguayan FA (AUF) have taken exception to those comments, demanding an investigation and releasing a statement revealing they have encouraged FIFA president Sepp Blatter to intervene.
Thursday's statement read: "The AUF have written to FIFA complaining about vice-president Jim Boyce's comments.
"This kind of comment, coming from a person who holds the position of vice-president of FIFA, are at odds with the principles governing world football and we find the comments unacceptable.
"The Code of Ethics of FIFA clearly states: 'Officials should be aware of the importance of their role and the obligations and responsibilities that entails'.
"Deliberately ignoring his position and role, Mr Boyce has referred specifically to a football player, encouraging and provoking hostility towards them, especially if one takes into account the environment in which these expressions were made.
"So we have decided as an FA that we have lost faith in the vice-president of FIFA and we request the board analyses his behaviour. In addition, we give all our support to the player in this situation."
Change
Liverpool managing director Ian Ayre has already publicly defended the under-fire Suarez claiming that it is vital every player is treated equally.
Suarez himself has acknowledged he may have to change. "As the years go by you realise what you have to correct," said the former Ajax man, quoted in the Daily Express.
"I am 25 and there are things I must improve, like my attitude on the pitch.
"But that is how I have played since I was a kid. I try to correct it but there are times when my anxiety makes me play that way.
"Everyone knows I gesture a lot, talk and protest, and those are things I must work on."