World Cup 2014: Roy Hodgson admits England have a 'tough' task in Brazil
Boss Roy Hodgson admits that he is struggling to "put a positive spin" on England's draw at the World Cup finals.
Last Updated: 06/12/13 9:07pm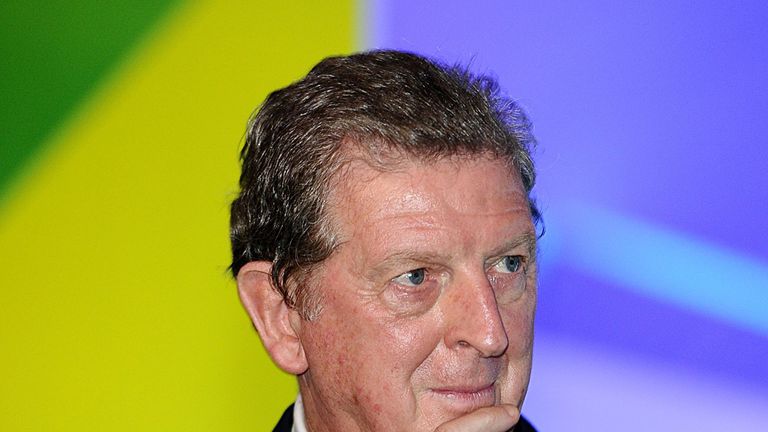 In Salvador on Friday, England were drawn with Uruguay, Italy and Costa Rica in Group D, with the opening match against the Italians in the one place Hodgson did not want to go - Manaus, in the Amazon.
History is also against them. In major tournaments against Italy, Uruguay and Costa Rica, England have played five games and won none.
Uruguay, who reached the semi-finals in 2010 and will have Luis Suarez leading the attack, and Italy, who knocked Hodgson's team out of Euro 2012, are ranked sixth and seventh in the world rankings while Costa Rica are 31st in the world - 18 places below England.
"It's a tough group, there's no doubt about that," said Hodgson, who was at the draw with FA chairman Greg Dyke, in his initial reaction to Group D. "In Italy and Uruguay, it's almost as though we have got two number-one seeds in our group.
"It is quite difficult to put a positive spin on the quality of our opponents because even Costa Rica, the least known, are a very strong team. Jurgen Klinsmann was warning me how tough they are after playing them in qualifying.
"We know how good Italy are because we lost to them in the quarter-finals at the Euros. That game is going to be tough from a climate point of view for both teams. We're both in the same boat."
That all-European game is England's first in the group, taking place in the Amazonian city of Manaus on Saturday, 14 June (kick-off 2am UK time on Sunday).
The hot, humid venue was the one place Hodgson had said he did not want to play, given that it is a five-and-a-half hour flight away from their intended base in Brazil.
However, he drew some comfort from the fact that Italy are also unlikely to be suited to playing in such conditions and that his team have only one trip to Brazil's north west.
The England manager said: "There were not going to be many scenarios where we were going to be jumping for joy.
"I suppose one positive is that we have only got one long trip then the other two to Sao Paulo and Belo Horizonte are relatively short and in the same neck of the woods.
"I am still very positive about the whole affair, as you never know. You do not win football matches on paper.
"You go out on each occasion 11 v 11. If you are well prepared, you have a chance to win all three games.
"We are there, we have an interesting group with three top-quality opponents. It will be a chance to see the north of Brazil. It will be a very interesting experience."
When England were confirmed as the final team in Group D, Dyke drew his fingers across his throat in a cut-throat gesture.
Wayne Rooney, England's striker and talisman, is apparently unfazed about the task facing the country in the first stage of the finals.
He wrote on his official Facebook page: "If we want to be the best, we have to beat the best. Tough group but really looking forward to it! Roll on Brazil 2014!"