Pretty vacant
Peter Fraser watched Stuart Pearce waste his audition to become the next permanent England boss.
By Peter Fraser - Follow me on twitter @SkySportsPeteF
Last Updated: 01/03/12 12:32pm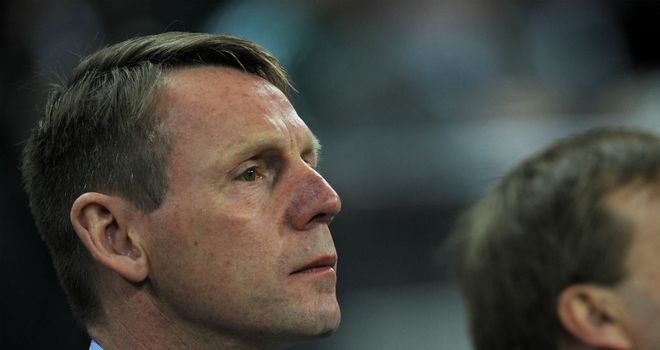 From punk-rocking electrician to England manager. With pub football, those penalties and Basile Boli in between, Stuart Pearce's career has been a memorable story. Sadly, his first game in charge of the national team will not live long in the mind.
The former Coventry, Nottingham Forest, Newcastle, West Ham and Manchester City defender is the epitome of an old-school English footballer. Disciplined, tough, hard-working, respected and principled. But that has proved to be not enough as an international boss.
As the shins of wingers around the world will testify, Pearce usually leaves his mark. But it is unlikely there will be any long-term impact from England's 3-2 friendly defeat to The Netherlands on Wednesday night. Apart from fairly ludicrous events in injury time before the final whistle, it was highly forgettable stuff. Nothing changed.
This will no doubt be an immense disappointment to Pearce, a fierce patriot who it would be interesting to ask of what he thinks of the likes of Danny Welbeck and Adam Johnson mumbling or muting their way through the national anthem. He as good as admitted his regret about the match when speaking to the media after the game at Wembley, confessing he did not yet have the experience for the job beyond Euro 2012.
That indicates Pearce still has aspirations towards managing England at this summer's finals in Poland and Ukraine. But he fluffed his audition under the floodlights at the home of English football. It is only likely to be pub quizmasters who will find the outing useful in years to come.
Pearce is a football fan's man. Having worked his way from an electrician for Brent Council, who had spent his spare time listening to the Sex Pistols and Stiff Little Fingers and featuring for pub team Dynamo Kingsbury Kiev, to playing in a World Cup semi-final, his is a tale any hedonistic park footballer would want to tell. Apparently he used to advertise his services as an electrician in match-day programmes during his time as Forest captain. That Pearce has never made a song and dance about his rise through the football pyramid adds to his appeal.
Uninspiring
The whole nation experienced his lows when failing with that penalty against West Germany in the last four of the 1990 World Cup. Respect grew for a man of absolute morals when he refused to respond to a blatant headbutt from France's Boli at the 1992 European Championship. Likewise, the fist-pumping, eye-bulging, vein-popping celebration which greeted his successful, demon-vanquishing penalty against Spain at Euro '96, and later again against Germany, was replicated in millions of living rooms.
Unfortunately, 49-year-old Pearce's management against The Netherlands did not create such evocative emotions. It was a chance for Pearce to stamp his claim to be the next permanent England manager. But he did not take his chance. He called up some youngsters to his squad, however, they failed to fulfil the opportunity. Welbeck ran around a lot, Chris Smalling put his body on the line, Phil Jones set up Ashley Young's goal, and Fraizer Campbell got a late introduction. Daniel Sturridge was the only player to impress. The unsurprising lesson was that there is naivety in youth as a two-goal deficit was rescued and then squandered to Arjen Robben and his fellow 2010 World Cup finalists.
Pearce's press conferences in the build-up to the friendly had sounded like quite notable job applications. He spoke well of giving presentations to players and his 'own ideas'. Was this really the man nicknamed 'Psycho'? But when it came to match tactics and performance against an admittedly very talented and experienced Dutch squad, there remained a lingering sense of Fabio Capello's underwhelming, uninspiring approach.
Scott Parker was named captain in what was the biggest change. But it again seemed somewhat of a safe choice. The only likely bearing of the decision is that the snubbed Steven Gerrard's mind was made up regarding international retirement after Euro 2012. If Pearce had wanted to make a statement, he should have picked Manchester City goalkeeper Joe Hart, who he signed for the club in 2006, to follow City legend Frank Swift in becoming a shot-stopping captain of England.
Parker is honest, will always provide 100 per cent effort and was rightly voted England's fans' Player of the Year. But he does not seem to be a leader. He appears to prefer to avoid centre stage and at times it was easy to forget he was wearing the armband against the Dutch. He is also not one for the future, as he is just five months younger than Gerrard. Admittedly, Liverpool's European Cup-winning skipper is also not the type to scream and shout orders, but his reputation around the globe inspires respect.
Hart, likewise, is one of England's few world-class players. He could be his nation's No.1 for the next decade and may soon be a Premier League winner. Pearce had the chance to water the seed of an iconic England hero, as Peter Taylor did when appointing David Beckham in 2000. The counter is that Hart lacks experience. But he is not short on confidence and it was his voice which was the one which could be heard booming out of the Wembley pitch above the level of that pain-to-the-eardrum that is the England Supporters Band.
Entrench
It should be recognised that this was just one match and Pearce could not be expected to suddenly produce a world-beating team. But he could have provided something, anything, to offer an argument of his long-term potentials in response to critics. Perhaps a hint at the swashbuckling tactics of the Euro '96 team, of which he was a part, who famously blew away the Dutch would have given some sort of excitement. Instead it simply added to suggestions that nothing in his time as City or Under 21 manager pointed to a successful boss of the senior team. The Harry Redknapp juggernaut continues to roll.
Even if England had rescued an undeserved 2-2 draw following their injury-time fightback against the Dutch, a feeling of apathy would have remained. The heart of England's defence continued to look nervous and shaky, the midfield remained painfully, boringly one-dimensional, and the strikers, missing Wayne Rooney, would probably not have scored if they were still out there now.
Worrying indeed ahead of an attempt to get out of a Euro 2012 group featuring a France team who on Wednesday made it 18 games unbeaten by winning against Germany in Bremen, a Swedish side who were in November only beaten by the Three Lions for the first time in 43 years, and Ukrainian hosts who will enjoy the significant advantage of a partisan crowd.
The issue is that Pearce reeks of the Capello era. He is entrenched in the Football Association camp after working in the backroom staff of the senior team and serving for five years as Under 21 boss, which includes three failures to win the age group's European Championship.
It is seemingly planned that he will one day become a home-grown permanent manager of the England team. 'Psycho's' character and popularity as a person would no doubt mean England fans would share the will of the FA in seeing him become the next boss. But he has himself confessed he is not ready. Maybe it is time to leave the comforting blanket of the FA and build some experience with a return to club level.
The plan, on paper, looked good. But it did not come to fruition. Pearce talked a good game, holds the attributes of an English hero and is a staunch FA man. On the surface it is an ideal, but scratch and there is little beneath - a pretty vacant plan.