Owen's legacy
Michael Owen has revealed he will retire from professional football at the end of the season. Adam Bate wonders whether the former Ballon d'Or winner will get the credit he deserves upon retirement.
Last Updated: 19/03/13 12:06pm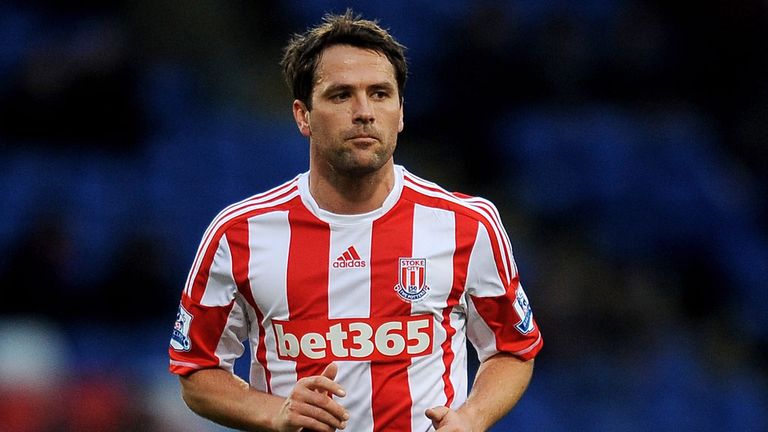 Nobody ever accused Michael Owen of being the most fascinating individual to share his thoughts on Twitter but one comment was revealing. Asked when he had reached his peak, he replied that it was between the ages of 18 and 20. Owen does a decent line in self-deprecating humour and the message was accompanied by an exclamation mark, but it didn't hide the truth that he was stating a fact. The decline of the past decade has seen England's fourth-highest goalscorer become the butt of many jokes. And as he finally brings his career to a close, that feels particularly harsh. At his best, Owen was - albeit briefly - the best.
After all, when Owen won the Ballon d'Or in 2001 it was no fluke. Of course, it was a non-tournament year in Europe and the UEFA Champions League winners Bayern Munich had been effective rather than spectacular. But with that hat-trick in England's 5-1 win in Munich fresh in the mind and a quartet of cups with Liverpool to his name, he was the stand-out candidate. To put this into some context, Owen was named Europe's best player, 36 votes ahead of Raul, by a clearer winning margin than both his predecessor Luis Figo and the inheritor of the title, Ronaldo.
And yet, Owen is seldom regarded in such company. To an extent, that is due to a mistrust of his primary gift of speed. In full flow there was nothing quite like the sight of Owen racing away from his marker or, as he proudly puts it in his retirement statement, "terrorising the best defenders in the world on the biggest stages of all." Many former defenders are in agreement that speed is the asset they fear most in an opponent. But it's curiously easy to dismiss a footballer as being just about pace in a way that would seem ludicrous to condemn someone as just having skill.
Revisionism
As a result, there has been an element of revisionism. In that sense, Owen is also a victim of his own single-mindedness and uncompromising nature. His perceived betrayal of Liverpool by exiting to join Real Madrid and, more significantly, Manchester United, means there is no stronghold, beyond the confines of Wapping and Fleet Street, anxious to sing his praises. Despite being the only Liverpool player to win the Ballon d'Or (Kevin Keegan had left for Hamburg) and the club's seven-time top-scorer (compared to Robbie Fowler's three), he is not adored at Anfield. Not at Old Trafford. And certainly not at St James' Park.
Of course, the mere fact Owen had pitched up at Newcastle by the age of 25 is an indication that the hamstring injuries had taken their toll and his qualities were no longer irresistible to the biggest clubs. Unlike Ronaldo, there would be no second coming for Owen as he lacked the power and skill to compensate for his loss of pace. But he remained a fearsome finisher until the end - an ability all the more remarkable in a player who had possessed so much pace. Like Ronaldo, he had that unusual capacity to steady himself before shooting, despite moving at such speed. Crucially, when the edge deserted him, he couldn't get into those positions quite so often.
Injuries
He knew it. And so, he tried to adapt. Owen's heading improved and he became more comfortable coming deeper for the ball. The man himself insisted he was not naturally injury prone only for the body to betray him time and again. The latter stages of his career were dogged by optimistic claims of still harbouring England ambitions, talk of having 'an important goal in him' and dodgy brochures hawking him out like a timeshare in the Algarve.
One suspects history will be far kinder to Michael Owen than that. He may not have had quite the career either he or we had hoped. And yet, Owen was so many of those things you'd hope for in a footballer. As part of a golden generation that flattered to deceive, here was an undoubted big-game player. Indeed, his record in the biggest of matches is remarkable. Owen scored in four finals for Liverpool, one for Manchester United and all four of the knockout games he played for England. Explosive at his best, he deserves to be remembered as what he is - the only British footballer in the last 30 years to have a legitimate case for having once been the best on the planet. Rarely will this country see a player hit such heights again.