Issues for both teams
It was a tale of two halves at White Hart Lane as Jose Mourinho set Chelsea up to play like underdogs, while Andre Villas-Boas failed to respond to the Blues' improvement after the break..
By Matt Stanger
Last Updated: 28/09/13 9:35pm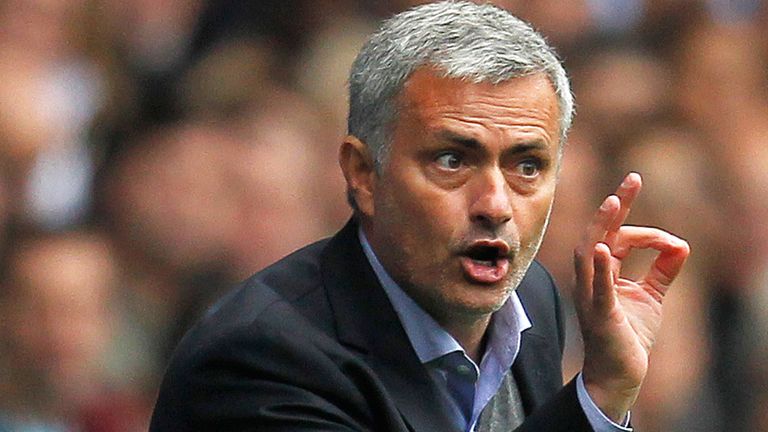 It was a proverbial game of two halves that revealed a great deal about the strengths and weaknesses of both teams and both managers as Spurs had Chelsea on the ropes in the first half before the Blues battled their way back into the match after the break. A draw was certainly a fair result, for as good as Chelsea were in the second period, they were truly dire in the first as Jose Mourinho engendered an inferiority complex in his team with his selection and system.
"They were better than us in the first half," said Mourinho after the match. "In the second half, only one team. And the team was very, very strong until the moment the referee made a big mistake. At that moment we were much better. They were in big trouble. We win everything in the middle, every second ball in the midfield. "
Obvious change
Mourinho's analysis is entirely correct as Chelsea somehow recovered to dominate a midfield battle that seemed beyond them before the break. Although the manager's starting line-up left much to be desired, he admitted his recurring error at half time by introducing Juan Mata for John Obi Mikel and moving Ramires into the middle. The result of that decision saw Chelsea gain more drive through the centre as Ramires, Oscar and Mata demanded more restraint from Paulinho, in particular, and Mousa Dembele. It was an obvious change for Mourinho to make, but it worked to great effect.
AVB error
Contrast the master's changes with those of the apprentice, on which two dropped points can be pinned. There were warning signs for Spurs from the outset of the second half, but Andre Villas-Boas failed to address the evident concerns as his team eventually relied on Fernando Torres' dismissal to gain respite. The Portuguese's first change - bringing on Nacer Chadli for Andros Townsend just after the hour mark - was hugely uninspiring and did nothing to stem the Chelsea tide. Then Lewis Holtby was introduced for Christian Eriksen. Then Jermain Defoe for Roberto Soldado. It was all much of muchness and of little help to Spurs' ailing performance as Chelsea continued to dominate up until Torres' red card ten minutes from time.
The obvious substitution that Villas-Boas absurdly ignored was to introduce the defensive-minded Sandro for Paulinho ten or 15 minutes into the second period when Chelsea's improvement had become apparent. The bigger Brazilian would have been the perfect spoiler to the Blues' renewed confidence but he was bizarrely left on the bench as Spurs were increasingly overrun. Had Villas-Boas made that change, the hosts would have stood a much, much better chance of holding on to three points.
Mata key
While Villas-Boas excelled in being proactive - picking the right personnel and system to generate a strong start - but failed to react to the change in the flow of the game, the opposite was true of Mourinho. The Chelsea boss again left Mata on the bench as Ramires was selected on the right and his tactics exhibited alarming and unnecessary caution, underlined by a much-improved second half. Mourinho has repeatedly expressed his desire to change the way Chelsea have played over the past two years, but if the height of his ambition is to have his team fire long balls to Torres then the Blues will continue to struggle. At least Chelsea relied on that approach to a lesser degree in the second half as Mata provided the missing link between midfield and attack that allowed the visitors to play with more fluency and intent.
Negative
Just why was Mourinho so negative at the start? Before the game he claimed that Spurs are title contenders this year, but should Chelsea really have considered themselves the underdogs in this fixture as the manager's approach suggested? "I think they are a big contender," said Mourinho on Friday. "They were the champions of the market, all of them international players with quality. They have a much better squad and because you win titles with squads - you don't win titles with an especially good player - I think they are much more contenders than they were before."
Although Spurs are clearly stronger than last season despite Gareth Bale's departure, Mourinho's plan to hit early balls to Torres in the hope that Oscar and Eden Hazard could feed off the striker was always unlikely to work. There was one opportunity that almost came off just before half time, when a knockdown fell to Oscar who volleyed straight at Hugo Lloris, but other than that Chelsea displayed a woeful lack of creativity before Mourinho's changes.
Paulinho power
Apart from some sloppy passing, Paulinho was excellent in the first half, driving through Chelsea's sluggish midfield of Frank Lampard and Mikel to play a key role in Spurs' attacks. The Brazilian is a box-to-box throwback - a player who can cover the length of the pitch and is allowed to do so by his manager owing to his impressive contribution and the platform provided by the superb Dembele. While Chelsea's midfielders were statuesque before the break, Paulinho was up and down like a yo-yo and twice came close to scoring after bursting into the box in similar fashion to his late winner against Cardiff. The 25-year-old is bound to score more crucial goals this season if he's allowed to play with such freedom and continues to play with such purpose.
Playmakers
On to Chelsea's No. 10 debate. Is it not somewhat absurd that Mourinho has made such an issue over who should play this role for Chelsea and then chose to bypass the position entirely by encouraging long passes to a solitary striker? The manager has declared that Oscar is his favourite to play No. 10 at the moment, but the Brazilian had little involvement in the first half and it was only when Mata was introduced that Chelsea's attack began to show any sort of cohesion. Mourinho might as well have played Mikel as his No. 10 in the first period for all the use he got out of Oscar.
Weak Walker
I won't be the first or the last to tell you this, but Kyle Walker is a staggeringly average defender. The PFA Young Player of the Year in 2012 has been on a slippery slope ever since and is now a concerning weak spot in Spurs' defence. Walker made a glaring error that led to a goal in this fixture last season when he dallied on the ball and was robbed by Mata, and history almost repeated itself just before half time as Oscar pinched the ball from the right-back when he dawdled on the edge of the box. Walker needs to buck up his ideas and fast.
Striking issue
After another match in which Chelsea failed to score through one of their strikers, the decision to wait on Wayne Rooney instead of pursuing another first-rate forward over the summer looks increasingly foolish. Torres at least showed some desire and effort after the interval and stretched Spurs' back line on two occasions, crossing for Oscar's Gazza moment and then leaving Michael Dawson on his backside before firing straight at Lloris. That his biggest contribution to the game came with his sending off, however, reinforces the point that he is no longer a player Chelsea can rely on.
Yes, it was a debatable sending off, but he already deserved to walk for threatening to hurt Jan Vertonghen's face. Indeed, Torres never has been that player for the Blues and nor does it seem that sticking plaster Samuel Eto'o will be after arriving at Stamford Bridge at 32 and after two years in Russia. Demba Ba didn't even make the squad, which says everything you need to know about Mourinho's faith in him.
Soldado service
Speaking of struggling strikers, Roberto Soldado's iffy start at Spurs has been masked by two match-winning penalties in the first two Premier League matches and a brace against Dinamo Tbilisi in the Europa League. Although the Spaniard assisted Gylfi Sigurdsson's opening goal on Saturday (even that was an under-hit pass) he was largely anonymous until he was replaced by Defoe. In many ways Soldado is a limited attacker, designed to finish chances rather than play any part in the build-up (despite what his assist might suggest). Unlike Alvaro Negredo at Manchester City, Soldado is incapable of playing with his back to goal and holding off defenders, with his dreadful pass completion rate of 27% on Saturday (as well as a poor 77% average thus far) highlighting deficiencies in his link-up play.
Eriksen influence
While Spurs must improve the service to Soldado so that the striker can improve on a relatively low average of 2.3 shots per game (the fourth highest average at Spurs), Christian Eriksen's influence should help create more chances for the Spaniard. The Dane almost seemed an afterthought at Spurs in their summer transfer business, but he has proven to be the most important signing so far as his superb play for the opening goal demonstrated. Eriksen views the game at least two actions into the future, showing incredible foresight to play a neat pass for Soldado to lay the ball into Sigurdsson's path. As The Times journalist Matt Hughes said on Twitter, it's ironic that Spurs wouldn't have signed Eriksen if Chelsea hadn't stolen Willian, who didn't even make the bench on Saturday. One wonders why Spurs were allowed a free run at the Dane when most of the other clubs at the top of the league could also have benefitted from a player of his unquestionable quality.
Midfield matters
The striker situation and Mata's future has dominated the focus at Chelsea at the start of the season but Mourinho's failure to bring in a new holding midfielder is of equal importance. Villas-Boas didn't begin the painstaking task of dismantling the old guard for the hell of it - it was a transition that needed to be undertaken. And yet here we are in 2013, with Frank Lampard and John Obi Mikel still starting at the base of the Blues' midfield. Although Mata's introduction allowed Ramires to drop into the middle and help Chelsea gain control, it's clear that Spurs, Arsenal and Man City are all possess a stronger centre than the Blues this season.
Good point
Villas-Boas claimed that Chelsea will be happier with a point after Spurs threw away the lead, but neither side will be too disappointed after results elsewhere on Saturday. Mourinho and Arsene Wenger have claimed that there are six teams in the title race this season and the first six matches suggest we are in for many more twists and turns in an exciting battle at the top.