Big chance for Baines
With Leighton Baines set to get his England chance in the absence of Ashley Cole, Adam Bate looks at the stats that show the Everton man might well be the better left-back but wonders whether the player will seize his big opportunity...
By Adam Bate - Follow @GhostGoal
Last Updated: 10/10/13 10:02am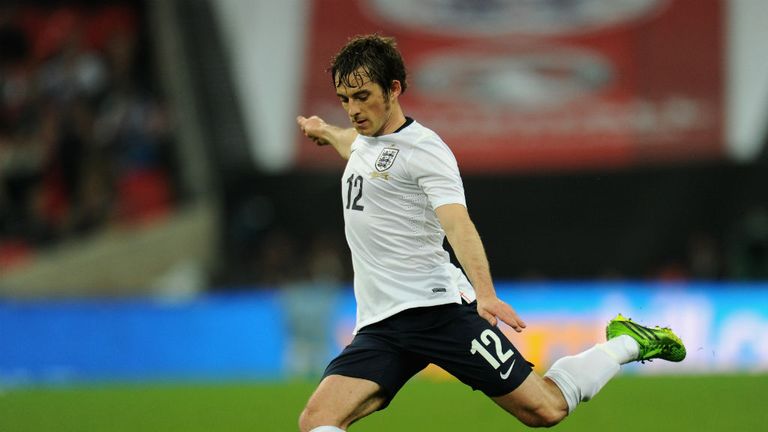 Finally, it's time for Leighton Baines to step up. Ashley Cole's rib injury robs Roy Hodgson of one of his most experienced players going into a match he must win and the enforced change means that Baines will start for England against Montenegro on Friday evening. The Everton left-back will be among the least experienced internationals on the pitch. Given that Baines has been widely regarded as one of the best players in the country in recent seasons, it's a curious state of affairs.
While Frank Lampard and Steven Gerrard have found themselves squeezed into the same midfield and Peter Shilton and Ray Clemence were expected to rotate goalkeeping duties, Baines has had to wait for his chance. A San Marino exhibition here; a friendly in Norway there; and an unused substitute when the trips to Poland, Montenegro and Ukraine came around. Just six competitive internationals so far for the only Englishman named in the PFA XI for each of the last two seasons.
Suddenly, it is all on the line. England need two wins to seal their place at next summer's World Cup in Brazil. It is a time for experience and there can be no denying this is a big game for Baines. Denied a move to Manchester United in the summer and turning 29 in December, he could be forgiven for thinking his best chance of playing Champions League football - a competition Cole has won - is already gone. The biggest game of Baines' career so far was a spirited FA Cup final defeat in 2009. And this time a Wembley win is demanded.
But with Baines, the notion that he is a mere understudy feels like a huge disservice. This chance is overdue and the circumstances could suit his game. The need for three points means that Hodgson might be tempted to abandon his more cautious tendencies, potentially bringing out the best in his attacking left-back. Of course, in this regard, the statistics are astonishing.
Baines created more chances - 116 - than any other Premier League player last season. More than the likes of Juan Mata, David Silva and Santi Cazorla. Many of those were from set-pieces and that could prove an important asset for England, as anybody who saw those stunning free-kicks in the win over West Ham last month would attest. But even from open play, Baines was mixing it with the Spanish trio in the top 10 creators in the country - creating 20 more opportunities than any other Premier League defender.
Of course, the question marks over Baines - at least in relation to Cole - have concerned his defensive capabilities. The Chelsea man remains a supreme athlete and is regarded as a big-game player. Those performances in Champions League finals and the knockout stages of major tournaments are burnt on the memory. His club manager Jose Mourinho is convinced of Cole's status.
"He is the best in England and he is also one of the best in the world," said Mourinho upon his own return to Stamford Bridge in the summer. "I trust him a lot because defensively he is one of the best, with the ball he goes forward and creates goals for the other guys, so I think he is a very complete left-back... He is a perfect player."
Baines v Cole - PL 2013/14
Player
Leighton Baines
Ashley Cole
Tackles
21
13
Interceptions
9
2
Dribbled past by opponents
3
6
Baines may not have achieved defensive perfection in the eyes of the Portuguese coach but his statistics as a stopper of wingers do stand up. He ranked in the top 10 for tackles and the top 20 for interceptions among Premier League defenders last season. This is not just a playmaker from left-back, but someone who is delivering this creative threat as well as doing the basics well.
In the current campaign, he is also outperforming Cole on paper as a pure defender. Not only has Baines made more tackles and interceptions than the Chelsea left-back in the opening seven matches of the season, he has also been dribbled past by opposition players on fewer occasions. Given that this is surely Cole's raison d'être - the epitome of the solid full-back - it is a revealing statistic. Everything points to Baines being a reliable option.
Perhaps this also reflects the progress that Baines has made since being overlooked by Fabio Capello for the 2010 World Cup in favour of Stephen Warnock. "I see him getting better in lots of ways," said David Moyes earlier this year. "His football intelligence and how he can improve his and the team's performances. He always looks to improve himself every day. He has risen to the challenge of being England's left-back. He's turning out to be as good a left-back as there is."
This week gives Baines the perfect opportunity to show the rest of the country whether Moyes is right. When qualifying is over, will we be left wondering why the explosive game-changer was held back for so long... or will we be bemoaning the collective naivety of the nation in believing that a world-class left-back would not be sorely missed? Either way, it's time for Leighton Baines to step up.