Value of a keeper
The analytics advocates on the Footballers' Football Show panel agreed that goalkeepers are an underappreciated breed. But can statistics really be relied upon to measure a keeper's contribution to success? Ian Watson posed the question to former Chelsea performance director Mike Forde.
By Ian Watson with graphics by Sam Kallen
Last Updated: 17/12/13 10:08am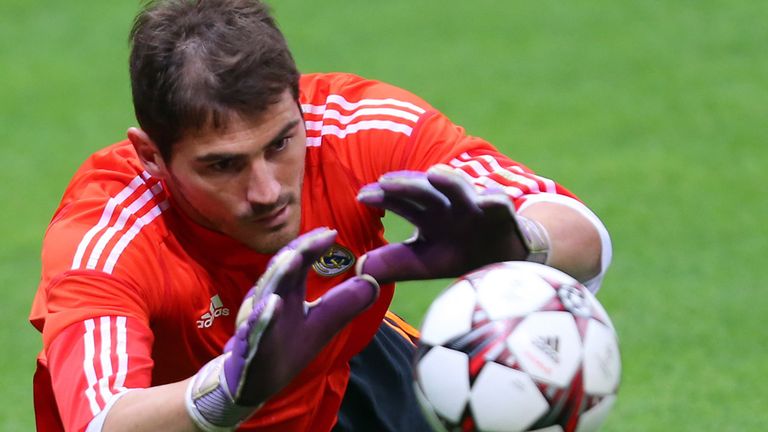 Brian Clough recognised the value of a good goalkeeper to a trophy-chasing side but, in 1977, he was in the minority. When the Nottingham Forest manager wanted to break the club transfer record to buy Peter Shilton, not everyone saw £250,000 as a smart investment.
"I was asked by someone on our board why we should bother to spend so much cash on a guy who might not be in the game for 85 minutes," Clough later recalled, after Shilton had provided the foundation for Forest to win two European Cups, the league title and the League Cup. "Shilton was the deciding factor. I'd have paid almost any price. With Shilton in goal, it gave everyone else more confidence. It spread throughout the side. We were full of ourselves."
The guests on a recent edition of The Footballers' Football Show, Sam Allardyce, Damien Comolli and Chris Anderson, have crunched the numbers and agree with Clough - goalkeepers are too often undervalued.
Anderson - author of The Numbers Game: Why Everything You Know About Football is Wrong and a former goalkeeper himself - pointed out that, on average, a clean sheet in the Premier League will earn a team 2.2 points per game and, of course, guarantee at least a draw. Former Liverpool and Tottenham director of football Comolli stated his belief that goalkeepers are usually "underrated and underpaid" while Allardyce's passion for clean sheets is obvious given West Ham's record of not having won a single point this season when they have conceded.
The presence of a top class goalkeeper in the formula for success was acknowledged by Mike Forde, the former Chelsea director of football operations, when he spoke to SkySports.com.
Forde was a major cog in Allardyce's famed backroom team at Bolton when the club went from the Football League to the UEFA Cup, before he joined Chelsea in 2007. Forde's job alongside seven different team managers involved finding ways of maximising all areas of performance, including analysis; player recruitment; psychology; medical and sport science. In the 38-year-old's six years at Stamford Bridge, the club enjoyed unprecedented domestic and European success, the pinnacle of which came in Munich last year, when Petr Cech played a starring role in Chelsea's Champions League final triumph over Bayern.
"If you landed from Mars and demanded to know what the key is to winning in football, then the number one variable is chance conversion percentage," Forde revealed. "The second-most key variable is shots-saved percentage."
The goalkeeper's prominence in those two metrics is obvious. But the secret to success does not lie in trawling through data to recruit the stopper with the best stats, as Forde explained.
"The key to goalkeeping for me is the shots-saved percentage - inside and outside the box. But those statistics are also a function of the other players in front of the goalkeeper and a function of the team's ability to allow good, average or poor opportunities for the opposition. Are they shooting from 30 yards out with two banks of four in front?
"Even though, on a macro level, it is the second most important correlation to winning, certainly in our research, if you look at it in only a snapshot, then it does not tell you the whole story. But I think that's where many people stop."
Here lies the problem with focusing heavily on statistics to judge goalkeeping performance - context.
Comolli admitted that breaking down the contribution of goalkeepers remains a "massive grey area" and that plenty of work lies ahead if the defensive side of the game is ever to be broken down in the same way that attacking contribution can be measured. As Forde suggests, numbers are not yet a match for the naked eye. But the old-school coach or scout who refuses to rely on anything other than his gut instinct is probably missing a trick.
"Goalkeeping looks like the easiest position to understand the value of an individual but, actually, it remains one of the most difficult because of all the layers you have in front of them. You can't just look at the stats. You've got to look at the video - was an attempt on goal opposed or unopposed?
"Also, a goalkeeper could have two things to do in a game and those things could come in the 89th and 90th minute, so do you judge him on those actions, or has he had a good match because the way he has communicated with his defence has allowed him to manage the game so that he doesn't have to make a vital contribution? You can't quantify that through stats.
"When it comes to identifying talent, some people will claim that stats are more heavily weighted in the decision making process. They are not. Stats, like traditional scouting, bring you to a point but they are not the answer. However, you can get superior insight by combining both and that is the difference.
"The best recruiters and the top coaches will use both because stats, especially with goalkeeping, do force you to ask different questions and investigate deeper. If you just look a spreadsheet, though, it is not going to tell you what you need to know."
Regardless, though, of how deep they dig, what clubs cannot guarantee when they invest in a new recruit is how the player will cope with the different mental demands. The psychological facets of goalkeeping are vast and wide ranging, and there will always be a certain amount of educated guess work involved in judging a potential transfer target. Comolli admitted he had been stung before.
On one previous goalkeeping purchase, the former Tottenham director of football said: "The data was excellent. Really, really excellent. He was exactly what we needed - size, personality, everything. What we couldn't measure is what I call the big team/small team impact with a goalkeeper."
Forde admitted you can never be certain how a goalkeeper who is moving up a level will adapt: "I don't think you can analyse it beforehand. It is always dangerous when you sign a player who has done a lot at a level below because you are never quite sure that they will be able to handle the game management. But you can help him understand more about the demands of the level they are stepping up to."
"I remember David James saying when he moved to Liverpool (from second-tier Watford), he felt he had to show his ability. In that situation as a goalkeeper, you may get to 85 minutes in a game and you may not have done anything. So you feel you have to make contribution and force yourself into making a mistake."
"Any club has to consider that. If a particular goalkeeper had a third of the workload he has been used to, would he be able to concentrate and still be available for the big moments? What other qualities might he need? Does he need to be a better organiser? Does he need to be better with his feet? Distribution is crucial for goalkeepers at the bigger clubs but that aspect of the game is not measured as well as it should be."
Despite the limitations, data and analysis can offer a goalkeeper a competitive edge. When it comes to positioning around the goal, some now ignore the latter half of the age-old adage of 'get in to line, get down the line', because stats have been used as evidence by some to show that more shots are saved when a stopper stays closer to his line, allowing more reaction time, which can be seen as more preferable than narrowing the angles and space to either side of the goalkeeper.
On a more basic level, Forde was also among the Chelsea officials in Munich for the Champions League final last year to see the club reap the rewards of Cech's preparation, which involved analysing every Bayern Munich penalty over a five-year timespan. As a result, the Czech stopper dived to the correct side for every spot-kick he faced in normal time and during the shoot-out, saving three of Bayern's six attempts.
Optimising performance
Forde believes goalkeepers and those involved in optimising their performance do have scope to be more analytical than their outfield team-mates: "Goalkeeping coaches, because of the nature of the position, are more like golf coaches. In a sense, they do engage with the team, but goalkeepers have their own specific training routines and the physical load is different, so the training has to match. One goalkeeping coach may only have three players to work with, whereas an outfield coach may have 23. The mechanics and the coaching dynamics do facilitate greater investigation.
Forde agrees with Comolli, Allardyce, and Clough, but any number ones looking for parity with the Premier League's biggest earners might be disappointed.
"Damien and Sam are right - goalkeepers are often undervalued," Forde said. "If you look at consistently strong championship -winning teams, look at Edwin van der Sar, Joe Hart, Petr Cech, Gianluigi Buffon, Iker Casillas and Victor Valdes; they all performed to a consistently high level and they all had impressive stats."
"But nor should the keeper be the main player, because there are so many factors and layers to consider. When it comes to judging their contribution, stats won't do it. In the end, it always comes down to the individual coach's belief about what it takes to win."