Eden project
As Chelsea prepare to host Manchester United on Sunday, Eden Hazard will be looking to show the world just why so many - including his manager Jose Mourinho - are tipping the wing wizard for global superstardom.
By Adam Bate - Follow @GhostGoal
Last Updated: 16/01/14 9:31pm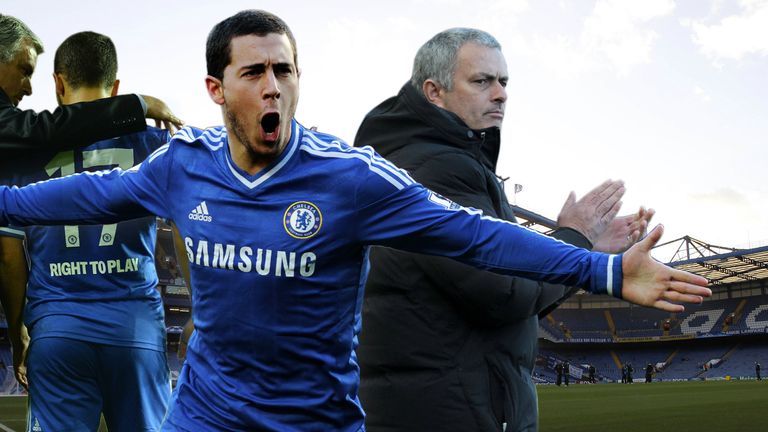 "I am not the kind of guy that makes life easy for the great players," Jose Mourinho told reporters earlier this season when asked about Eden Hazard. "If they are great they have to give more than the others. If they are great they cannot be happy with a few good things they do. As a manager this is the last kind of player that I praise."
Perhaps it is a reflection of just how huge Hazard's contribution has been so far this season that even Mourinho is now being moved to talk enthusiastically about the performances of the Chelsea winger. Another superb display in the win over Hull City at the weekend saw the brilliant Belgian awarded a third successive man of the match award. He has emerged as Chelsea's star man.
"He is not a talented kid any more," explained Mourinho after the win at the KC Stadium. "He is now more than that. He is a player who feels and accepts the responsibility, feels and accepts that a team player is more than a talented player and he has done it without losing his fantastic ability and fantastic talent. The kid is in a very good moment of his career."
Most obviously, there have been the goals, including the opener on Saturday. Hazard has netted nine Premier League goals in the current campaign, all of them coming in his last 15 matches. That return means the 23-year-old has already matched his tally for last year and puts him well clear as Chelsea's top scorer this season, three ahead of Oscar with six.
Then there are the assists. Only Juan Mata set up more Premier League goals than Hazard's total of 11 in the 2012/13 season but with the Spaniard marginalised at Stamford Bridge, the importance of the former Lille man's role as chief creator has increased. Hazard has five league assists. Four have come from open play - that's double the number of any other Chelsea player.
Dig deeper and these assists only reflect the underlying statistics. Most chances created in the Premier League? Hazard with 50. Twenty more than the next Chelsea player. Most completed dribbles in the Premier League? Hazard with 76. That's 19 more than anyone and more than three times as many as the next Chelsea player. Go-to man hardly does it justice.
That dribbling, in particular, is proving almost impossible for teams to deal with. His 13 completed dribbles at Stoke City remain a Premier League high this season, with his 12 against Sunderland at the Stadium of Light, the next on the list. Black Cats boss Gus Poyet summed up the mood after that game by saying: "He was amazing."
He added: "I don't ever remember a player playing against a side I have managed as well as he did - no matter what we did we couldn't cope with him. It's as good as a performance as I've seen from anyone all season. We tried everything - we man-marked him, we put two up against him, three, tried other tactics but there was nothing we could do."
Unstoppable? Mourinho may hope so. For while there is an abundance of attacking midfield talent at Chelsea, there is not another Hazard. And the £32million signing has become even more important in the new system. The aforementioned Mata was used as a playmaker by Rafael Benitez with the defensive structure fortified by the work of the wide men. But with Oscar pressing at a high tempo in central positions, the creative onus lies elsewhere. Chelsea look to their winger.
It's a responsibility further increased by the ongoing travails of the rotating cast of characters occupying the central striker berth at Stamford Bridge. Fernando Torres and Demba Ba currently require more than four hours on the pitch per Premier League goal, while Samuel Eto'o's record is little better, having needed seven hours of action for his three efforts.
Perhaps this explains why Mourinho was initially reluctant to give Hazard any encouragement that might lead to him easing off. Even after that Sunderland win, the compliment came with a caveat. "He has a great talent, but sometimes he does incredible things and after that, he disappears from the game," noted the Blues boss.
It seems that Hazard is a naturally relaxed character. Daily Mail journalist Neil Ashton, well-connected at Cobham, indicated as much in writing: "Hazard is first off the training pitches and first to get away after lunch. There is disbelief that a player with so much ability should choose to lead his professional life this way." Those anxious for him to fulfil his potential will note an uneasy contrast with the tales of dedication that sprinkle eulogies to Lionel Messi, Cristiano Ronaldo et al.
Indeed, the season has not been without incident with Hazard being disciplined in November for being late back from a trip to France and the player recognises that there is much to learn on the field too. "It's true that I do have matches where it's really good and some where it's not so good," he told the Daily Telegraph last month. Sometimes it is variable - there are times when I disappear out of the match - so I'm hoping to improve my work rate, work really hard on that and get more consistency."
Perhaps the penny has now dropped. "He has improved a lot in every aspect," says Mourinho. "He was known as one of the worst trainers. He was training to have some fun. Always having a joke. Not top concentration. He has become - I don't say one of the best - but a good professional in training. He works very hard for the team. He's trying now all the time to be an influence in our game. He's getting this responsibility."
Even now there remains caution. In his post-match interview at the weekend, his demeanour was that of a young man barely able to stifle a giggle. It would be a pity if the joy with which Hazard plays the game should ever be lost but the words of the accompanying Petr Cech - urging Hazard to keep working hard - suggest everyone at Chelsea is conscious of the need for his focus to be maintained.
There is already more than enough evidence of the potential. Sky Sports pundit Gary Neville argued in the summer that Hazard was capable of becoming the best No 10 in the world but stressed ahead of Chelsea's trip to Arsenal that big players need to dominate big matches. Sunday's visit of defending champions Manchester United feels like the moment for Hazard to show why he can be the difference maker in determining the identity of this season's title winner.
Sky Sports brings you closer to the sport you love in 2014 with live sporting coverage from the Barclays Premier League, UEFA Champions League, Formula 1, Super League, The Masters, Ryder Cup and much more. Click here to find out more about how you can upgrade to Sky Sports.