Arsenal alarm bells
Does Liverpool's demolition of Arsenal make them genuine title contenders? As good as they were, Nick Miller doesn't think so. In fact, this was a result that raised major doubts over Arsenal's title ambitions too...
By Nick Miller
Last Updated: 08/02/14 6:31pm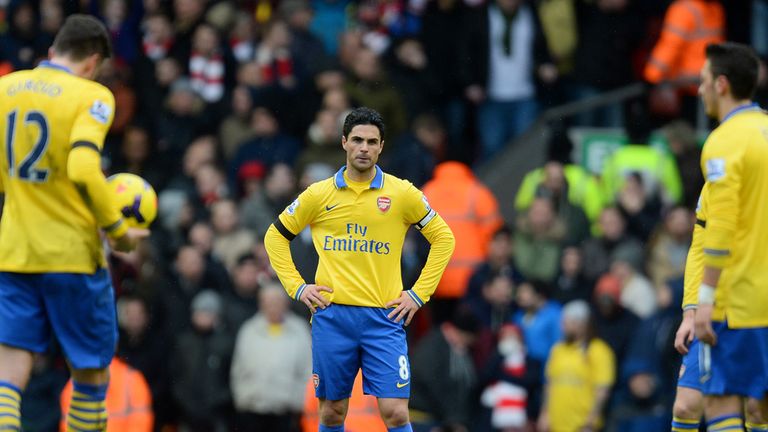 One of the big questions before this game was how Liverpool's defence, which is universally acknowledged to be the big weak spot in their team, would cope with the myriad attacking talents Arsenal have to offer, particularly when they seemingly couldn't cope with Victor Anichebe last week. Their solution was simple - attack so ferociously and so early that they took the defence out of the equation. Who needs the defence when you press so high and hard that the opposition don't have the chance to actually attack? Simple game, this.
That first 20 minutes that won the game for Liverpool was simply astonishing - perhaps the most electrifying spell of football in the Premier League this season. It was relentless, and in truth something of a gamble, because if they hadn't scored the goals to kill off the game, then they could have tired during the latter stages of the game. Of course it did work, and they could afford to ease off a little.
Despite this win - nay, this demolition - putting Liverpool within five points of Arsenal, it doesn't mean they are genuine title contenders, as a few TV pundits suggested they were. "It's not the first time we've been outstanding at home, but everything about us today was incredible," said Brendan Rodgers after the game. "Everything was outstanding. We've been getting better and better. We've got a lot of young players, developing well. But for us it's just about improving."
That's a sensible attitude to take, because they simply do not have the strength and defensive solidity (they won't attack like that every week) to reel in Manchester City, Chelsea and Arsenal. Champions League qualification is looking good, and that should be the extent of their realistic ambitions for this season. With some astute summer additions, next season might be a different matter, of course.
Difference
The big difference between the two sides could be seen in the way they both counter-attacked. "We were caught in slow motion," commented Arsene Wenger, and that was true of so many aspects of their play, but when Liverpool countered they were rapid, direct and decisive, whereas when Arsenal broke they seemed more concerned with playing neat sideways passes than attacking the Liverpool defence. It was like watching a team of Tom Cleverleys.
With that in mind, it's worth considering which of Arsenal's injured players they missed the most. You could make a case for the drive of Aaron Ramsey or the tackling and screening ability of Mathieu Flamini, but the direct running of Theo Walcott was a huge loss. When something different is required, Walcott would provide it, but without his pace they looked ponderous. Indeed, it was perhaps surprising that Serge Gnabry was not introduced at some point, given that he is the closest thing Arsenal have to their England winger while he is absent.
In Walcott's absence, it is assumed that Andros Townsend will take his place as the pacey winger in England's World Cup squad, but on current form Raheem Sterling has more of a case. "I don't think there's a better winger in England right now, absolutely phenomenal," said Rodgers, which is the sort of hyperbole one might expect from a manager giddy after such a win, but Sterling at the very least is providing a convincing case for a spot on the plane to Brazil. He is still a little raw, and despite his two goals he displayed some profligacy (he could/should really have scored four), but since breaking back into the Liverpool side, he has been hugely impressive. It makes the decision to chase the likes of Mohamed Salah and Yevhen Konoplyanka in January look even more strange.
Strange
What was especially strange about Arsenal's performance is that they not only looked sluggish, but they simply weren't helping each other out. On so many occasions their attackers found themselves isolated, lacking in options as they were crowded out by rapacious Liverpool defenders. There was a moment in the first-half when Jack Wilshere picked the ball up on the right edge of the penalty area, and the crowd of Liverpool defenders around him resembled that picture of Diego Maradona with half the Belgium team guarding him (and yes, I know the wall was just breaking up). It basically summed up the respective performances.
So what does this tell us about Arsenal's title hopes? Perhaps not much can be read into losing at Anfield, where Liverpool have made short work of ten previous visitors this season, losing just once. However, if Arsenal lose against United as well, they will probably find themselves four points behind City and Chelsea. Given the strength of those two, you wouldn't back Arsenal to overtake both of them.
Everywhere you looked there were poor performances. At what point does Arsene Wenger consider dropping Mesut Ozil? He is of course a magnificent player and capable of some extraordinary skill, but too often this season he has been anonymous, this game being a particularly bad example of that. Ozil was listless and weak, and while it might be harsh to single out any one Arsenal player as being especially bad when they were all pretty terrible, Ozil being muscled off the ball for Liverpool's fourth seemed to sum things up nicely. There's a strong case for Tomas Rosicky's inclusion from the start now, although it would be a brave move to do so for the game against Manchester United on Wednesday.
There are some players at clubs that it's not a wise idea to criticise in front of their fans. They'll descend on you like the zombies in Shaun Of The Dead and tear your insides out. Well, maybe not, but they won't be happy with you. Think Rafael at Manchester United, John Terry at Chelsea, and Laurent Koscielny at Arsenal. Usually, Koscielny is a brilliant defender - his sense of positioning is excellent, and the number of times he just seems to 'appear' and casually relieves an opponent of the ball is remarkable. However, it's tricky to think of another defender with a greater disparity between his best and his worst.
Clumsy
Usually the bad times are manifested by hugely clumsy errors, but on this occasion it was a complete desertion of his all-round abilities. He played like a man with amnesia, a sharp blow to the head making him think that he was Igor Stepanovs. It was a little like the episode of Tom and Jerry when Tom was smacked on the bonce and the cranial trauma made him think he was a mouse. The only difference being, in Tom and Jerry cartoons, the mouse usually won.
Olivier Giroud's performance, meanwhile, provided more evidence for why Arsenal should have signed a striker in January. Even if he was simply tired after leading their line for the whole season, the lack of a convincing alternative means that if he is off form, Arsenal essentially have a handsome wall playing up front for them, the ball constantly bouncing off it and no real threat provided.
The good news for Arsenal is that after every defeat so far this season, they have responded relatively well. They won five games on the spin after the opening day loss to Aston Villa, three without conceding after losing to Manchester United, and the 6-3 shellacking by Manchester City was followed up with the 0-0 draw against Chelsea, then another five wins. Given their upcoming fixtures, they had better hope this trend continues.