Walcott replacement?
Oxlade-Chamberlain? Townsend? Sterling? Lallana? Who will Roy Hodgson select for his World Cup plans to give England an X Factor in place of the injured Walcott? We look at some of the options...
By Peter Fraser - Follow me on Twitter @SkySportsPeteF
Last Updated: 04/03/14 3:40pm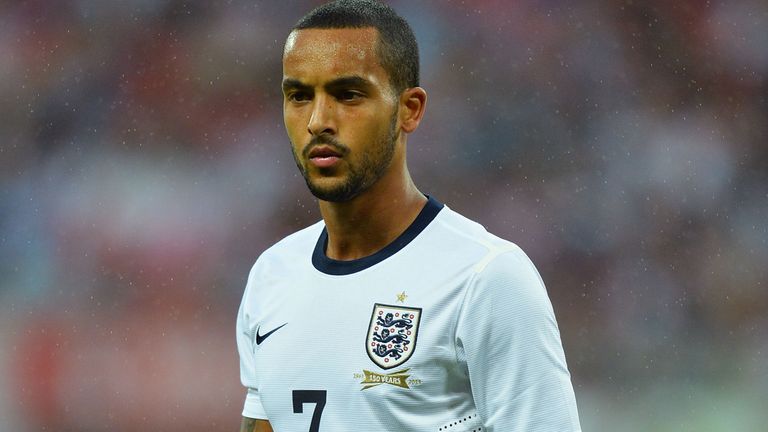 Roy Hodgson will be using the coming friendly against Denmark to edge towards the final decisions for his World Cup squad and one of the toughest choices facing the England boss is to pick a replacement for Theo Walcott.
The Arsenal star would have been almost a certainty for the Three Lions group, and probably the starting line-up, for Brazil in the summer but the cruciate ligament injury he suffered at the beginning of January cruelly ended his season.
Hodgson will therefore be looking for players who can fill that void of explosive pace, experience and versatility in wide areas in his starting XI and is clearly looking to consider his options after naming all of Alex Oxlade-Chamberlain, Andros Townsend, Raheem Sterling, Adam Lallana and James Milner in his enlarged 30-man party to face Denmark at Wembley on Wednesday.
Adam Johnson was also thought to be in contention before missing out but that does not necessarily end his World Cup hopes while the likes of Aaron Lennon could be among the other contenders.
So who should replace Walcott? Here, we look through some of the options. Have your say at the bottom of this article on who England should select and vote in our poll.
ALEX OXLADE-CHAMBERLAIN
Club: Arsenal
Age: 20
International Caps: 13
Sky Bet odds to start first game at the World Cup: 3/1
Oxlade-Chamberlain is the preferred choice of many to start for England against Italy when they begin their World Cup campaign and given his form since he returned from injury in January it is easy to understand why.
The Arsenal man had missed the first half of the season after suffering a serious knee problem on the opening day of the campaign, meaning he has made only eight Premier League appearances in 2013/14, but he has slotted back into the pace of the top flight as if he has never been away.
Three goals in all competitions in February, two of which came from central midfield against Crystal Palace in the league, have demonstrated his attacking threat along with his versatility.
Oxlade-Chamberlain's injury means his statistics are less than other players but he has still managed an assist in his outings, which is more than Townsend and is equal with Milner and Lennon.
Oxlade-Chamberlain already has the experience of having played at Euro 2012 with England and he has revealed his World Cup dream motivated his recovery from injury. Having missed half of the season and with Arsenal boss Arsene Wenger choosing to use him in moderation since his return, he could also be very fresh come kick-off in Brazil.
| | | | | | | | |
| --- | --- | --- | --- | --- | --- | --- | --- |
| Premier League 2013/14 | Games Played | Goals | Assists | Chances Created | Crosses | Shots | Dribbles Completed |
| Alex Oxlade-Chamberlain | 8 | 2 | 1 | 3 | 7 | 5 | 11 |
ANDROS TOWNSEND
Club: Tottenham Hotspur
Age: 22
International Caps: 4
Sky Bet odds to start first game at the World Cup: 6/4
The Tottenham Hotspur man is not the flavour of the month as was the case when England qualified for the World Cup back in October and his fall from fitness and form has raised a few questions about his inclusion in Hodgson's current squad.
A hamstring injury meant Townsend did not play between mid-December and February and he is still trying to feel his way back to the level of performances which tormented Montenegro and Poland in the concluding World Cup qualifiers.
However, if he can get back to his best, as he has been challenged to do by Hodgson, he has already demonstrated what he can do with his mixture of pace and purpose.
At the same time, concerns remain about Townsend's lack of an end product, having contributed no assists in the Premier League this season, and his poor shots-to-goals conversion rate, one goal from 36 shots in the league, also has plenty of room for improvement.
| | | | | | | | |
| --- | --- | --- | --- | --- | --- | --- | --- |
| Premier League 2013/14 | Games Played | Goals | Assists | Chances Created | Crosses | Shots | Dribbles Completed |
| Andros Townsend | 18 | 1 | 0 | 21 | 55 | 36 | 58 |
RAHEEM STERLING
Club: Liverpool
Age: 19
International Caps: 1
Sky Bet odds to start first game at the World Cup: 7/1
Sterling has been a revelation this season in Liverpool's immensely successful Premier League campaign, which has seen Brendan Rodgers' underdogs transformed into title contenders. Having been written off by many at the end of 2012/13, the teenager's turnaround is hugely impressive and has made him a genuine contender for the plane to Brazil.
Sterling's pace and versatility have never been in question but he has added goals (six), including in Saturday evening's win at Southampton, and assists (three) in the league this season after clearly improving with experience and in working with the tutoring of Rodgers.
The Queens Park Rangers youth product is lacking in top-level experience and would be a gamble for the World Cup, having only made one appearance for England's senior side in the Zlatan Ibrahimovic-inspired defeat by Sweden in 2012, but his form was impossible for Hodgson to ignore for his current squad and potentially the summer.
| | | | | | | | |
| --- | --- | --- | --- | --- | --- | --- | --- |
| Premier League 2013/14 | Games Played | Goals | Assists | Chances Created | Crosses | Shots | Dribbles Completed |
| Raheem Sterling | 23 | 6 | 3 | 32 | 49 | 26 | 57 |
ADAM LALLANA
Club: Southampton
Age: 25
International Caps: 2
Sky Bet odds to start first game at the World Cup: 9/1
Lallana is the captain and undisputed star of Southampton's excellent season. He far from disgraced himself when starting in both of last November's friendlies against Chile and Germany, despite both games resulting in defeat, which has led to his selection for the current squad to face Denmark.
He does not have the explosive pace of Walcott, Townsend or Sterling and tends to prefer playing in a more central area for his club, meaning he provides a different, intricate type of option. He offers more control of the ball and with England in the past being accused of lacking an ability to keep possession, that is not a negative.
Lallana has played more Premier League games this season than any of the other players in this list, which could be a concern for his energy levels - particularly in the high-pressing tactics of Mauricio Pochettino's Southampton. But he also averages more assists per game than any of his rivals while he has created more chances and more crosses from open play.
| | | | | | | | |
| --- | --- | --- | --- | --- | --- | --- | --- |
| Premier League 2013/14 | Games Played | Goals | Assists | Chances Created | Crosses | Shots | Dribbles Completed |
| Adam Lallana | 28 | 7 | 5 | 40 | 96 | 34 | 54 |
JAMES MILNER
Club: Manchester City
Age: 28
International Caps: 44
Sky Bet odds to start first game at the World Cup: 7/4
Milner is the oldest and by far the most experienced of the options to replace Walcott but he would also perhaps be viewed as an underwhelming choice. The Manchester City midfielder is hugely versatile, hence his inclusion in the current squad and many in the past, but he is also thought to have his limitations and is not naturally a winger.
The former Leeds, Newcastle United and Aston Villa man lacks the X Factor of some of his rivals for a place at the World Cup and, while he has excellent work-rate, his lack of pace would be a concern. Milner has only contributed one goal from seven shots and one assist in the Premier League this season despite having played 21 games.
A further negative against Milner is that he has fallen down the pecking order in Manuel Pellegrini's plans at City this season to mean 14 of his appearances have come as a substitute, which in part explains his poor statistics.
Milner, though, has rarely missed out on Hodgson's squads and started against Chile. He is dependable and brings the experience of having played in the UEFA Champions League as well as having won a Premier League title.
| | | | | | | | |
| --- | --- | --- | --- | --- | --- | --- | --- |
| Premier League 2013/14 | Games Played | Goals | Assists | Chances Created | Crosses | Shots | Dribbles Completed |
| James Milner | 21 | 1 | 1 | 14 | 46 | 7 | 13 |
ADAM JOHNSON
Club: Sunderland
Age: 26
International Caps: 12
Sky Bet odds to start first game at the World Cup: 12/1
The former Manchester City man's career appeared to be falling apart after moving to Sunderland but he has been one of several to benefit since the arrival of Gus Poyet at the Stadium of Light. That meant it was a slight surprise he was not selected for the squad to face Denmark.
Defeated Capital One Cup finalist Johnson has not played a game for his country since moving to Sunderland in the summer of 2012 and he was last in a squad in the October of that year when he was an unused substitute in a 1-1 draw in Poland. But his performances for Sunderland had been attracting the attention of Hodgson over recent weeks.
The winger has scored seven goals since the turn of the year, including a hat-trick at Fulham, to give him the best goals-per-game ratio of any player in this list. He has also contributed three assists and created 22 chances in the Premier League this season to mean he is back to the form which led Sunderland to pay City £10million for his signature.
He may be playing for a team who are far from safe from Premier League relegation but he is in excellent form and could be a consideration. At 26, it is almost certainly Johnson's last chance to go to a World Cup, having been among the men cut from Fabio Capello's initial 30-man squad in 2010, and he will be desperate to impress.
| | | | | | | | |
| --- | --- | --- | --- | --- | --- | --- | --- |
| Premier League 2013/14 | Games Played | Goals | Assists | Chances Created | Crosses | Shots | Dribbles Completed |
| Adam Johnson | 24 | 7 | 3 | 22 | 68 | 28 | 27 |
AARON LENNON
Club: Tottenham Hotspur
Age: 26
International Caps: 21
Sky Bet odds to start first game at the World Cup: 12/1
Lennon has always had plenty of potential and that is a reason why he has played under the last four England managers, from Sven Goran Eriksson to Hodgson. But his inconsistency means he has at times failed to deliver when needed and could be a reason in his omission from the squad to face Denmark.
The Leeds United youth product was even in Capello's starting line-ups at the last World Cup for the games against USA and Algeria but he was criticised amid the team's struggles in that tournament and he has since made only two appearances for England.
Both of those outings came at Wembley as a substitute under Hodgson, against San Marino in 2012 and Brazil in 2013, and there will be the nagging suspicion that Lennon's pace would strike fear into the hearts of defenders this summer in Brazil. But there is also the thought injuries and irregular form, only one goal and one assist in 19 Premier League appearances this season, mean he has had his chance.
| | | | | | | | |
| --- | --- | --- | --- | --- | --- | --- | --- |
| Premier League 2013/14 | Games Played | Goals | Assists | Chances Created | Crosses | Shots | Dribbles Completed |
| Aaron Lennon | 19 | 1 | 1 | 27 | 41 | 5 | 25 |
Have your say via the feedback form below