Fellaini reminder
Manchester United produced a convincing performance to see off West Bromwich Albion 3-0 in the early kick-off on Saturday with Marouane Fellaini a key figure in the victory. Adam Bate examines a truly dominant display by the big Belgian midfielder...
By Adam Bate
Last Updated: 08/03/14 4:18pm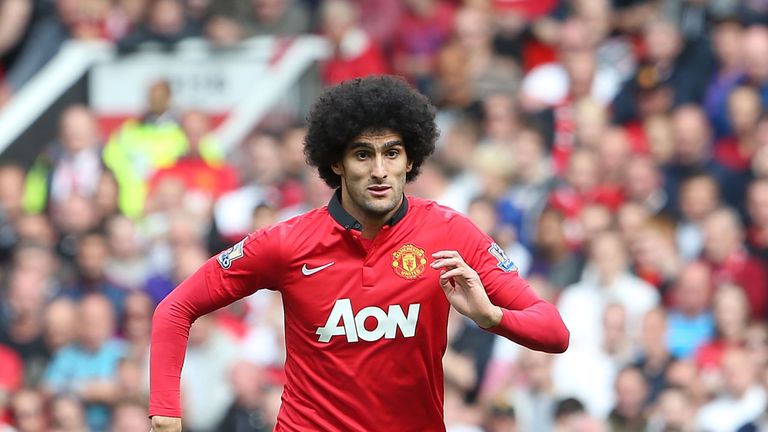 There is nothing new about hearing Manchester United supporters demand a midfield acquisition to transform their fortunes. It's been going on for years. In recruitment parlance, the job description remains the same but the person specification has changed.
With United struggling to impress under David Moyes there's a feeling that the approach is too rigid and lacks of creativity. It's perceived as a one-dimensional system that compares unfavourably with the neat interchanges in confined spaces that others in Europe can offer.
A purposeful player in the mould of Ilkay Gundogan or Toni Kroos is the object of desire now. As a result, Marouane Fellaini was effectively out of fashion by the time he'd arrived. But Saturday's encouraging 3-0 win at West Brom was a reminder of just what the Belgian can offer a side.
On a difficult day, Fellaini can look like a clumsy blunderbuss of a player. But this was a good day. And Fellaini has his own qualities. He was a colossal figure in the centre of the park against the Baggies, dominating a home midfield that included the combative figure of Youssouf Mulumbu and - initially - Claudio Yacob.
Fellaini was the pre-eminent figure. He had the most touches (98) and made the most passes (71) of anyone on the pitch. He was everywhere, covering 12.04km according to the Premier League tracking data. Again, that was more than anyone on either side. He was at the heart of things and gave his team a platform from which to play.
That's not always easy in a 4-4-2 formation, especially when up against a 4-5-1. The midfield two risk the prospect of being overrun in central areas. It's something Darren Fletcher was keen to point out in a widely publicised defence of United's midfielders on MUTV just last month.
"You have got to remember we play 4-4-2 a lot at United so it's not as if there are three in there and two can bomb forward," said Fletcher. "Most of the time, we are up against three other ones so we're having to cover. There is a lot more to it than simply saying we should be getting on the ball, creating and scoring goals. That is not really our role at Manchester United."
It is possible to debate the particular merits of that tactical approach but it is impossible to deny that Fellaini succeeded in doing the job asked of him on Saturday. With attacking players Wayne Rooney, Robin van Persie, Juan Mata and Adnan Januzaj all on the pitch, Fellaini's presence afforded them the opportunity to go out and play.
It was Michael Carrick who was awarded the honour of being the official Barclays man of the match but his partner was the key man and the statistics back that up. In addition to his passing, Fellaini's defensive contributions were significant. He won more aerial duels (four) than anyone else and made more interceptions (five) too.
Only Rafael da Silva won more tackles than Fellaini, all of them in key areas near the United box, while Chris Smalling was the only player to better the big Belgian's number of defensive clearances. Fellaini was even involved in the build-up to Danny Welbeck's wonderful team goal that set the seal on an emphatic victory.
Of course, tougher challenges lie ahead than a West Brom team struggling for identity under Pepe Mel. Albion are yet to win under the Spaniard and no team in the country has fewer victories to their name this season. Even so, seeing Fellaini in this mood does raise questions as to whether the much-maligned midfielder has actually been underused this term.
The 26-year-old has made just five Premier League starts for United this season and has been on the bench more often than he's been in the starting XI. Indeed, that's precisely where he stayed for the goalless draw against Arsenal and the abject Champions League performance against Olympiakos. This display left you wondering whether Fellaini could have made a difference.
It's too early to expect a reassessment of Fellaini's long-term prospects at Manchester United. This was one strong performance against West Brom, after all. The summer spending will still occur. Midfielders will arrive. But any United supporters who'd already written off the £28million man from Everton might be tempted to change their mind.
Fellaini might not be the midfielder that Manchester United want anymore. But at least he's now shown everyone why he might still be needed once the Old Trafford overhaul gathers pace.