De Vries can't turn back time
Dorus de Vries returns to Swansea on Saturday having to face up to his decision to leave the club for now-relegated Wolves last summer.
Last Updated: 27/04/12 3:25pm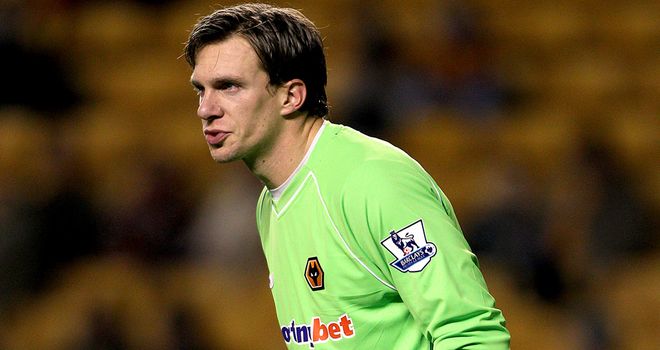 Dorus de Vries returns to Swansea on Saturday having to face up to his decision to leave the club for now-relegated Wolves last summer.
De Vries was voted Players' Player of the Year at the Swans last season as he helped the club into the Premier League.
But the 31-year-old walked away from the newly-promoted club to join Wolves on a free transfer in June 2011.
It could be argued that the move has backfired spectacularly with De Vries unable to oust Wayne Hennessey at Molineux - only making his Premier League debut last week, on the day they were relegated.
Meanwhile, Swansea have prospered with De Vries' replacement, compatriot Michel Vorm, earning plaudits for his role in their successful season.
But while De Vries has fond memories of his time in Wales, he is aware there is no use dwelling on the past and is keen to establish himself as No.1 at Wolves while Hennessey recovers from a cruciate knee ligament injury.
Deserved
"I had some great years at the Liberty Stadium, great memories," said De Vries. "Swansea deserve to be where they are at the moment, they've had a great season.
"A lot of the players have been there since League Two and to show their quality at Premier League level, and the way they play, is magnificent.
"I had a great connection with the supporters although it might be a little bit different on the weekend!"
With regard to his move to Molineux, De Vries said: "It's easy to look later on. I don't have a magic wand and no one can predict the future.
"I always thought Swansea, with their style, would be suited to playing at Premier League level but looking back, at the time I signed for Wolves, I had a good feeling for Wolves.
"There are no 'ifs' because I cannot turn back time and, at the time it felt the right choice. I'm sticking with that."
One thing that has not shocked the former Dunfermline stopper is the impressive season that Swansea have enjoyed under Brendan Rodgers.
No surprise
He added: "It doesn't surprise me at all that Brendan is being tipped for bigger things in his career.
"Tactically, he is really up there, his training methods are really good. He is still a young manager but I see him doing bigger things. I regard him really highly.
"I wouldn't be surprised if eventually he ends up at one of the big clubs. I know his character, he is obsessed by the game, has a great vision, and I've got nothing but positive things to say about him."
De Vries is now targeting a strong finish to the season with Wolves so they can hit the ground running next season.
He added: "Although we got relegated, we want to make a positive ending in the last three games for us.
"We owe it to the fans for whom it has been a horrible season as well as for everyone involved with the club.
"In the last three games we want to create a positive feeling going into the summer break, reflect on the season, and then kick on next season.
"From the start you've got to be ready for the Championship."