England's best fit?
Alan Curbishley told Sky Sports News why Roy Hodgson might suit the FA better than Harry Redknapp.
Last Updated: 30/04/12 10:55am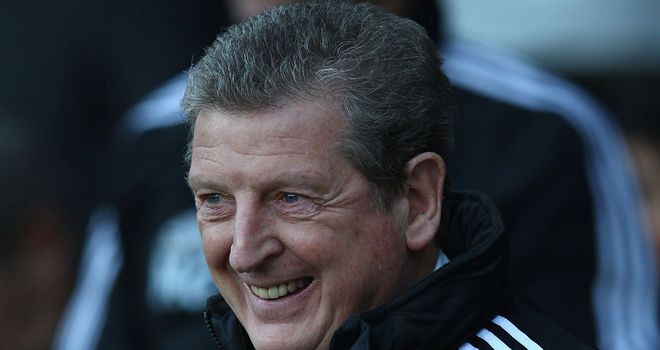 Alan Curbishley explained why Roy Hodgson might be a better fit for the England job than Harry Redknapp.
The Football Association have confirmed they will formally interview the West Brom manager on Monday as they step up their quest to appoint a head coach ahead of Euro 2012.
Tottenham boss Redknapp was installed as the favourite for the post as soon as Fabio Capello stood down in February, but Curbishley - who was interviewed for the England job in 2006 - believes the FA are looking for a different type of manager.
He feels the opening of the St George's Park National Football Centre later this year is at the forefront of the governing body's thinking and that they perceive Hodgson as a better candidate for a wider-ranging role.
"We'll have to wait and see what the FA's job description was," Curbishley told Sky Sports News.
"David Bernstein, the head of the FA, is looking for a certain type of manager I think and with the big move to St George's Park coming up it was a manager who was going to embrace all levels of the game and be involved on the coaching side.
"I think that when it comes down to that then Roy Hodgson ticks most of the boxes. The job description probably suits Roy more than Harry in that respect.
"When the FA got the vacancy they decided on a certain type of manager and Roy probably ticks more boxes than Harry."
Levels
St George's Park, which is due to open in Burton upon Trent later this year, will not only become the training ground for the England team, but will also offer a base for the FA's coaching and development work at all levels of the game.
And Curbishley believes future England managers will need to get involved with player and coaching development, rather than simply taking charge of international players.
He said: "I do think it's more of a wide-ranging job than perhaps Sven-Goran Eriksson had and Fabio Capello had.
"They basically took charge of the first team - and that was when the internationals came up. I think the FA are looking for someone to get more involved at all levels.
"With the move to St George's Park they may be based there for some time, embrace the coaching courses and the young managers coming up who are taking their badges.
"The job has changed to what we felt Capello's job description was."
Experience
Hodgson, 64, has a wealth of international experience having worked with Switzerland, Finland and the UAE during his career.
He has worked in the Premier League since 2007 with successful stints at Fulham and West Brom sandwiching an unhappy six months in charge of Liverpool.
And Curbishley hopes he is given a chance by the media and by England supporters if he gets the job.
"If you look at Roy's CV, he is vastly experienced," he said.
"I think most people's memories just go back to Liverpool and what happened there. It was a difficult time for everybody at the club with the owners just about to go out.
"I think most people would look at Roy's CV and see why the FA are going down that route. He's well respected within the game.
"The public's perception is the Liverpool situation and perhaps the fact that Harry was the people's favourite. He's got to overcome that.
"But listening to one or two press comments, I think quite a few of them are prepared to give him a chance. That's what we've got to do for the England manager.
"He goes in at a difficult time with the Euros coming up straight away with Wayne Rooney suspended and one or two injury problems.
"But he's vastly experienced, he's been there before and I think he'll take it in his stride."