England World Cup bid suffering from lack of depth, says Danny Mills
Danny Mills told Sky Sports News that England sorely missed John Terry's experience in Montenegro.
Last Updated: 27/03/13 1:06pm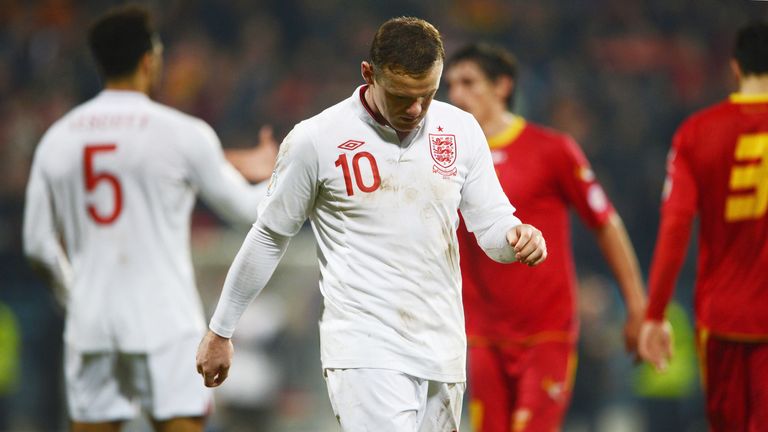 The former defender was in the stadium in Podgorica as England drew 1-1 with Montenegro in a World Cup qualifier - a result that leaves Roy Hodgson's side two points behind the Group H leaders.
England led at half-time thanks to Wayne Rooney's 35th international strike but failed to rebuff a strong second half showing from their hosts and Dejan Damjanovic levelled with 14 minutes left.
Reflecting on the result Mills, who played for England between 2001-04, told Sky Sports News that Hodgson's side sorely missed the influence of former captain John Terry, who retired from international football last September.
"I think England lack strength in depth and they lack a degree of experience - and certainly they lack leadership on the field. Love him or hate him, whatever you think of him, last night it was screaming out for John Terry to be in that centre-half role to organise the team.
"It was clearly going against England in the second half. To be fair to Roy Hodgson, it's difficult sometimes for a manager to get a message onto the pitch and to change things. Gary Neville was trying his best at times, calling players to the side-lines.
"But sometimes you need players with experience on the pitch or players that can come off the bench with experience and say 'look, let's just shore things up for 10 minutes'. This is the big problem for England. The strongest first XI is a good first XI but there isn't the strength in depth.
"Listening to Roy Hodgson's post-match comments they kept thinking about changes and they didn't really feel that they had the armoury on the bench to make the changes to change the course of the game. I look at that and I think - you did, you had Scott Parker - a holding midfield player who would have broken things up, who would have made tackles and made it awkward.
"Frank Lampard could have come and added something different to Tom Cleverly - the game was starting to by-pass him. I think the options were there but Roy Hodgson wasn't quite sure whether to stick or twist and in the end possibly made the decision a bit too late.
"Roy Hodgson is a decent manager and will be for England - I think time will show that - but he doesn't have the greatest of squads to choose from. It was an injury-hit squad but I still think that England should have had enough to win the game.
"I think people wanted to see Roy Hodgson be more positive take the game by the scruff of the neck as England did in the first half, where they did everything right and were almost faultless."
Threat
England had eight shots in the first half and six in the second but overall had fewer than Montenegro, who had 19 in total - 15 of them after the break. England also had much less of the ball in the second half - just 145 passes compared to 250 in the first.
Mills told Sky Sports News that despite the clear shift in momentum, Hodgson was too slow to make a tactical response.
"It was always going to be a much easier team talk for the Montenegro team than it was for Roy Hodgson," reflected Mills.
"I was really impressed with England in the first half - they came out and played well, they played at a high tempo and put the Montenegrins under pressure realising that their only real threat was their front two and they stopped the supply lines.
"They put defenders and midfielders under pressure and they forced them into errors and had the much better of the first half. For me, they should have been 2-0 up - it was never a dive from Danny Welbeck and it should have been a penalty. That could have changed the game.
"But when they came out in the second half, Dejan Damjanovic came on for Montenegro and played on the right-hand side which stopped Ashley Cole going forward. Mirko Vucinic moved out to the left and stopped Glen Johnson going forward and Stevan Jovetic played as a withdrawn centre forward and that started to cause England some problems.
"For me the technical change didn't come soon enough. I would have dropped Steven Gerrard into a deeper role, a little bit like he played against Brazil, or I would have bought Scott Parker on. Montenegro kept coming and England could not get a foothold in the game. The goal was certainly coming. On balance, Montenegro could have quite easily have won the game."
Pressure
England will resume their World Cup qualifying campaign in September when they host Moldova at Wembley and travel to Ukraine. The following month they entertain Montenegro and Poland - matches that Mills expects to fully test the players' mettle.
"It is going to be very, very difficult to get to Rio. I know that everyone is saying that qualification is now in England's hands and while it is, Ukraine away will be a very, very difficult game and Montenegro at home certainly isn't going to be easy.
"There could be an awful lot of pressure on the final game - Poland at home. If you go into the play-off situation it becomes a little bit of a lottery. Although I presume England will be seeded if they drop into that, to get to Rio you have to look at the whole squad.
"England's midfield can be very, very good when the likes of Wilshere is fit, Gerrard's on form. Rooney, as we know, is a very, very good player - I'm not quite sure that he's as great as he was because he doesn't seem to have the same influence on games that he used to.
"We certainly have problems at centre-back. If you look at a team like Russia, they are well organised and they looked very, very good against Brazil. If England played them right now, I would fancy the Russians to beat us quite convincingly. That's quite a sad indictment on where English football has got to."