Farewell Ferdinand
Rio Ferdinand's decision to call time on international football with England to concentrate on extending his Manchester United career should see us celebrate his achievements, rather than focus on his failings, argues Pete Hall.
Last Updated: 15/05/13 2:54pm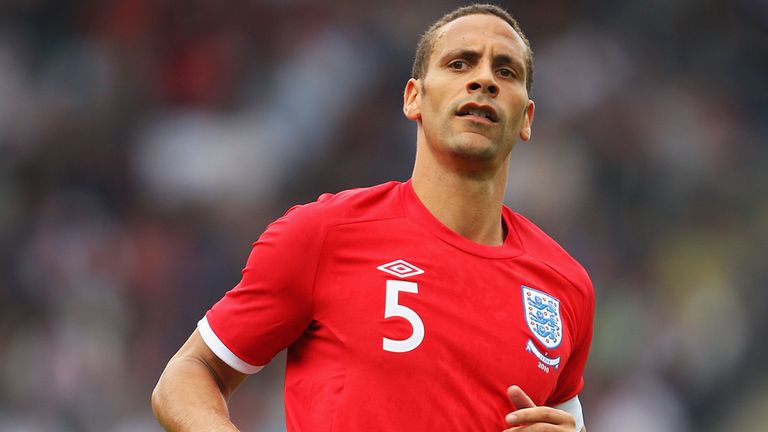 Unfortunately, with the world being the way it is, Rio Ferdinand's impressive England career will be remembered for his well-publicised absences or surprise omissions from various squads rather than his performances on the pitch.
His legacy will be one of off-field controversies and often ill-advised outbursts in the media, rather than how resolute he was at the back for his country.
However, after announcing his retirement at the ripe old age of 34 to concentrate on prolonging his club career, we should try to forget how poorly he handled being left out of several manager's plans, or the fact he missed a drugs test which led to a lengthy ban, and remember Rio as a key component of the Three Lions' recent history.
With 81 caps to his name, Ferdinand sits 14th in the all-time England list, showing just how important he has been since making his debut back in 1997.
That is no mean feat considering he missed the 2010 World Cup through injury, and has never taken part in European Championship through suspension or England's failure to qualify.
It was thought that the Manchester United defender would become a key part of Roy Hodgson's preparations for the 2014 World Cup after winning his place back in the squad, and showing the form that saw him named in the Premier League Team of the Year, as voted for by his fellow professionals.
Decision
However, he withdrew himself from the party for the qualifiers against San Marino and Montenegro, citing disruption to his pre-planned fitness programme as the reason, so it is hardly surprising he has come to this decision.
Nonetheless, pulling out of the England set-up at the last minute, after much media clamour for Ferdinand to get another shot at representing his country, was yet another example of how he hasn't often conducted himself well on the international scene.
But upon declaring his retirement, we should celebrate a player who, when he has turned out in the white of England, has more than fulfilled his requirements to the team, a statement that a plethora of star names can't often proclaim.
Since becoming the youngest defender to represent England (a record since broken by Micah Richards) when making his international bow as a substitute against Cameroon back in 1997, the Three Lions have a win percentage of 56.8% in games he has played in, as opposed to 55.1% when he hasn't featured.
In those games, the England rear-guard has been breached only 0.77 times per game on average, conceding 0.9 goals without the former West Ham and Leeds player in the backline.
Impressive
That stat becomes even more impressive when you just consider competitive matches, with England enjoying a 68.2% win ratio with Ferdinand, against a 52.6% record without him.
He has captained his country, formed formidable partnerships with numerous centre-backs and committed himself to the cause when others may have thrown in the towel after numerous high-profile snubs.
And alongside his loyalty at international level, the fact that for United he still is first choice in a side that has strolled to the Premier League title this season, keeping out promising younger stars such as Phil Jones and Chris Smalling, shows his incredible drive to remain at the top of his game despite being well into the twilight of his career.
It can be argued that he should have even more appearances for England to his name, especially in those major tournaments if he had considered his actions better on occasion, but let us put that aside and celebrate a rare breed of English footballer.
Remaining loyal to club and country is very rare in the modern era of the game, and to be playing in the zenith of his career, despite his weary legs, is testament to the temperament he exudes.
We must congratulate Ferdinand on an impressive, if colourful, international career, and hope that, if offered a new deal, United supporters will still be treated to his effortless defensive finesse for many years to come.