U21 Euro: Group A
The European Under-21 Championship gets underway in earnest on Wednesday, live on Sky Sports, so to mark what should be an intriguing few weeks in Israel we've pulled together a handy guide - starting with England's Group A.
By Jon Holmes - @jonboy79
Last Updated: 21/06/13 1:01pm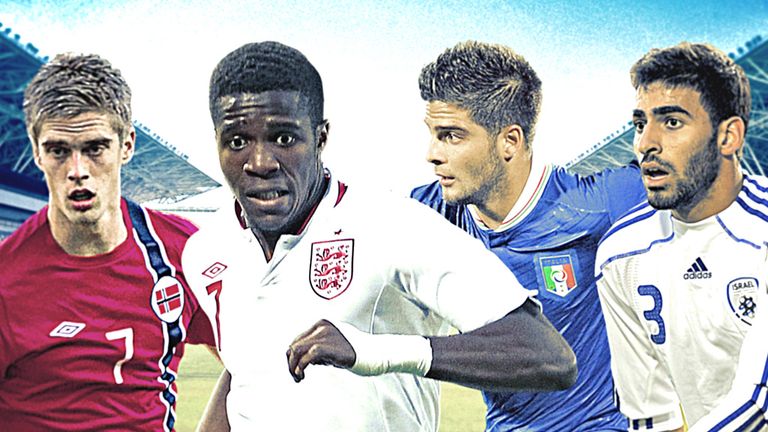 The problem with most international football tournaments? They're simply too long. Take next year's World Cup in Brazil for example. Yes, the build-up will be tremendously exciting and there'll be some truly magic moments but at some point in the third week - probably during Uzbekistan v Honduras - you'll reach a point where the constant talk of Copacabana Beach, Clodoaldo and caxirolas becomes overwhelmingly tedious. Even Euro 2016 in France, having been expanded to include 24 teams, will last for a solid month and is sure to test the stamina of even the hardiest fans.
Less is more, which is why this summer's kickabouts are much more manageable in size. Later in June, we have the Confederations Cup, but first up it's the European Under-21 Championship. This is the eighth time that the tournament has been an eight-team affair, and the action takes place in the south-east corner of UEFA territory, in Israel. Here's our handy guide to the eight competing nations:
GROUP A
ENGLAND
History: Back-to-back winners in 1982 and 1984, the closest England have come since was at Sweden 2009 where they were thumped 4-0 by Germany in the final.
Qualifying and Form: England topped Group 8 by five points, beating Norway (who they face again on June 8) home and away before seeing off Serbia in a play-off tie which ended in deplorable scenes. The Young Lions are in fantastic form - nine wins in a row, 22 goals scored, none conceded.
Coach and Style: Stuart Pearce is in charge for the fourth U21 finals in a row. After taking criticism for a disappointing group-stage exit at Denmark 2011 in which his side defended stoutly but struggled in midfield, he'll be determined to do better - and can call upon his former England team-mate Phil Neville for assistance. Again deprived of several eligible players due to injuries or senior call-ups, Pearce can however call upon five European champions - messrs Butland, Wisdom, Chalobah, McEachran and Wickham were part of the successful Under-17 squad at the 2010 tournament in Liechtenstein.
Star Player: Wilfried Zaha was named the PFA's Championship Player of the Year and is now looking to crack on at Manchester United, having led defenders a merry dance throughout a season in which he helped ensure Crystal Palace would join him in the 2013/14 Premier League. His flair and trickery can unlock defences, and Pearce will be hoping he's fit for the opener against old foes Italy in particular.
One To Watch: Nathan Redmond was the last player called up to the squad after the shock exit of Andros Townsend, and the livewire winger might well get a chance to impress early on due to suspensions. He ended the season in effervescent form with Birmingham and could make an impact in Israel.
Possible line-up: Butland; Clyne, Caulker, Dawson, Rose; Henderson, Chalobah; Ince, Shelvey, Zaha; Wickham. (Note: Rose and Ince banned for opening game v Italy.)
ISRAEL
History: Although they qualified automatically as hosts for this tournament, this is not the first time that the Israeli U21 side has participated in a Euro finals. They made it to Holland 2007, where despite losing heavily to Portugal, they then acquitted themselves well in narrow losses to Belgium and the Dutch. They were strong contenders to reach the 2009 and 2011 finals too, but just missed out on both occasions.
Qualifying and Form: Israel have played 15 friendlies since November 2010, winning five (against 2011 semi-finalists Belarus twice, Belgium, Ukraine and most recently Slovakia), drawing two (against Russia and Serbia) and losing the other eight. England beat them 4-1 at Barnsley's Oakwell ground in a friendly in September 2011.
Coach and Style: Guy Luzon will be the youngest coach at these U21 Euro finals at the age of just 37. The nephew of the Israeli Football Association chairman Avi Luzon, he has won recognition beyond the shores of his homeland and was recently confirmed as the next manager of Standard Liege. He is likely to go for the jugular in the opener against an under-strength Norwegian team before adopting a more cautious approach against Italy and England.
Star Player: With five goals in recent friendlies, including one against Holland in March, Orr Barouch is likely to be the focal point of the Israeli attack. He's spent the last season playing back in his homeland for Bnei Yehuda on loan from Chicago Fire.
One to Watch: Coming off the back of an outstanding season with Maccabi Haifa, left-sided centre-back Taleb Twatiha is being tipped for a move to a major league in western Europe and should have ample opportunity to demonstrate his defensive skills against the likes of England and Italy in Group A.
Possible line-up: Klaiman; Azam, Ben Harush, Twatiha, Davidzade; Kabah, Biton, Golasa, Sallalich; Barouch, Dabbur.
ITALY
History: The most successful nation in U21 Euro history, the Azzurini have been champions five times in total - they won three on the trot in the 1990s, and were victors at the first eight-team format finals in Slovakia in 2000. However, it's been almost a decade since their last triumph when they saw off Serbia and Montenegro in Bochum at Germany 2004. Fabio Cannavaro, Andrea Pirlo and Alberto Gilardino all began to build their international reputations with Golden Player (star of the tournament) gongs in the finals.
Qualifying and Form: Italy comfortably topped Group 7 before coming up against Sweden in the play-offs. Victories in both legs (1-0 and 3-2) ensured their presence in Israel, while recent friendly wins over Russia, Germany and Ukraine continued their impressive form
Coach and Style: Since replacing Ciro Ferrara last year, Devis Mangia has had to work without some of the best players in his U21 age group in recent months due to senior summons. However, he now has the likes of Marco Verratti, Mattia Destro and Alessandro Florenzi all available to him again and can also call upon some experience - Alberto Paloschi, one of the oldest players in this tournament, was part of the squad that made the last four under Pierluigi Casiraghi and Gianfranco Zola way back in 2009. One question mark over Mangia's current crop is how they react under pressure - they collected 26 bookings and three red cards in qualifying, suggesting they can be rattled.
Star Player: Marco Verratti was plucked by Paris Saint-Germain from Pescara last summer before he had even turned 20 but despite his youth, he has not looked at all out of place in his deep-lying playmaker role this season. A diligent user of the ball and sure to be an Azzurri mainstay for years to come.
One to Watch: Lorenzo Insigne contributed five assists in qualifying and the Napoli schemer will be tasked with providing the ammunition for whichever sharp shooter Mangia decides to go with - Destro, Ciro Immobile and Manolo Gabbiadini are all competing for places up front.
Possible line-up: Bardi; Donati, Bianchetti, Capuano, Biraghi; Florenzi, Verratti, Marrone; Insigne; Immobile, Gabbiadini.
NORWAY
History: Norway are appearing at their first U21 Euro finals since the 1998 tournament in Romania, where they made it to the semi-finals before losing to eventual winners Spain.
Qualifying and Form: Norway come up against England again in Group A having already faced them home and away in qualifying. They made the play-offs on account of being one of the four best runners-up and although they lost 1-0 away to France in the first leg, they delivered in Drammen with a thrilling 5-3 victory - their goal rush all the more surprising because only 13 had been scored up to that point in the campaign.
Coach and Style: Tor Ole Skullerud stepped up from his assistant's role to take the full reins after qualification had been sealed, with his predecessor Per Joar Hansen having been lured to one of Norwegian football's top club jobs at Rosenborg. Their shock win over the French demonstrates they are not to be underestimated, but perhaps their best chance of honours in Israel lies with the Fair Play award - they only collected 11 cautions in qualifying, and never had a player dismissed.
Star Player: AZ Alkmaar's Markus Henriksen is one of several players who will miss the opening game against Israel due to being involved at senior level. He looked to have been lost to the U21s for the whole tournament but will now be parachuted back into the squad, where his coolness under pressure in central midfield is sure to be greatly appreciated by Skullerud and his team-mates.
One to Watch: Omar Ellabdellaoui was let go by Manchester City and allowed to join Eintracht Braunschweig, where his all-action displays up and down the right flank resulted in numerous plaudits.
Possible line-up: Ostbo; Linnes, Rogne, Strandberg, Hedenstad; Henriksen, Berget, Singh; Elabdellaoui, Pedersen, Nielsen. (Note: Henriksen, Berisha, Nordtveit and King will miss opener v Israel as they are with the senior squad).
Coming tomorrow - the lowdown on Group B, featuring holders and tournament favourites Spain, plus Germany, Holland and Russia.
Watch the England Under-21 team in action this summer only on Sky Sports, with live and exclusive coverage of the UEFA European U21 Championship - and for more updates in the build-up and during the tournament in Israel, follow Jon on Twitter at @jonboy79.