Confident Coady
With the spotlight on English football after the struggles of Stuart Pearce's side in Israel, it's a daunting time to represent the country. But Adam Bate caught up with England Under-20 captain Conor Coady at St George's Park and met a youngster who can't wait to do just that.
Last Updated: 12/06/13 5:43pm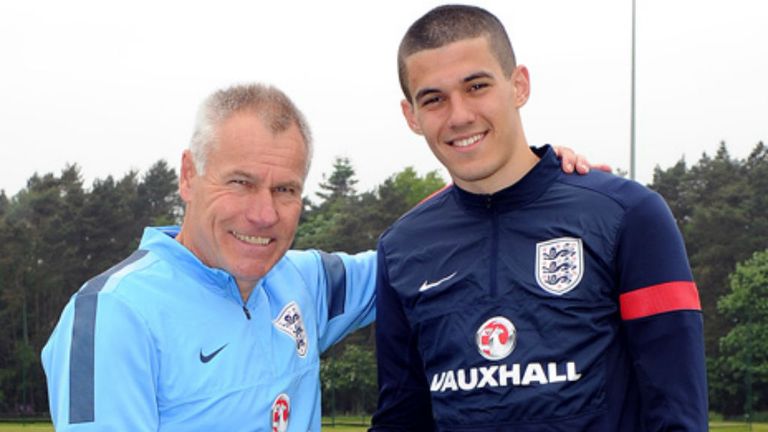 It's not a competition that has captured the English public's imagination in the past. But the FIFA Under-20 World Cup has featured the likes of Lionel Messi, Diego Maradona, Xavi, Luis Figo and Thierry Henry down the years. Team coach Peter Taylor took the chance to remind his players of that fact before they travelled out to Turkey for this year's tournament that begins next week and Liverpool youngster Conor Coady admits it has got everyone excited about what lies ahead.
"He showed us a video of that last tournament in Colombia and everything about it was impressive," said Coady as he relaxed after the squad's final training session on home soil at St George's Park on Tuesday. "Especially the professionalism and the crowds. The lads are really looking forward to that. We've met up three times now and the training has been good. It's been really sharp. I can't wait. Everyone is buzzing. I think everybody just wants to get out there and play a game."
While the anticipation is written all over his face, you could forgive Coady for being daunted by the challenge given the team fly out against the backdrop of a miserable England Under-21 campaign in Israel. But while those group of players return to a furore of criticism led by their own manager Stuart Pearce, the 20-year-old Reds midfielder is thinking positively.
Coady has already tasted success having led England Under-17s to European Championship victory in 2010 and untainted by fears of failure it is refreshing that he feels able to speak openly about winning the 24-team tournament this summer. "All the lads want to do it," he adds. "We won at Under-17 level and to go and win a World Cup would be absolutely superb."
Leader
It is the attitude of a natural leader and it's easy to see why Taylor was happy to tell reporters this week that he can already see similarities between Coady and Liverpool legend Jamie Carragher, who captained the England Under-21 side that he coached in the late 1990s. Typically, it's just another responsibility he is ready to embrace. "When Peter told me I was going to captain the team, it was an unbelievable privilege for me. I can't wait to do that."
The Under-20 side is sometimes seen as a scratch side given that regular fixtures are player at Under-19 and Under-21 level but there is a natural continuity for Coady. He has represented his country at every age-group level since the age of 16 and, as such, he senses a togetherness in the squad.
"I know the lads quite well and they're all top drawer," he explains. "They've been brilliant in training and if we can take that into Turkey then hopefully we can do well. There are a few young boys who have come into the team and they have fit into it straight away. They're all top lads and we all know each other from playing at reserve team level with our clubs. It's fantastic for us all."
With the vast majority of the squad registered to Premier League clubs, reserve football has dominated the landscape for many of these players - perhaps going some way to explaining the obvious excitement at the chance to play in a competitive tournament.
Debut
But after seeing the likes of Raheem Sterling, Andre Wisdom, Jon Flanagan and Jack Robinson get their chance ahead of him at Anfield, Coady did finally get his taste of the big time - making his Premier League debut against Fulham last month.
"To play for Liverpool was absolutely fantastic," he enthuses. "It was a dream come true for me and hopefully I can carry that into next season. That's what you want to do. If I can keep on improving and working hard then hopefully it'll come. But I just want to take it one step at a time."
Liverpool boss Brendan Rodgers has already let Coady know that he will be keeping a close eye on his progress in Turkey, even staying in touch to support him. "I spoke to him before I came out," reveals Coady. "He said he was going to keep in contact with me while I'm away. He just said to go out and enjoy it. He said that if I play the way I do for Liverpool then I'll be fine and to come back with that bit of experience under my belt."
England will be hoping that experience includes lifting the trophy in Istanbul next month - something Messi achieved for Argentina back in 2005. "If we could go out and do half the things that he's done then that'd be fantastic wouldn't it?" suggests the Young Lions skipper. It may have been a disappointing summer for English football so far, but with this sort of confidence, it seems that's not something likely to be concerning Conor Coady any time soon.