Taylor eyes success
After the struggles of the England Under-21 team in Israel, the focus is set to turn switch to Peter Taylor's side in this summer's FIFA Under-20 World Cup. Adam Bate caught up with Taylor to find out more about England's preparations for the tournament.
Last Updated: 13/06/13 6:09am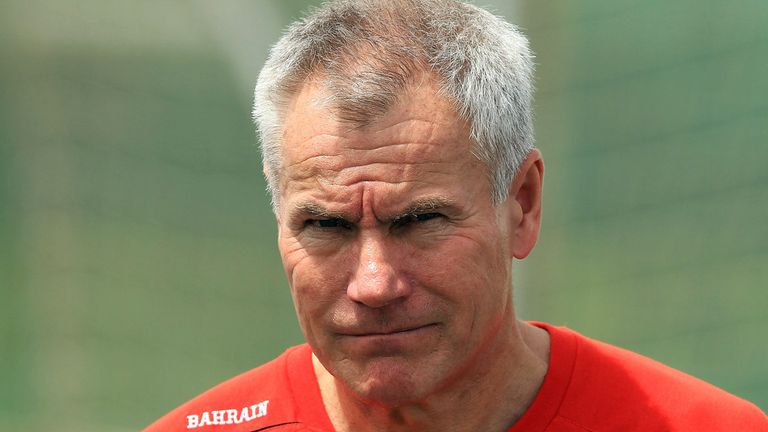 It's a non-tournament year for the senior England team so you could forgive the FA hierarchy for expecting a relatively relaxed summer, free of recriminations and calls for root-and-branch reform. Three defeats in as many games for Stuart Pearce and his England Under-21 team in Israel have changed all that. So the first question for England Under-20 manager Peter Taylor on the eve of his team's trip to Turkey to take part in the FIFA U-20 World Cup is an obvious one: Is he feeling the pressure? Fortunately, he's happy to laugh it off.
"I don't feel under any more pressure at all," he says. "I'm honestly just looking forward to this tournament for the staff and more importantly for the players. We've shown them some previous tournaments and some of the players who have played in those tournaments. It's a serious competition and we'd like to go there and do miles better than we've done previously. I don't think we've won a game in this tournament for a crazy amount of time so we'd like to go out there and win a match for a start."
In order to have a chance of doing that, Taylor needed to assemble a squad of players. That's something easier said than done in the world of international youth football in England. Securing the release of players from major clubs has long been a problem for managers but while Taylor admits it's been a hectic time since Sir Trevor Brooking called him to offer the short-term assignment, he has nothing but praise for the support he has received from a host of high-profile managers - including the notoriously difficult Sir Alex Ferguson.
"When Sir Trevor rang me to tell me I'd got the job for two months, I immediately got myself in the car and I went to see every manager I could where I knew they had players who were on the list," explains Taylor. "They've been terrific. Even Sir Alex was great, it was amazing. I was at Everton the day Sir Alex resigned so you can imagine the cameras on David Moyes. But two weeks before that I was at Manchester United with Sir Alex and he was terrific. He was really helpful regarding some of the young players.
"I'm very pleased with the squad. I looked at the other Under-20 tournaments and Chris Ramsey was in charge of one of them in Nigeria. He had 50 withdrawals or something like that. I think that we've got a really good name around the world and I think we shouldn't be going to tournaments with really weak squads. We should be going there with the strongest squad that we can.
"We've only had a couple that we wouldn't have minded being here but two of them, of course, have been promoted to the Under-21s - Nathan Redmond and Jack Robinson - and that's the kind of progression you want. But overall I'm very happy with the players that will be getting on the plane."
Focus
England will face Iraq, Chile and Egypt in Group E of the 24-team tournament and while much of the focus will understandably be on getting results, the appetite among the English public is for the youngsters to forge a more progressive style of play to help take the country forward in the long term. A format that could see as many as three of the four teams progress to the last 16 allows the opportunity to grow into the competition and Taylor admits that striking the right balance between results and development is the key - a particular challenge given the nature the England Under-20 side.
"If we were a regular team then the players would understand what we were trying to do before we get out there," he points out. "But the Under-20s aren't a regular team - it is Under-19s and Under-21s. This is a one-off tournament. We've got 13 days in Turkey before we play our first match. That's lots of good preparation time. We haven't prepared as much as other countries. Some teams have been in Toulon and then stayed together after that. But I think the amount of time we've got together is OK. So there is going to be plenty of time to focus on the style of play and do the sorts of things that we want to do.
"I think regarding results and wanting to win, it's up to the players to want to win. Without a doubt. And it's up the staff to want to win and maybe do it the right way as well. But once the players get on the pitch it's like playing a game of snooker or table tennis - you play to win. I'm no different to that and I don't expect the players to be either.
"But I still believe that we want to be out there longer so we want to win a match. If you win a match then there's a good chance that at worst you're going to go through in third place. But hopefully we win the first match and then you go on from there. Then the longer you are out there, the more people understand what you want to do and the spirit gets stronger."
After seeing one England age-group side humbled this summer, what might have looked like a brief sojourn in the sun has turned into something far more significant for Peter Taylor and this England squad. If they make it to Istanbul for the final on July 13th they may well find themselves hailed as the saviours of the English footballing summer.