Time for right choice
The Football Association may have dispensed with the services of Stuart Pearce, but Tom McDermott believes the hard work starts now as they begin the search for a new England Under-21 coach.
By Tom McDermott @FootballMcD
Last Updated: 19/06/13 1:53pm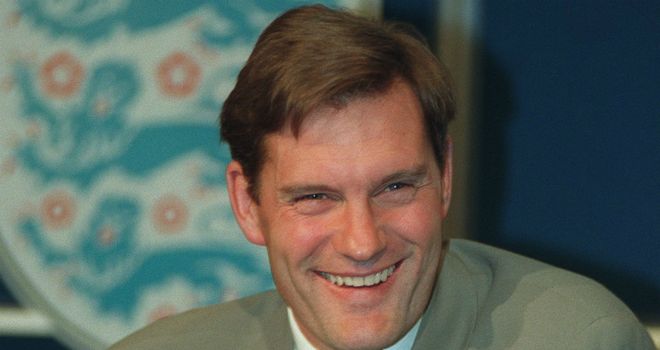 On Tuesday, the FA announced that they would not be renewing Stuart Pearce's contract as England Under-21 manager.
Pearce's side were humiliated at the European Under-21 Championship in Israel, losing all three of their group games to Italy, Norway and the hosts.
For the umpteenth time an English side went into a tournament with high hopes only to be left disappointed and embarrassed by the lack of quality from the players and tactical nous from the coaches.
As a nation, we were left yet again scratching our heads wondering why we appear to still be moving backwards rather than forwards.
It might not feel like it now but Pearce's departure could be the start of a new era for English football. From here a line should be drawn and plans put in place for future England Under-21 and senior sides.
Across Europe, Spain, France and Germany all had something to strive for and success for them certainly didn't happen overnight. We built St George's Park so we may as well try and get the best out of it, hadn't we?
So, make no mistake, this next managerial appointment could shape English football for the next 10 years and beyond.
Replacements
I do try not to compare England to other nations. But, most successful senior sides have an Under-21 set up which regularly produces players who are capable of taking that next step.
What the FA need to do now is appoint someone who can get the players to replicate their club form and then when they outgrow the Under-21 level still have enough confidence and belief left to express themselves in the first team.
Tactics and styles of play are important, of course, but that can wait. We live in a football era where people are obsessed with line-ups and formations. Without belief and a confidence in your own ability, though, what chance have you got?
The list of potential replacements has already been drawn up and it's a list of familiar, if not popular, names.
Former England manager Steve McClaren is one who was mentioned even before Pearce's side had been eliminated. McClaren has tried to rebuild his career abroad since being sacked by the FA in 2007, but his second stint at Twente may have been one move too many for the former Nottingham Forest manager and it looks like he has dropped down the pecking order.
The current favourite with the bookmakers is former England and Aston Villa centre-half Gareth Southgate. Since completing his coaching badges a few years ago Southgate has been seen as a pundit on our television screens and would no doubt offer fresh ideas.
However, because of his relative lack of managerial experience would he be able to develop the current youngsters into tomorrow's senior stars? I guess without taking on the role it's a question which will remain unanswered. It wouldn't by any means be a bad appointment but Southgate would be viewed by many as the 'safe' option.
Double act
I think the choice comes down to two men. And from a coaching and managerial point of view I think the FA should look at one former manager and one coach to team up and try to take England towards a new style of playing and more versatile direction tactically.
To manage the side I would appoint Glenn Hoddle. The reasons why Hoddle lost his job as England first team manager have been well documented but his ability as a coach was never in doubt.
Although he would never admit it, Hoddle has probably learnt a great deal from his time leading England before and during the 1998 World Cup and is undoubtedly a better manager for the experience.
If you consider alongside that the work he has done since with his academies it highlights his ability to work with younger players and assist them in trying develop their skills further. His previous international experience can only be beneficial to any youngster as well and his knowledge of senior level football would aid this development.
Alongside him I would choose Manchester United first team coach Rene Meulensteen. Meulensteen is expected to be replaced at Old Trafford next month when David Moyes installs his own back room staff and could therefore be looking for a new job. The Dutchman is one of the most highly respected coaches in the game and has worked successfully alongside Sir Alex Ferguson for several years.
A combination of Hoddle's international experience and Meulensteen's coaching ability might not catapult England to an era of dominance but it might make the country far more competitive when the time tournament football comes around.
It's also seen as a big job, so why not let two men have a go rather than burdening one who might not have the experience.