Familiar failings
England Under-20 side threw away a two-goal lead to draw their opening FIFA U20 World Cup game 2-2 with unfancied Iraq. Our man in Turkey, Adam Bate, was there to witness the familiar story of an England team failing to get the job done.
Last Updated: 24/06/13 8:01am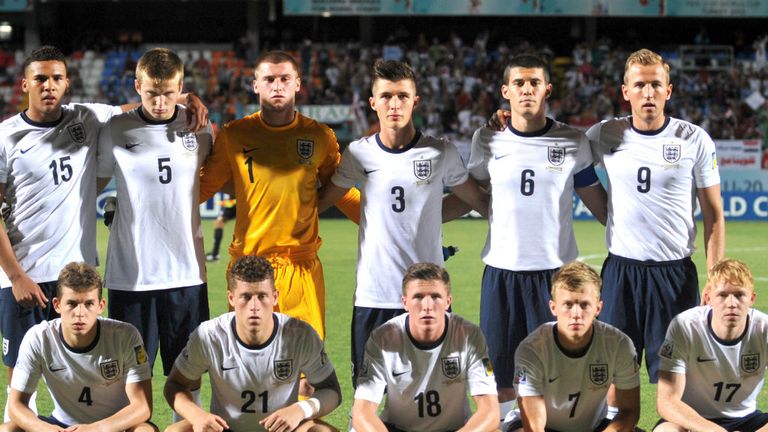 "Maybe it was fatigue," England defender Jamaal Lascelles told Sky Sports after Iraq's equaliser in the fifth minute of stoppage time denied his team a winning start to their FIFA Under-20 World Cup campaign. "But we've been doing a lot of double sessions and training in the morning, when it is hotter than at night, in order to get used to the conditions. The idea was to keep the ball and get them moving."
For an hour on a humid evening in Antalya, this England team did that as well as any incarnation of the national side has managed so far this summer. Captain Conor Coady exuded calm in the centre of the pitch as he and his team-mates made a concerted effort to retain possession. It worked. England enjoyed 60 per cent of the ball before the break, while John Lundstram and Luke Williams provided the energy on the flanks to ensure there was sufficient thrust to accompany the control.
So when Coady headed in the opener just before the interval, the objective was clear - keep the ball and win the game. That prospective achievement looked even more likely when Ross Barkley sparked a swift counter-attack for Williams to finish neatly after fine work from the ever-willing Harry Kane.
Possession
But while the best teams can use ball retention as an opportunity to rest in possession, even when on the ball England's fortunes appear inextricably linked to their energy levels. Consequently, as the movement understandably diminished in the sweltering conditions, all control was lost. Suddenly Kane was chasing channel balls rather than popping it off to runners. What should have been a shock collapse, felt all too familiar.
Firstly, a penalty was converted by Ali Faez with a quarter of an hour remaining and then - as nerves seemed to take hold of the players - desperate defending saw Iraq delight their vocal supporters with a late equaliser as Ali Adnan cut inside to force the ball home. Cue the age-old talk of lessons needing to be learnt, while back home the recriminations begin.
In fact, the point gained is already more than England's Under-21 side managed from their dismal sojourn at the European Championship in Israel earlier this month. However, a draw with Iraq is likely to be interpreted as a new low. These young players are not responsible for the failures of those who go before them, but that doesn't make their efforts any less symbolic of those disappointments. There is something grimly predictable about watching an England team wilt after showing early endeavour.
Culture
For England coach Peter Taylor, changing a culture must seem an unreasonable job description when you're armed with little more than a two-month contract. But his assessment of the match in the post-match press conference was accurate enough. "I was very pleased with the way that we started," he told reporters. "But we needed to do more of the same. I think we might have got a little tired.
"Early on in the game, I thought we did some good things. But even for our second goal - which was a brilliant goal - defensively it wasn't good enough as Sam Johnstone had to make two brilliant saves. Defensively, we can do better than that. For the final goal, you don't let somebody come inside. These are things we talk about but when tiredness gets into the body, it gets into the brain as well and you end up making mistakes."
Taylor was accused of making a mistake of his own by the assembled journalists in the press conference as questions were asked of his decision to withdraw Lundstram and Williams with England 2-0 up. The tweaks saw the influential Barkley move to the left flank and some of the initiative was lost. But once again, it seems the very nature of England's energy-expending approach forced the coach's hand. Taylor explained: "The players were getting tired and we have three matches in a short space of time so you have to be careful. You have to make changes."
You have to make changes. Taylor was talking about a substitution in an England Under-20 group game at the Akdeniz University Stadium in front of 3,148 spectators. He might just as easily have been talking about English football itself.