Euro 2013 preview
As the Women's European Championship prepares to get under way on Wednesday, Sky Sports looks at the teams taking part and what to expect
By Sam Drury
Last Updated: 11/07/13 8:51am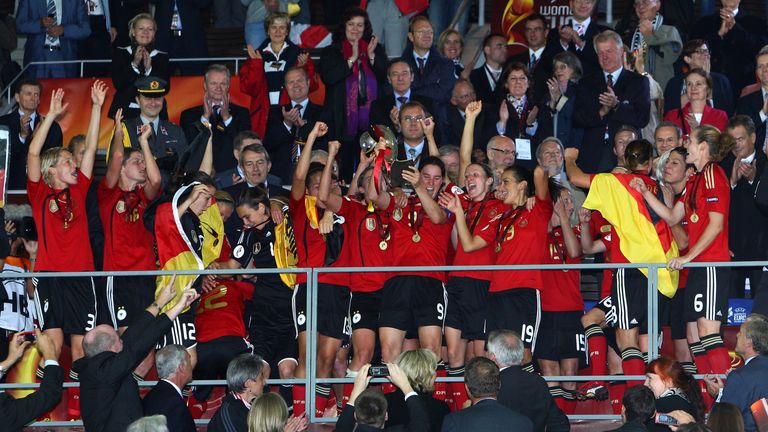 The Women's European Football Championship gets under way in Sweden on Wednesday evening with England hoping to go one better than in the 2009 tournament when they finished runners-up.
Hope Powell's side lost 6-2 to Germany in the final as they recorded their fifth straight triumph at the Euros after wins in 1995, 1997, 2001 and 2005. They remain the side to beat but, along with England, the likes of France, Spain and hosts Sweden will be hoping to end the recent German dominance.
England must wait until Friday to kick off their campaign against Spain, with Italy and Finland contesting the opening fixture before Sweden face Denmark later on Wednesday.
Group A
Sweden
Having won the inaugural competition in 1984, the host nation have never failed to reach the quarter-final stage since. They have been beaten finalists on three occasions since, in 1987, 1995 and 2001, losing to Germany on the two most recent occasions.
Having qualified automatically for the tournament as hosts, Pia Sundhage's side have played a number of friendlies in recent months and have remained unbeaten in 90 minutes since October, a penalty shoot-out defeat to Norway in March's Algarve Cup their only loss.
Star player: Lotta Schelin. The 29-year-old striker is the undoubted star of the side with 54 goals in 120 international games, not to mention scoring 136 goals at more than a goal a game for club side Lyon since joining in 2008. She has been described as the female Zlatan Ibrahimovic.
Denmark
The Danes have failed to make it out of the group stage in each of the last two competitions following a semi-final appearance in 2001. Prior to that two third-placed finishes have been the best they could muster, both in the early 1990s.
Kenneth Heiner-Moller's team topped their qualifying group, winning seven of their eight matches. However, their form since has been rather more patchy as they failed to win between December and March, resulting in a seventh place finish in the Algarve Cup but they have bounced back and are now unbeaten in their last three, including two wins.
Star player: Pernille Harder. The young Linkoping forward top scored for her country during qualifying with nine goals, including hat-tricks against Armenia and Austria.
Italy
The Italians' record in the Euros hasn't been brilliant in recent times with their quarter-final appearance in 2009 the first time they had made it out of the group stages since 1997, when they made the final. That 1997 final defeat was their second in four years having suffered the same disappointment in 1993.
Antonio Cabrini's side reached the finals comfortably as they remained unbeaten, winning nine of their 10 qualifiers without conceding a goal. They looked to have slipped a bit in the Cyprus Cup, losing all three of their group matches before scraping a 1-0 win over South Korea to take ninth but a win over Austria in April made it successive wins. The Azzurri will hope to return to their qualifying form when the tournament gets underway.
Star player: Sara Gama. The defender was a key figure for the Italians during qualifying and the Calcio Chiasiellis player will be aiming to bring back the defensive resilience that was so impressive on route to Sweden.
Finland
The 2009 tournament hosts will be competing in the finals for just the third time in their history with 2005 their first appearance. They reached the semi-finals on that occasion before losing at the quarter-final stage on home soil four years later.
The Finns edged out Ukraine to qualify for the tournament in neighbouring Sweden and will face the hosts in their second group game on Saturday. Andree Jeglertz's side have won just twice since confirming their place at the Euros, finishing seventh at the Cyprus Cup and haven't won in their last four.
Star player: Katri Nokso-Koivisto. The Lillestrom midfielder impressed during the qualifying stage, laying on two goals for her team-mates. At 30, she will be expected to provide experience and a cool head in difficult times.
Group B
Germany
Five consecutive European Championship wins, dominant again in qualifying as they were undefeated, unsurprising when they scored more than six goals a game on average and conceded just three. The Germans will head into the tournament as favourites once again and with good reason.
A 2-0 loss to the USA in the final of the Algarve Cup is their only defeat since booking their spot at the Euros with victories in the last three games.
Star player: Celia Okoyino da Mbabi. The forward, 25, recently joined Frankfurt following a qualifying campaign that saw her take her international tally to 41 goals following 17 in seven games.
Norway
Norway complete the full complement of Scandinavian nations at this summer's event and will be looking to win their third in the competition after triumphs in 1987 and 1993. The Norwegians reached the semi-final of the 2009 tournament, losing to Germany having lost out in the 2005 final to the same opponents.
They qualified top of their qualification group ahead of fellow Group B side, Iceland, despite losing in Reykjavik and also more surprisingly in Northern Ireland. No wins in seven heading into the tournament also provide some cause for concern for Even Pellerud and his side.
Star player: Ingrid Hjelmseth. The experienced goalkeeper will have to be in good form if her country are to recreate their success of previous years, especially in a group containing the free-scoring Germans.
Netherlands
Semi-finalists last time round having failed to qualify for any of the previous four European Championships, the Dutch know they will have to play well to get out of a group containing the champions Germany and fellow 2009 semi-finalists Norway. Three straight quarter-final exits between 1989 and 1993 were their previous best showings at this level.
They made it to Sweden as best runners-up after losing out to England by a solitary point in qualifying Group 6. Their results since have been mixed, but three wins in their last four will have boosted the squad's confidence ahead of their big opening match with Germany on Thursday.
Star player: Anouk Hoogendijk. The defensive midfielder was an ever-present for Roger Reijners' side in qualifying and providing protection to the back four will be hugely important if the Dutch are to progress to the latter stages.
Iceland
A single quarter-final outing in 1995 is the best Iceland have managed in the Euros having qualified just twice before. 2009 saw them exit at the group stage and it would be a major shock if they were able to avoid the same fate on this occasion.
Siggi Eyjolfsson's side made it to Sweden via the play-offs with 3-2 wins, home and away, against Ukraine handing them a 6-4 aggregate success and a place in the finals. A run of one win and six defeats since shows the size of the task facing them this summer.
Star player: Margret Lara Vioarsdottir. The striker, 26, top scored for her team in qualifying and her international record of 69 goals in 86 matches shows her pedigree at the top level.

Group C
England
After equalling their best ever performance in the 2009 Euros, losing to the all-conquering Germans in the final, Hope Powell will be hoping to inspire her side to go one better in Sweden. The runners-up spot in Finland was the first time since 1984 that England had reached the final. It was also a vast improvement on the disappointing campaigns in 2001 and 2005 that saw the Three Lions fall at the first hurdle. Such dramatic progress isn't required this time around, but the 6-2 scoreline in the final showed that they still had some way to go.
England topped Group 6 in qualifying and, until a 4-1 defeat to Sweden in their final warm-up game, were unbeaten in their seven games since, winning the Cyprus Cup in the process. After meeting Spain in their opening game, the 2009 runners-up face Russia before a tricky final game with France.
Star player: Rachel Yankey. The veteran midfielder recently surpassed Peter Shilton's national record by reaching 126 international caps against Japan. She managed three goals and two assists in her seven qualifying appearances and will provide plenty of experience to a young England squad.
France
The French reached the quarter-finals in 2009 following three successive group stage exits to match their best performance in the Euros. A 100% qualifying record suggests this is a very different France side to that in previous years and Bruno Bini's team will be eyeing the last four at least.
Winning the 2010 U19 European Championship and the 2012 U17 World Cup shows that France's women have plenty of top young players coming through the ranks and, after seven draws on the bounce, they have won two and lost one since qualifying.
Star player: Camille Abily. The Lyon midfielder will be hugely important for France with her creativity and an eye for goal crucial to how they play. Hugely experienced with 108 internationals caps, her record since returning to Lyon of 23 goals in 34 games from midfield shows the threat she can pose.
Russia
Another side to reach Sweden via the play-offs, Russia will be looking to reach the quarter-finals for the first time since 1995. Since then they have dropped out after the group phase three times and failed to qualify on the other occasion. A 3-1 aggregate win over Austria ensured they didn't suffer the disappointment of 2005.
Sergei Lavrentyev's side have looked in good shape since securing a berth at the finals, winning the Croatia Cup and defeating Ukraine and Norway in their recent warm-up games. Those morale-boosting triumphs suggest that Russia may be something of a dark horse to make the tournament's latter stages.
Star player: Natalia Shlyapina. The Rossiyanka forward hit seven goals in qualifying and her history of playing mini football and futsal has provided her with superb technique and close control.
Spain
Their men may be the world and European champions but Spain do not share the same standing in the women's game. A dramatic play-off success over Scotland after extra-time has handed them a place in the Euros for the first time since 1997. That was Spain's best showing at the championships as they reached the semi-finals, with quarter-finals exits in 1993 and 1995 the only other times they have qualified.
As U17 European champions in 2010 and 2011, the Spanish women's game appears to be on the up, however. Former Real Madrid youth player Ignacio Quereda has led the side since 1988 and his team are unbeaten in their three games since qualifying, including a win over Russia in January.
Star player: Veronica Boquete. The 26-year-old scored 11 goals in 10 qualifying games including the winner in the dying seconds of extra-time in the play-off against Scotland.