Identity crisis
Glenn Hoddle's views on the need for English football to put an emphasis on technical qualities have resonated with the public, but Adam Bate canvasses opinion to discover there is a deeper identity crisis that the national game must resolve first.
Last Updated: 11/07/13 3:20pm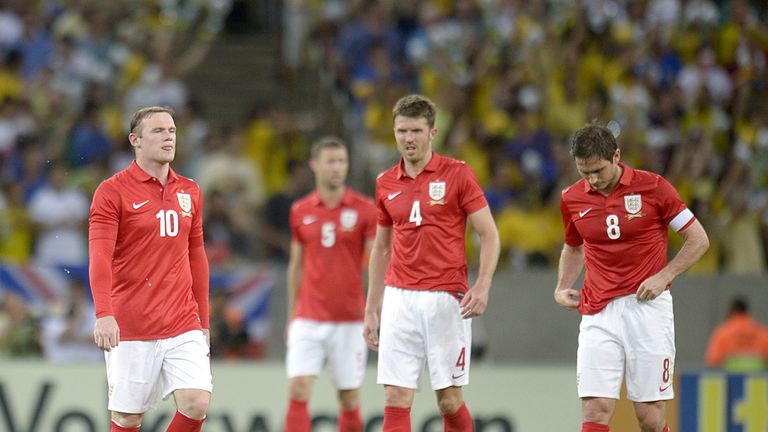 "We have got to think outside the box now with the young generation of kids coming through," former England manager Glenn Hoddle told Sky Sports in the wake of the latest summer of disappointment for the national team. "We have to change our mentality. We have to. It is no good just saying we need to get technical. Technical players have to become the number one priority for the English game. End of story. From six, seven, eight, nine, right the way through, that has to be the number one criteria for an English player."
He added: "It's not about power, it's not about size. The rules have changed now. Greg Dyke is coming in now and I think he's coming in at the exact right moment for the FA. He needs to be bullish, he needs to be bold. If not, then we'll be in the same position in 30 years' time.
"They've got to be wanting the ball and they've got to be comfortable with the ball. They need to become masters of the football because at the moment there are too many players for whom the ball masters them. That's what we've got to change. For every other country in the world, that is the main criteria - from Argentina to Brazil to Holland to France to Africa.
"We have not done that. We have had lazy coaching for a very long time during the 70s and 80s. There were too many people willing to play a long ball game just to get results. If we don't do anything about it, we're going to be stuck like this for another 30 years."
Hoddle's words have resonated with a public tired of seeing the same mistakes repeated ad nauseam. The talk of a need for smaller-sided games has gone on too long, while anecdotal evidence continues to throw up horror stories of young players being instructed to play the percentages rather than enjoy the game and hone their skills. The depressing mantra of 'if in doubt, kick it out' is still haunting English football.
Dan Ashworth, the director of elite development at the Football Association, recognises that problem and is determined to address the issue. Ashworth told The Telegraph last month: "We have to change years and years and years of ingrained habits of encouraging children to smash the ball up the pitch, applauding when they smash it further and longer. We have to avoid criticising when children try skills."
Others in power insist that progress is just around the corner. The FA's director of football development, Sir Trevor Brooking, has talked of the current England Under-20 squad being the best passing group that the nation has ever had. But the signs from Israel in the European U21 Championship as well as in Turkey at this summer's FIFA U20 World Cup were worrying. There seemed to be a confusion of ideas rather than a clear philosophy.
Frequently, the England goalkeeper would roll the ball out from the back and the defenders would stroke it around before attempting a longer ball forwards. A lack of coherent strategy meant it was not possible to pass the ball through the opposition - the abortive attempt to play passing football proving all risk and no reward. As that much-maligned advocate of the long-ball game Graham Taylor famously screamed on camera during the Impossible Job documentary: "You cannot delay and then play a ball like that."
Confusion
Taylor, of course, suffered from this confusion of ideas - attempting to get players to play a game to which they were unaccustomed. Hoddle has a very different notion of what an England team should look like but you do not have to be a champion of tiki-taka to want change. It is the search for identity - any identity - that is key.
This is the crisis that Rio Ferdinand attempted to pinpoint earlier this summer when he noted: "If you watch Italy, Holland, Spain or Germany playing at youth level, you would know who they are without looking at their shirts. There is an identity with those teams. They have a DNA of the way to play. We don't have that. When we won the World Cup in 1966, we didn't copy anyone else. We played the way England play. It was our style and our identity. Have we kept it? I don't think so."
England coach - and Sky Sports pundit - Gary Neville disagrees. "When people talk about the DNA of English football, we've got one," he told The Times. "We work hard, we're organised, structured, resilient, hard to beat. Not bad qualities. People say we don't have a DNA? Give me a break. We have a DNA as a country - British standards, the British legal system, solidity, structure, organisation, that never-say-die spirit."

But the challenge of marrying those traditions within a united team playing the same style of play is proving tricky. While England struggle to add flair, continental counterparts such as Spain's Under-20 side have had an easier time introducing these supposedly English qualities. "I was fascinated by this team," added Neville. "Not by their technical ability, but because of the incredible work ethic around their defending. France are in possession and the positions of the Spanish are absolutely textbook, a back four pushing up from the back." That coherent idea as a team is something England appears to lack.
In fact, this concept of a lost identity brings to mind a conversation with an exasperated English exile. Mark Burke walked away from the game in his own country after spells with Aston Villa, Middlesbrough and Wolves before embarking upon a more fruitful career in the Dutch top flight playing under Bert van Marwijk, who was later to coach Holland all the way to a World Cup final. Burke highlighted England's defeat to Croatia in Euro 2008 qualifying as evidence of the muddle that English football had become.
He recounted a tale of how Joleon Lescott got hold of the ball in defence and midfielder Frank Lampard came short to receive a pass. Instead, Lescott launched the ball forwards to Peter Crouch. It was clear that if Lampard had known Lescott planned to hit the ball long to Crouch, then he should have gone forward in support rather than leave the striker isolated. The halfway house between a passing approach and a long-ball tactic was a worst-of-all-worlds scenario.
Despite his time spent in the home of Total Football, Burke insists the lesson to learn from this is not that passing football is a panacea but rather that the most important thing is to have a philosophy and commit to it. "I don't think there is a right way to play football," he told Sky Sports.
"The reason why the national team struggles is that every other country has a vision for how they want to play football and that runs through the entire system. Everyone talks about what the right philosophy is but the truth is that the most important thing is to have one. Have something you believe in. If you believe that you should play it long, then practice that. Get the full-backs to hit it over the top and squeeze up. Work out what you believe in and stick to it."
This view highlights the danger of allowing your own ideas to be dictated by what is happening elsewhere. As both Burke and Ferdinand suggest, St George's Park must surely be more than a replica of what is working abroad, but rather a fresh vision for English football. "Ten years ago, it was Clairefontaine (in France) and now it is Spain," explains Burke. "Next it will be Germany. I guarantee they weren't just copying other countries, they had a vision. Haven't we got a mind of our own? How do we want to play?"
Talent
Rob McDonald is another former English footballer who made a life out in Holland, winning the Eredivisie title with PSV in a team that included Ruud Gullit. He is now a headhunter of coaches around the world, helping to spread the much-vaunted Dutch vision of the game and feels the game in his homeland would benefit from fusing some new ideas with the English traditions - because the talent is still there.
"Don't tell me we haven't got English talent because that's garbage," McDonald told Sky Sports. "We maybe haven't got good English youth coaches. That's another thing. The majority of them, I don't think [they know what they are doing] unless they've been with a foreign coach or a really good British coach who has been tuned in and has some experience with foreign coaches. You need knowledge. You need ways of seeing how to make players better. But keep the English personality. Keep the grit. Keep the hard work and keep the passion. But give them some knowledge."
As a foreign coach with vast experience of working in England, Rafa Benitez is one such individual in a position to impart that knowledge. He concurs that English players have the ability to succeed but the lack of a clear vision is hampering their development. "There are many changes required in the way this country develops its young players," Benitez told The Independent. "To make them more competitive, England above all need the clubs to decide on the style of football they want to play, from academy right through to first team. They must then coach the coaches in that style and then coach the players."
For Benitez, it is not about copying Barcelona and the challenge is more subtle than just changing the formation from 4-4-2. He adds: "It is more realistic to decide on a system; deciding, for instance, that you want to play the ball on the floor, not in the air, and then you need to create a philosophy at your club where everyone has the same one. You stick to it, no matter who is manager, and you appoint a manager with that vision.
"I don't think that the 4-4-2 system which Roy Hodgson used at the European Championship will prevent technically talented players being put to best use for the national side. The 4-4-2 style can become 4-2-3-1 when a team attacks. It's the football philosophy that counts, not the system.
"The improvement in basic technical skill that we are talking about and the confidence in a philosophy which is instilled into players will solve the problems. England have to look forward. Finding top players is not the problem. The potential is out there, all around. It is how to develop it which people should be talking about."
This is a theme to which both Burke and McDonald also warm - citing Paul Scholes as evidence of the fact that England produces world-class technical players but cannot utilise them effectively. Indeed, Hoddle himself must be acutely aware of this given his own struggles to be accommodated within the national team.
Perhaps this illustrates just how complex the problem is, because Hoddle is surely right to stress the importance of focusing on the technical ability of English players. And yet, it seems clear that unless coaches and administrators are prepared to buy into the same vision, the quality footballers that the English game is able to produce will continue to be wasted.