Roy's five decisions
With England having secured their qualification for the World Cup in Brazil, thoughts are already turning to the make-up of Roy Hodgson's team next summer. Here we look at some of the key decisions facing the England manager...
By Adam Bate - Follow @GhostGoal
Last Updated: 16/10/13 3:55pm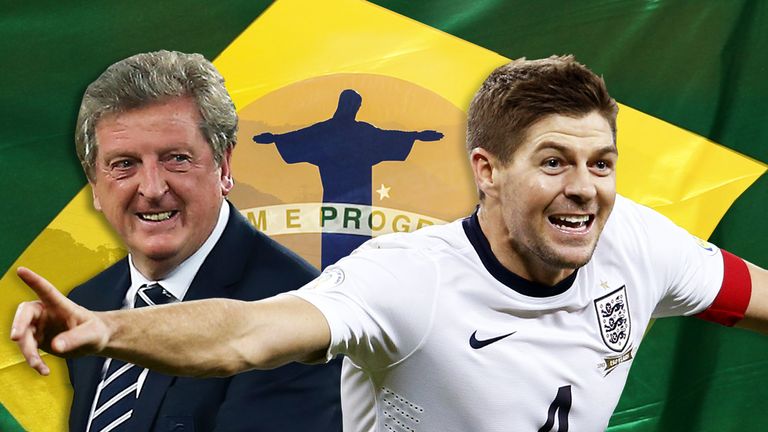 Baines or Cole?
Leighton Baines could hardly have done more in the Wembley double-header against Montenegro and Poland to show that he is now England's best left-back. Ashley Cole's rib injury gave the Everton man his chance and he responded with a purposeful performance on Friday, before really coming to the fore in the crucial 2-0 defeat of the Poles. No England player made more tackles and interceptions (seven) than Baines and his cross for Wayne Rooney's opener was superb.
The difficulty for Hodgson is that for all the attacking menace supplied by Baines, no manager is going to rush into discarding Cole. A UEFA Champions League winner with more than 100 caps to his name, the 32-year-old has that vast experience in the biggest games that his erstwhile deputy still lacks. When it's the likes of Lionel Messi and Cristiano Ronaldo who need tracking in Brazil, will Hodgson want his most experienced defender in the team?
Townsend or Walcott?
Andros Townsend has been a revelation for England and nobody did more than the Tottenham winger to ensure all the momentum was with the home side this week. The statistics suggest he is already the foremost dribbler in the Premier League and his direct wing play proved far too good for both Montenegro and Poland. Townsend has surely gone from outside bet to shoo-in for Brazil. It's been quite the dramatic rise to prominence.
One can only imagine how Theo Walcott feels. The Arsenal man has enjoyed a fine start to the season himself but robbed of the chance to shine here through injury, he now finds himself in a battle for that right-wing spot. In truth, anything approaching the 21 goals he netted for the Gunners last term should be enough to ensure Walcott retains his starting place. But Hodgson now knows he has a genuine alternative with the confidence to star for the Three Lions.
Front four
There has been plenty of excitement surrounding the possibilities of the strike partnership between Wayne Rooney and Daniel Sturridge. England's key man coupled with the current Premier League top scorer looks a link-up that could cause problems for just about any team in Brazil next summer. With the likes of Townsend, Walcott and Danny Welbeck able to supplement the attack from the wide positions, England appear to have a youthful, potent and flexible front four.
But they also looked wide open against Poland. Against more skilled full-backs or more dominant midfield trios, could England's two-man midfield be horribly exposed as they were against Germany at the 2010 World Cup? A knockout tournament lends itself to caution and it remains to be seen whether Hodgson will abandon the defensive security of a midfield three when it's on the line against the very best next year.
Midfield balance
Whether Hodgson goes with two or three in the centre of midfield, he has a decision to make about the identity of the players in those roles. Only captain Steven Gerrard seems certain of his place. Jack Wilshere had been the man in possession but issues over form and fitness saw the England boss go back to Frank Lampard against Montenegro before turning to Michael Carrick for the critical clash with Poland on Tuesday.
Lampard and Gerrard were ideally suited to the No.10 role in their younger days but were not given the chance to play there due to the constraints of the favoured 4-4-2. So it is perhaps ironic that with Hodgson showing signs of a willingness to adopt a 4-3-3, both now perform deeper roles for their clubs while Wilshere looked uncomfortable as a No.10 against Ukraine. Such a formation switch may yet provide a chance for Hodgson favourite Tom Cleverley or a whole host of exciting youngsters.
Give youth a chance?
Among those aforementioned young talents likely to be pressing their claim for a place include England squad member Ross Barkley and man of the moment Ravel Morrison. The duo have the talent to impress and - at Everton and West Ham respectively - will get the opportunity to stay in the England manager's thoughts throughout the season thanks to regular first-team football in the Premier League. There might yet be a vacancy in the starting XI if they can seize the chance.
After all, surely one of the benefits of the lack of expectation surrounding this incarnation of the England football team is the accompanying pressure to scramble through is somewhat eased. A midfield trio of Gerrard, Carrick and Lampard at a combined age of 100 and counting might be the safe bet. Perhaps this new adventurous Roy Hodgson will opt for a more inspiring team selection.