Football Expert & Columnist
England v Chile: Chance to make World Cup case, says Jamie Redknapp
Southampton's stars can force their way into Roy Hodgson's World Cup plan, says Jamie Redknapp.
Last Updated: 15/11/13 11:22am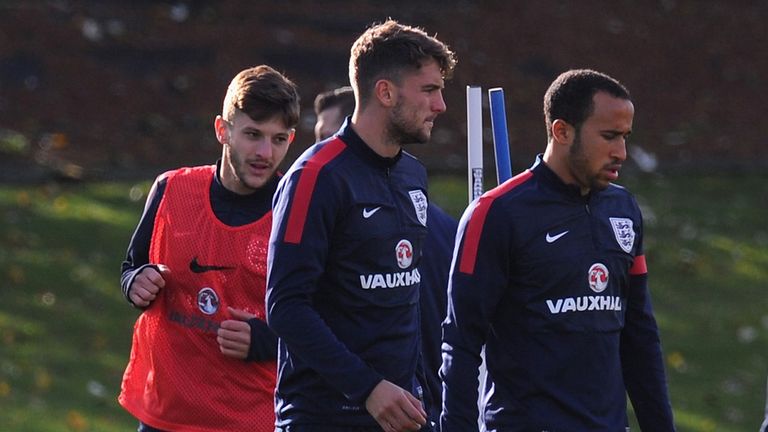 However, there are always a couple of wildcards and people who sneak in under the radar - and there will be a number of players hoping to force their way into his thinking by showing they can cut it at international level against Chile and Germany over the next week.
When established players know they are pretty much in the manager's squad sometimes they go through the motions in friendly matches but a lot of players are going to be desperate to perform well at Wembley on Friday and Tuesday.
There's nothing like going to a major tournament with your country. I was fortunate enough to play for England in Euro 1996 - which was a brilliant experience - but missed out on the World Cup through injury. For the fringe players and younger players in the squad the opportunity to get on that plane to Brazil is in front of them - they just need to take it.
Check out the latest odds on England v Chile. Bet now
Unfortunately Rickie Lambert has been ruled out, but it was great credit to Southampton that they had three players called up for these matches.
I remember watching Jay Rodriguez play at Reading last year and said it wouldn't be long before he was playing for England. He's gone from strength to strength at Southampton; he's physically strong and is incredibly talented. He's a modern-type of player and plays with great energy and pace.
Adam Lallana, meanwhile, is someone I played with for a short time when I was with Southampton. He's got good feet, is a good dribbler and the fans love him. Last year, after he was made captain, it looked like he might be in and out of team but he cemented his place and also has the ability to see a pass ahead of everybody else which makes a big difference.
Roy Hodgson has said both Rodriguez and Lallana will feature on Friday and they'll be fired up to get the chance to show what they can do on the international stage.
Talent
But there are other talents at Southampton coming through, too. Luke Shaw, for instance, will be the next one called up, make no mistake about it. Once Ashley Cole retires from international football he'll be Leighton Baines' understudy at left-back.
Then there's James Ward-Prowse who has a lot of good attributes as well. He's a good athlete but also very good technically and from set-pieces too. There's no reason why he can't follow suit in a year or so.
Jamie's backing England to beat Chile 2-1 at 8/1 with Sky Bet
This current crop are the latest in a long line of good young players to come through at Southampton, who have been producing top players for years. Recently there's been Gareth Bale, Theo Walcott and Alex Oxlade-Chamberlain but you can even go back to people like Alan Shearer. How did he end up at Southampton when he's from Newcastle?
They've always been able to attract players like that and if you were a parent of a talented kid you'd want them to go there over a club that's not produced anyone for 10-15 years. They've got good facilities, give the kids opportunities and develop talent.
And fair play to Mauricio Pochettino, too. So many foreign managers come over here and don't give the club's young players a chance and just buy in foreign signings. But Pochettino has given them a chance. I respect what Southampton are doing there.
Balance
However, I was less impressed about Alexis Sanchez's comments ahead of this game about English players being soft and suggesting he worked harder to become a pro than our players did.
Just because you come from a certain background doesn't mean you want it more than someone else.
Frank Lampard will be winning his 103rd cap for England on Friday and presented with a gold 100th cap before the game. He came from a private school background but you can't tell me Sanchez wanted it more than him. That was quite disrespectful.
However, the Barcelona forward is a good player and one of several talented players Chile have got, so it should be a good contest on Friday.
It's tough to predict an outcome, although I think England, with the current feel-good factor around the national team at the moment, will win.
But the important thing is that, no matter the result, we maintain a sense of balance.
If England win these two fixtures suddenly everyone will say 'we're going to win the World Cup' and if we lose them they'll get written off. Anytime we go into World Cup or Euros we get so carried away.
These matches are all about giving players opportunities. If England can keep their current run going and build on their confidence, too, then that's great.
But the results won't have any bearing on us winning - or not winning - the World Cup.