The Footballers' Football Show England Special: Gary Neville says World Cup opener against Italy is key
Gary Neville says England's 2014 World Cup opener against Italy is 'critical' to group phase qualification.
Last Updated: 25/02/14 10:00am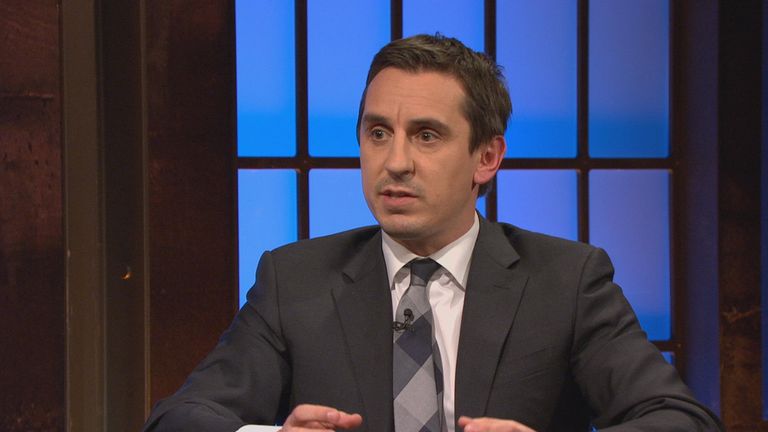 Roy Hodgson's men come up against their Euro 2012 conquerors in Manaus on June 14 and Three Lions coach Neville told The Footballers' Football Show - England Special it is vital the team earn a positive result in their first Group D fixture.
"There isn't anything we don't know about Italy and they're not going to be shocking us in terms of what they are going to do with their strengths but the first game is always critical in a tournament," said the Sky Sports pundit and former England defender.
"That's not to say you can't recover. In 2004 we lost our first game against France and recovered [to reach the quarter-finals] so it's not to say it's terminal if you lose the first match.
"But you don't want to be losing your first game because it puts real pressure on you in your second game."
Glenn Hoddle, who was in charge of the national team between 1996 and 1999 and led England to the World Cup in France 98, also highlighted the importance of avoiding defeat to Italy.
Hoddle says that because, in the final group games, England face Costa Rica, ranked 35 in the world, and Italy play world number seven Uruguay, victory or even a draw in Manaus would put Hodgson's men in a strong position to reach the knockout phase.
"If you lose the first match you're chasing and that can change your tactics when you go in for the second game," he explained.
"But I think it's worked out pretty well for us in the sense that Italy in Manaus is going to be a tough one for them as it is for us physically.
"It's the first game and if you were playing in Manaus second or third that would be a problem to you traveling-wise.
"But Costa Rica in the last game is perfect for us as well. The gain is if you're bold enough and we end up winning the first game that's three points and you're putting the pressure right on Italy to go and do what they've got to do in their last game against a tough Uruguay side."
Plan
England boss Hodgson, though, insists he is well prepared for the Italian test.
Two years ago the teams played out a goalless draw in their European Championship quarter-final before the Azzurri prevailed 4-2 on penalties.
However, Hodgson says his side has progressed since that encounter, both in terms of style and personnel, and he reckons England will be well-placed to avenge that result.
"I don't think you can compare the team two years ago to the team playing now," he said.
"Not too many people are still in the team from that time and I think our style has evolved and changed during those two years.
"We'll be prepared for whatever way Italy decide to play, though. We know their players, what they're capable of and pretty much what their idea on the day is going to be and we'll make certain that the players we choose to play against them will be well prepared for anything Italy can throw at them.
"Perhaps even more importantly we'll be making sure our players know what we expect from them and what we think they should be doing to hurt Italy."
Hodgson says he also has plans to limit the impact of Juventus ace Andrea Pirlo, who starred in Poland-Ukraine and bossed the midfield when the sides met in Kiev.
"The plan for him is always going to be a corporate plan, using the whole team rather than designating one man to offer his game just to stand by Pirlo," he said.
"I'd like to think, with our defensive organisation throughout the team, we'd try and make life difficult for him.
"Like all good players we're not going to stop him getting on the ball and we're not going to stop him passing the ball from time to time, in the same way Italy won't be able to stop Steven Gerrard passing the ball. But we'll be working very hard to restrict his time on the ball and we'll be working even harder to restrict the spaces he can play the ball where the opposing team can hurt us."