Tony Gale's World Cup contenders: Liverpool duo can be key for England
Liverpool's Glen Johnson and Raheem Sterling could be a great duo at the World Cup, says Tony Gale.
Last Updated: 31/03/14 4:05pm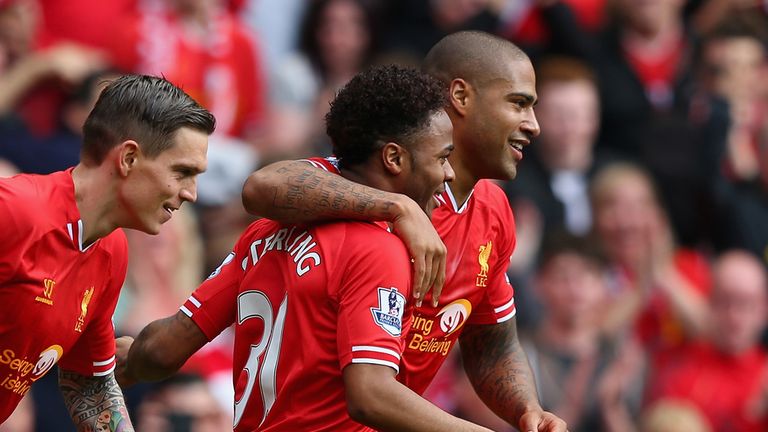 The form of Liverpool's right-side pairing has played a huge part in their push towards the title and they were devastating again as the Reds beat Tottenham to go top of the league.
Giving his thoughts on who he thinks should be in Roy Hodgson's squad for the summer tournament in Brazil, Gale also told Sky Sports News that England veteran Frank Lampard may miss out altogether.
Glen Johnson
Gale said: "He's coming into form at the right time. It was interesting to watch him against Spurs, after Kyle Walker had the England place nailed down.
"Now, the way Sterling and Johnson are playing, they could be in, especially Johnson.
"You know what Glen is good at - getting forward down the right-hand side. He's got to improve his defensive side but he's a real threat."
Raheem Sterling
"Sterling is coming into form at the right time too. He's doing everything right. The question is do you take him or Andros Townsend? " Gale asked.
"Sterling is the more in-form and match fit at the moment and an understanding between players is key going into a World Cup.
"I wouldn't see a problem playing Johnson with Andros Townsend but it gives you an advantage when players play together week-in, week-out for their club."
Jordan Henderson
"It looks like he is now in-front of some of the more established players - some who thought they were a shoo-in. They'll be looking over their shoulders at Henderson.
"He can be that third-man runner and he is an exciting prospect for the future. The vital thing is that he gets into those key positions beyond the strikers."
Frank Lampard
"He's suffering from a lack of games at the moment. He's 35 now and, at that age, he needs to be playing week-in, week-out.
"He has changed from a free-scoring midfielder to a holding midfield player. He has a wonderful goalscoring record but I don't think he'll be on the plane to play the holding role. You would put others in that role at the moment.
"His experience is key but you can't have too many experienced players - you need legs at some point. Steven Gerrard is going to start and you would say Michael Carrick is favourite for the holding role.
"Then you need the one in front and for me that is Ross Barkley or Wayne Rooney, behind Daniel Sturridge."
John Stones
"John has been terrific while Phil Jagielka has been injured. I like that he steps out of defence and looks to play the ball - a lot of central defenders cop out of doing that.
"He goes beyond his own midfield and looks to make incisive passes. I'm sure Roy Hodgson was impressed with him at the weekend."
Rickie Lambert, Adam Lallana and Jay Rodriguez
"All three are a breath of fresh air. They're in the news all the time at the moment and for good reason.
"Lambert has great feet and is a good finisher and Lallana is a shoo-in to be playing, let alone being on the plane.
"Rodriguez is an outsider but he keeps scoring goals and he's different to the other two at Southampton. He's got pace to get in behind."