Tony Gale thinks John Stones, Michael Carrick and Luke Shaw should go to Brazil
Sky Sports pundit Tony Gale has given his verdict on the England World Cup squad suggested by viewers.
Last Updated: 28/04/14 11:37pm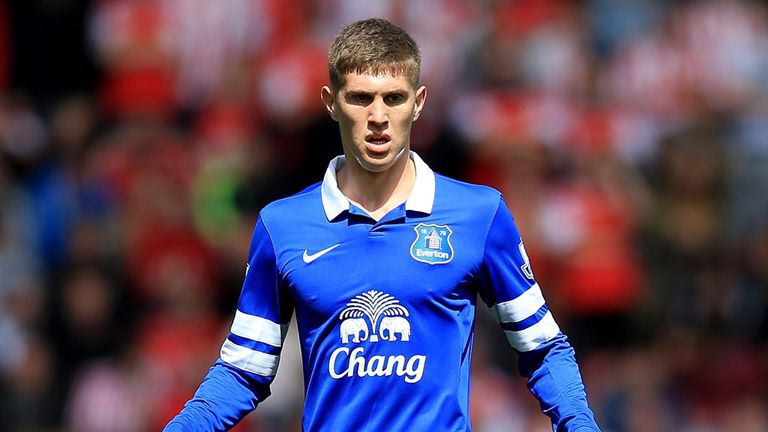 And, despite agreeing with the majority of the picks, Gale thinks England should find a place for young Everton defender John Stones.
Gale would also have Manchester United midfielder Michael Carrick in his squad but agrees with viewers that Luke Shaw should get the nod ahead of Ashley Cole.
Sky Sports viewers' goalkeepers: J Hart (Man City), B Foster (West Brom), F Forster (Celtic)
Gale: "No complaints, they are all good goalkeepers.
"But, for me, it would be John Ruddy in place of Forster because I think Ruddy has played in more competitive football and has had a good season for Norwich despite their struggles.
"Forster is excellent but I think Ruddy edges it.
"I saw Ben Foster at the weekend, he was in great form for West Brom. He made some great saves in the first half against West Ham and has probably done enough to keep them up. And you can't argue against Joe Hart."
Sky Sports viewers defenders: L Baines (Everton), G Cahill (Chelsea), P Jagielka (Everton), G Johnson (Liverpool), P Jones (Man United), L Shaw (Southampton), K Walker (Tottenham).
Gale: "I think we are short of a central defender. You are depending on Cahill and Jagielka, with Jones filling in.
"Jones has not been that good in central defence this season and Smalling has not really shown.
"If I was looking for a youngster to take away, it would be Stones of Everton.
"I know it has only been for a dozen games but I think he has been brilliant and I think he has brought the ball more out of defence than English defenders have done for the last 10 years.
"I've never even seen Rio (Ferdinand) step out into the zones that this Stones is doing and he is really a continental type defender. He's at a great place with (Everton boss Roberto) Martinez, who is going to encourage that.
"I know Ashley Cole has come in for the last few games and done really well but, for me, Luke Shaw has to go to the World Cup.
"We've got a super player on our hands and we've got someone who can maybe go on and win as many caps as Ashley Cole has.
"I would take him in terms of planning for the future and as our best left-back other than Leighton Baines, who has to be the first-choice as he has that little bit of experience.
"Ashley Cole's experience counts for a lot but I don't think he has quite got the legs to get up and down that left-side like Baines and Shaw have."
Sky Sports viewers' midfielders: R Barkley (Everton), S Gerrard (Liverpool), J Henderson (Liverpool), A Lallana (Southampton), F Lampard (Chelsea), J Milner (Man City), A Oxlade-Chamberlain (Arsenal), R Sterling (Liverpool), J Wilshere (Arsenal).
Gale: "I think Michael Carrick is an omission who I would have in the squad.
"Roy (Hodgson) is probably going to play 4-2-3-1. He's going to have two holding midfielders and, considering we are not that great on the ball, I think Gerrard and Carrick have to play in front.
"I don't think Frank Lampard is a holding midfield player and players like Barkley and Henderson have probably moved ahead of Frank this year.
"Frank's had a wonderful career but Michael Carrick for me would be the holding player that is not on that list."
Sky Sports viewers' strikers: W Rooney (Man Utd), D Sturridge (Liverpool), D Welbeck (Man Utd), R Lambert (Southampton)
Gale: "I would not argue with that.
"Rickie Lambert showed again at the weekend why he is going to be our Plan B rather than, maybe Andy Carroll, because he is better than Carroll on the ball and brings other people into play.
"He has proved he is a good player this season and has a good partnership with Lallana.
"I think Wayne Rooney will start up top rather than in a deeper role."
Pick your 23-man England squad for Brazil with Sky Sports' squad selector