Tom Ince Q&A
A few days before Tom Ince travelled to Inter Milan for transfer talks, Sky Sports had the chance to chat exclusively to the man himself about the exciting future of England's young, rising talent...
By Peter Fraser - Follow me on Twitter @PeteFraser_
Last Updated: 26/05/14 10:19am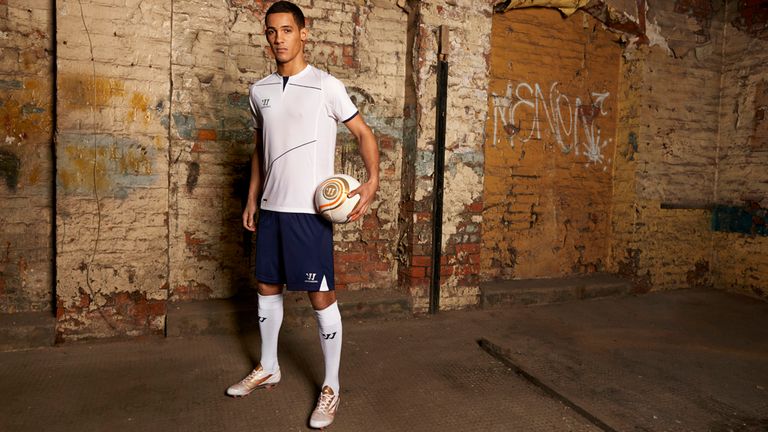 As England slumped out of 2013's European Under 21 Championship last June, all was doom and gloom about the nation's footballing future.
Three defeats in three games in Israel meant it had been a tournament to forget. It cost manager Stuart Pearce his job and certainly did not bode well for the country's rising talent.
But wind the clock forward almost 12 months and there are already suggestions England's young footballers are again a reason to be excited.
England U17s recently being crowned champions of Europe is one such reason while the likes of Luke Shaw, Ross Barkley, Raheem Sterling and John Stones being involved in the senior team's World Cup plans is another.
Tom Ince's possible move to Inter Milan is one more signal as, despite Italian football not being what it was in the past, a club of that calibre recognising English potential is definitely not a negative.
Winger Ince's loan at Crystal Palace from Blackpool in the second half of 2013/14 had not gone as many had hoped, with him making only five starts, but if he does well in Italy, where he is following in the footsteps of his father - former England captain Paul, he would seemingly have the world at his feet.
That is good news for England's U21s. They are already flying under new boss Gareth Southgate in their Euro 2015 qualifying campaign and are undefeated at the top of Group 1 having scored 27 goals and conceded just two.
Indeed, the 3-1 win over British neighbours Wales earlier in May, inspired by Nathan Redmond's hat-trick, means the U21s only need one point from their remaining games against Lithuania and Moldova to book a play-off spot for next summer's finals in Czech Republic.
All of this means England's miserable performances in Israel in 2013, in which Ince played just a game-and-a-half, seem a long time ago and, while we should not to get carried away by the swing from negativity to positivity, there are more than a few reasons to be cheerful.
Ince, who is aged 22 but remains eligible for the U21s due to his date of birth, is one of the older men in Southgate's young squad but he is in no doubt about England's promise and the potential of following Shaw, Barkley, Sterling and Stones into the senior setup.
What was your assessment of the win over Wales which puts England's U21s on the brink of securing a play-off spot for 2015's European Championship?
"It was a tricky game and similar to our first game against them. They gave us a derby and made it very hard for us to break them down. But we controlled the game and we maybe could have stepped up a gear. Nathan Redmond was the star of the show with a hat-trick."
You had played just three games for Palace since the end of March so were you pleased with your own performance against Wales?
"Definitely. I had not been playing consistently at Palace so I was a little bit rusty but to get a good 80 minutes under my belt was good. I was pleased. I would have liked to have got a goal but it was good to get a run out ahead of the summer."
England U21s are flying in qualifying and there is a lot of excitement about the potential of this group of players. Are you relishing that expectation and the possibilities it can bring for the future?
"Absolutely. It is a new bunch of players after the disappointment of last summer with the Euros in Israel. It is a whole new regime, new staff, new ideas and the young lads who are coming through are fantastic.
"We have seen the pathway it has given to Luke Shaw, Ross Barkley, Raheem Sterling and John Stones and they have the chance to go and play with the seniors. It shows the new ideas are working and there is some fantastic talent in the U21s, U19s and U17s. The talk of people saying there is no English talent is hard to believe, to be honest."
Gareth Southgate seems to be quite calm and collected in his style of management since taking over the U21s. What has he brought to the setup?
"He is fantastic. He has brought in Steve Holland from Chelsea, who is brilliant and is obviously working with Jose Mourinho. They are not the type to rant and rave and just believe we are good enough players to go and express ourselves.
"You are picked for your country for a reason and they do not believe in trying to dictate the way we play. We just want to play with freedom and express ourselves. The way the qualification campaign has gone, and the performances which have been put on, have shown that in abundance.
"We need one point from the next two games, which I think we will comfortably get, and then the play-off game, whoever that is, and then hopefully go to Czech Republic next summer. It will be an exciting time."
As we saw in Israel, the U21s always do well in qualifying and then have recently failed to win tournaments. What will be vital to getting it right this time?
"It is difficult. The Euros are where the best teams are at. Leading up to that last tournament, we probably had an easy qualification group and we probably did not play good enough teams. The better players and better quality teams are higher up.
"When you go to these tournaments, you have to be prepared for a difference. Israel was also hot. We were not really clued in to the temperature. Were we really preparing well? Did we have our main focus on going to win that tournament or trying and get through to the latter stages?
"It was disappointing. A lot of questions were asked. But that is something you have to take on board. You cannot go on the past and today is today. The new squad we have is very young but nevertheless has fantastic talent."
Thomas Ince wears the new Warrior Superheat Pro. See warriorfootball.com or follow @WARRIOR_FTBL