World Cup: Should Roy Hodgson switch Wayne Rooney to the left in order to accommodate Raheem Sterling?
After a disappointing display against Peru, Wayne Rooney found himself the focus of debate with some questioning his role in the England team. Adam Bate makes the case for switching Rooney to the left in a bid to get the best out of others and relieve the pressure on England's star man...
Last Updated: 04/06/14 11:23am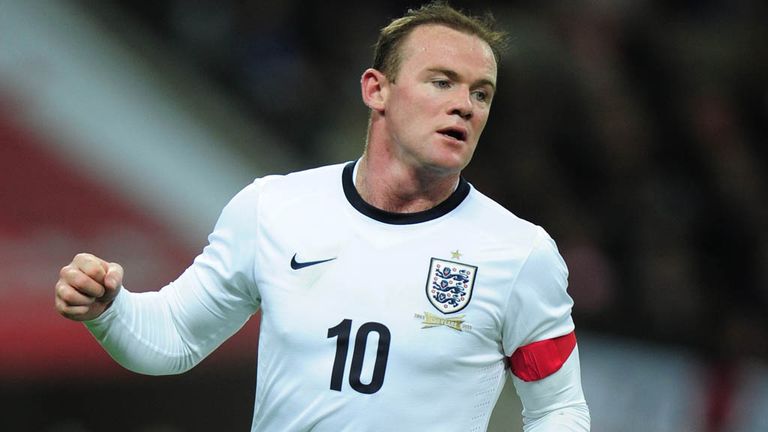 Paul Scholes set the agenda last week: We need to talk about Wayne Rooney. "There's a chance he's worn out," wrote Scholes in his Paddy Power blog. "Wayne's peak may have been a lot younger than what we'd expect of footballers traditionally."
After an unimpressive run out against Peru, the speculation has gathered pace with another former England hero Gary Lineker enthusiastically picking up the baton via Twitter and threatening to run with it all the way to Brazil. "What does Roy do with Rooney?"
It was an understandable question to ask. Little came off for England's No.10 at Wembley on Friday night. Indeed, it was only a brief appearance from Peru winger Edison Flores that prevented Rooney from boasting the worst pass completion rate of the 34 players who saw action.
It was more than the statistics though. On a night when he'd been warmly greeted by the crowd, Rooney cut a lethargic figure throughout – positionally at the heart of the game and yet peripheral in any meaningful sense. Has there ever been a better player with such a heavy touch?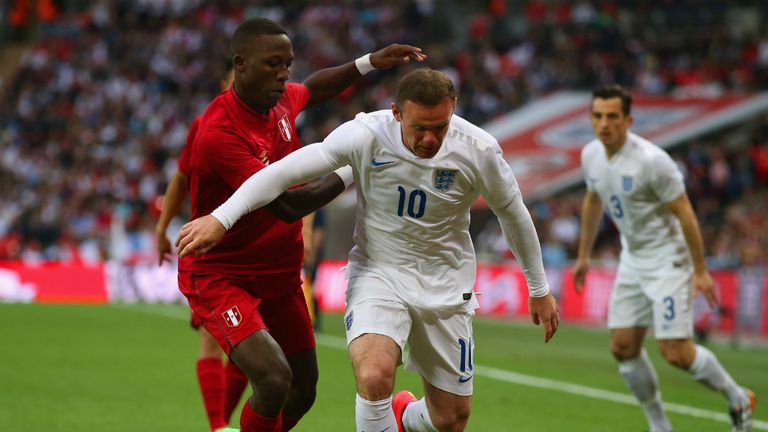 Of course, Rooney may feel entitled to ease his way back having not played since late April and the Manchester United man has a long-established habit of requiring a number of games before recovering his best form.
For his part, Roy Hodgson appeared more perturbed by the reaction of the media than any concerns over the form of his forward. As with the withdrawal of Steven Gerrard, his early substitution was chiefly about protecting one of the team's key assets
Bad memories
But that's not how all supporters see it. The national team attracts the attention of the casual fan and when it comes to English football capturing the imagination of the mainstream, Rooney has a chequered history. Put simply, Rooney at the World Cup brings back too many bad memories.
If a scorned lover is once bitten and twice shy then what of the England fans? Rooney's metatarsal problem in the build-up to the 2006 World Cup only exacerbated the expectation levels – "the big man is back in town," was the line with which he reportedly greeted team-mates upon his return.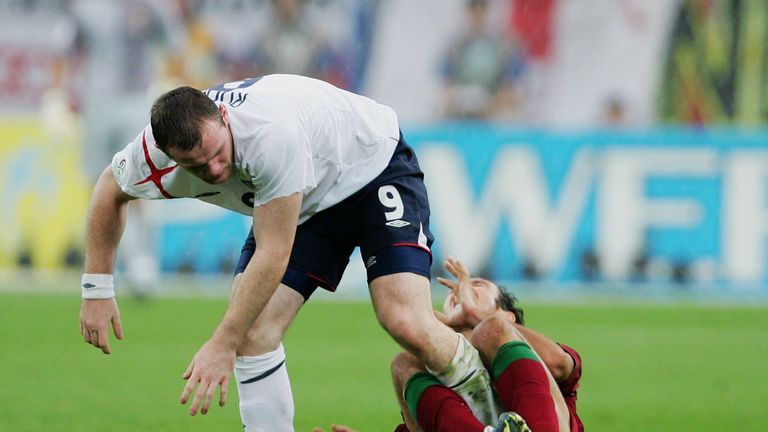 That ended well. Rooney's red card in the quarter-final against Portugal preceded a gutsy but fruitless effort from his colleagues. Four years later things went even worse with Rooney's most memorable moment being an outburst to the camera amid the cacophony of boos against Algeria.
In a sense, Rooney has never been forgiven for his efforts as a teenager at Euro 2004. Bustling and brilliant, Rooney excited like nobody else at that tournament and raised the bar of expectations. A decade on, the debate was supposed to be Rooney v Maradona not Rooney v Sturridge.
The identity of the player who replaced Rooney on Friday evening has highlighted the perceived contrast between England's fresh hopefuls and the battle scars of the previous generation. If Raheem Sterling is forced to wait for his chance, is Rooney's presence more hindrance than help?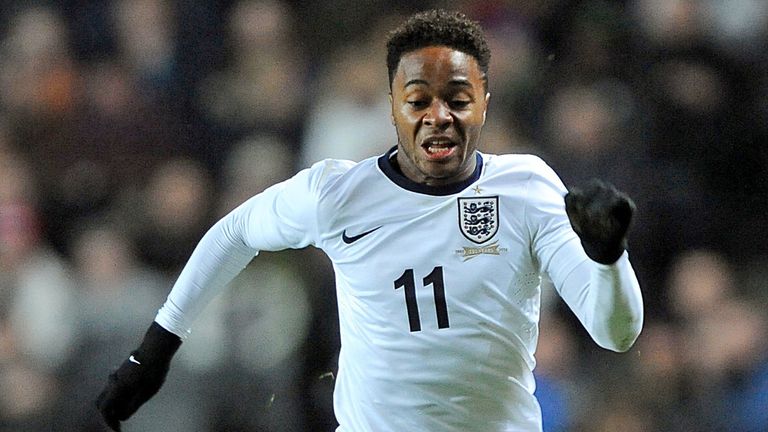 Despite polls indicating over 60 per cent want Rooney ousted, there is a weight of evidence to suggest such a decision would be absurd. His form has been good. Rooney was the joint-fourth highest goalscorer in the Premier League this past season and ranked a place higher for assists.
At international level, he did more than anyone to get England to Brazil, scoring seven goals in qualifying – three more than any team-mate and a tally only bettered by half a dozen players across the rest of Europe.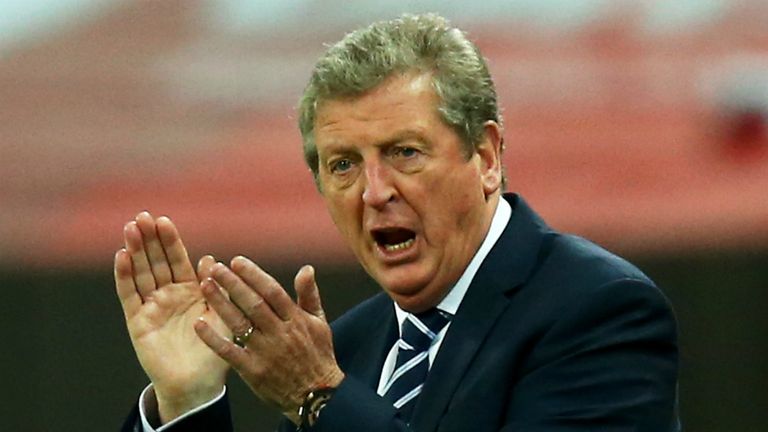 Axing Rooney would be precisely the sort of grandiose gesture Hodgson is keen to avoid. The challenge is finding where best to play him. Although happiest in a No.10 role, perhaps there is a preferable solution in switching Rooney to the left.
It's the position currently occupied by Danny Welbeck thanks to his ability to stretch defences with his powerful running. But it was noticeable against Peru that with Leighton Baines getting forward with more purpose than predecessor Ashley Cole, Welbeck was asked to play quite narrow.
That's the sort of left-side role that would seem to favour Rooney more than his club mate. After all, the 28-year-old has a tendency to drift to the left anyway and it is easy to envisage him cutting inside to cross or shoot to good effect with the runs of Baines opening up that bit of space.
Opportunity
Perhaps more significantly, such a tweak of the formation would offer an opportunity to get Sterling involved from the start. The Liverpool youngster has established himself as far more than a winger and enjoyed plenty of success at the tip of the diamond in Brendan Rodgers' system.
Rooney's maturity and big-game experience might make him a better fit for the responsibility of playing from the left and tracking the full-back when necessary. Sterling could be allowed to play off Sturridge in a similar fashion to how he has done so at club level.
It's a sacrificial role of sorts but one that might allow the younger player to flourish. Whether 'the big man' would willingly accept such a move is questionable, not least given his undoubted desire to make up for previous disappointments.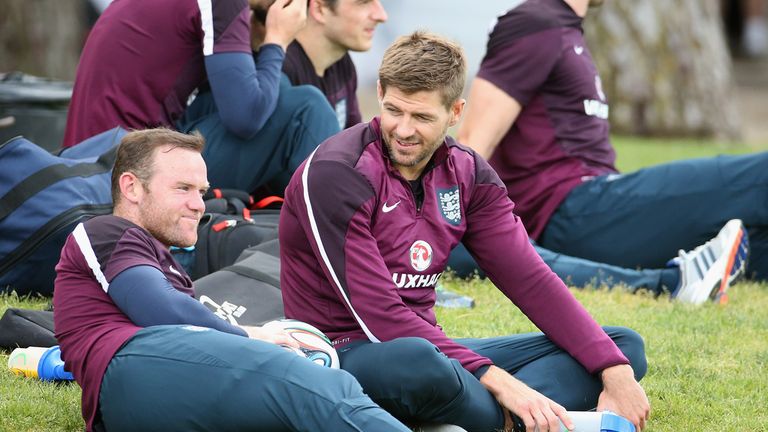 Even so, there is a case to be made for saving Rooney from himself. He's carried the burden of this weight of expectation for too long in a Three Lions shirt. Maybe the time has come to lance that particular boil and surrender himself to the team.
In keeping with the lowering of expectations across the whole group, there is a chance to take some of the heat off Rooney too. As Scholes put it: "Maybe Wayne has felt the pressure of playing for England in the last two World Cups."
It doesn't have to be that way in Brazil. The roles of Gerrard and Rooney can change. They have the chance to give the younger players a platform from which to play with enthusiasm and enterprise. It would be a brave call by Hodgson, but it might just be the right one.