England: Matt Le Tissier urges Steven Gerrard to stay available for England
Last Updated: 24/06/14 9:46am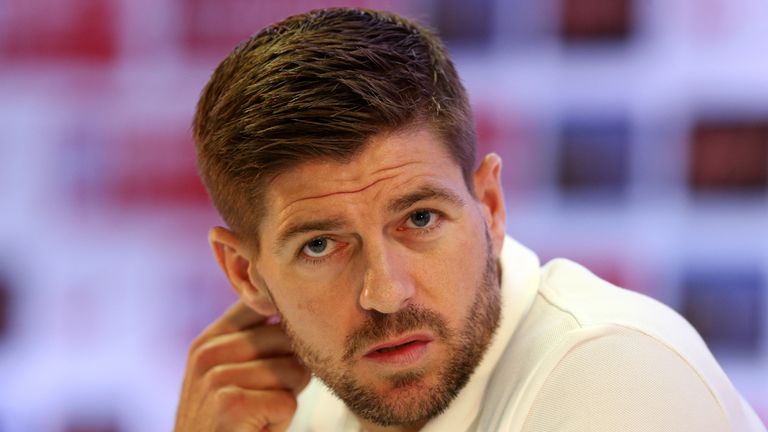 It's been a disastrous Brazil 2014 for England and at 34, some feel the time is right for captain Steven Gerrard to announce his retirement - but Matt Le Tissier isn't one of them.
Thursday's 2-1 defeat to Uruguay in Sao Paulo may turn out to be Gerrard's final game in an England shirt - and the Liverpool midfielder will watch long-time international colleague Frank Lampard lead the side out for Tuesday's dead rubber against Costa Rica.
Gerrard has denied he will be making a decision this week but regardless, former England forward Le Tissier has questioned the need for players to make official announcements.
"There's not that many players who have actually retired from international football and I don't think it's a decision a player should make really," he told Sky Sports' World Cup Podcast.
"If I was even 34 or 35 and was still good enough I would want to still play for my country. I am not sure I'd ever have been in the position where I would've just said 'I don't want it anymore'."
I am not sure I'd ever have been in the position where I would've just said 'I don't want it anymore.'
Matt Le Tissier
Podcast host Andy Burton suggested that players call it a day because they are not being selected for England - citing John Terry as an example of someone who may have been called upon for the World Cup had he made himself available.
Le Tissier insists age shouldn't come into it, even if coach Roy Hodgson has won plenty of plaudits for picking younger players.
Awkward
"If you are good enough, you are old enough," he said.
"I don't quite understand it. If he's not going to be picked then just don't pick him!
"If you have a good run of form and there are a few injuries, it's not so awkward to bring him back in."
Le Tissier does, though, want to see the younger, unused players given a go against Costa Rica after Hodgson picked the same starting XI for the defeats to Italy and Uruguay.
But with only four of the remaining 10 outfield players yet to be involved, the former Southampton star wants to see youth given its chance.
"I hope he picks some of the younger players who haven't started a game so perhaps play Luke Shaw at left-back, perhaps start with Ross Barkley," said Le Tissier.
"He'll probably start with Adam Lallana and we're probably looking at one of the centre-backs making way and perhaps Chris Smalling or Phil Jones dropping in there."