Gemma Davies finds the party still going strong in Brazil despite England's early exit
By Gemma Davies
Last Updated: 27/06/14 10:11am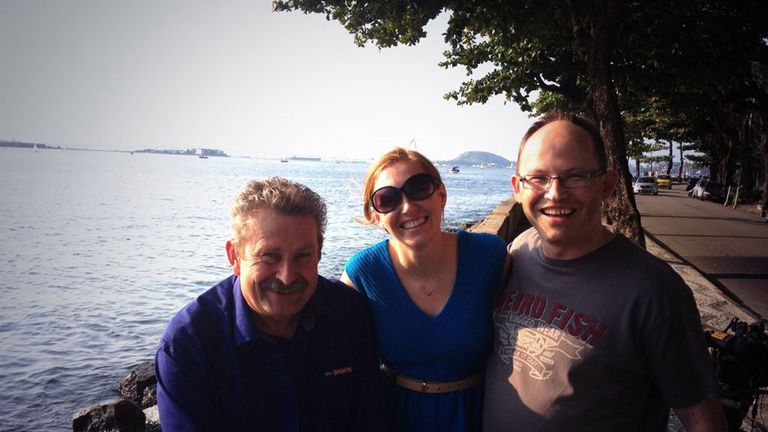 Sky Sports News' Gemma Davies reflects on an all too brief stay for England in Brazil – but finds solace in the passion of the locals…
As England's World Cup is over, so too is the tournament for SSN's Team England. Yesterday we did our final live from a rooftop position overlooking the Copacabana and reflected on a performance that we hope rates higher than one point from a possible nine.
Working on a World Cup in Brazil has been the best experience of my career so far. This is my first World Cup from a work point of view (in comparison to Nick Collins' sixth!) but I find it difficult to see what could top it in the future. I am most definitely lovestruck by Brazil 2014.
Even though we have been following England, one of the highlights has been seeing how the locals support the hosts Brazil. For the opening match against Croatia we were travelling between live positions in Manaus during the second half. But that didn't mean we didn't get to see the match - far from it. Our taxi driver had a TV on his dashboard which we hope he only had one eye on whilst his other eye was on the road!
We also passed a roundabout with a huge screen showing the game meaning nobody had any excuse for not seeing the hosts win their first match.
The country really does stand still when Brazil play. On Monday when they beat Cameroon we were in Belo Horizonte and timed the traffic well.
As we drove back to our hotel from the stadium the streets were deserted. An hour later it was gridlocked.
Whilst Brazil has been the ultimate setting for a World Cup, the team I have worked with have gone a long way to make the experience an enjoyable one too. It's so important to get along with the people you're working with when you're in each other's pockets everyday.
But more importantly they have been incredibly tolerant with some of my more clumsy moments. Spilling scrambled egg down a white top after only the first live broadcast of the day; not realising a bottle had a screw top and trying to open it with a keyring; and climbing over a gate in ladylike fashion to get to a live point...only to be shown how to open the gate once I'd reached the other side… And I realise they have had to put up with the Gemma foghorn voice for almost a month now.
So I have deserved far more abuse than has actually come my way. Although I can't say they haven't had their own amusing moments. I won't embarrass them too much but suffice to say I won't be asking Nick Collins for directions ever again!
But don't feel too sorry for me that my working World Cup is over. I'm now staying in Brazil for another week to enjoy a much-needed holiday. So far my tan has only extended to freckled cheeks, arms and knees but I'm hoping to make it onto the sand of the Copacabana, rather than just doing live broadcasts from the edge of it.
Now pass me one of those caipirinha things that everyone has been raving about...