Gemma Davies says bye to Brazil after a fun and dramatic World Cup
By Gemma Davies
Last Updated: 08/07/14 4:15pm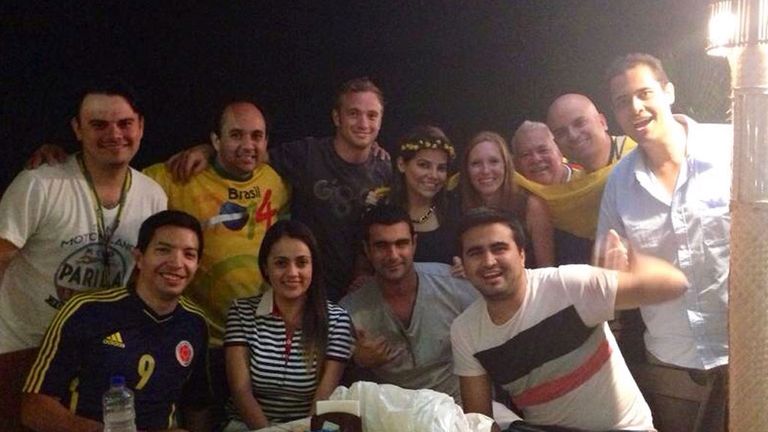 Sky Sports News reporter Gemma Davies packs her bags for home and enjoys one final party on the Copacabana as she reflects on a brief but endearing love affair with Brazil.
My last blog was my final one as SSN's England Producer in Brazil as I looked forward to a week on the beach and experiencing the World Cup as a fan. Now this is my final blog altogether as I reflect on what has been the time of my life.
I have been glowing in my review of Rio de Janeiro throughout this tournament and I didn't think it was possible to love it more. But a week of experiencing Rio by night and integrating with fellow tourists showed me a whole other side to the city.
The day of Brazil's last-16 tie against Chile I thought it would be a notable experience to watch the match in the official Fans Fest on the Copacabana. And that it was. However, not one that involved me seeing much of the game. The crowds were so big that all 5ft 2" of me could barely see the screen and every time Brazil got remotely close to an attacking position the sway of the masses took me with them!
So I promptly relocated at half-time to a Copacabana bar which was much more of a safe haven. That was until penalties. I genuinely feared the reaction had Brazil lost given that them missing one penalty resulted in yoghurt being thrown in the restaurant!
Fortunately Brazil's win meant I made it out of there alive and was able to sample the Rio nightlife in celebration of the host nation's progression to the quarter-finals. The advantage of England's early exit and my bonus holiday was reiterated to me when I was leaving my hotel at 10pm that night to go out and bumped into another SSN crew on their way to bed!
Fan spirit
The area of Lapa was my destination and I had a little bit of concern that this may end up like a night in my native Wigan when my friends said they were stood outside the petrol station drinking. When I arrived the streets were a sea of yellow and green with locals and tourists alike stood outside enjoying the traditional Brazilian combination of caipirinhas and samba. The evening ended at a local samba club called Cairoca da Gema - could that have been set up more perfectly for me?! The result was a very delicate Gemma the next morning, however.
Another evening I met up with a friend who was also working at the World Cup. We chose one of the traditional Copacabana beach bars as our venue and soon made friends with a group of Colombians and Mexicans on the next table. When my friend introduced himself as Jamie the Colombians soon took him under their wing, singing songs of their beloved James Rodriguez! The fans spirit of the World Cup was in full flow here and rather than being at war, rival teams formed beautiful friendships.
Even though I was off work duty, I took advantage of the opportunity to see Brazil train with my SSN colleagues on one of my final days in Rio. Their training base had a feel of the Swiss Alps, a two hour drive from Rio and in an isolated setting. The crowds of fans were as excitable as those in the Fan Fest on matchday and their reaction when Neymar entered the training ground on a push bike was similar to what you'd expect from teenage girls (and myself) at the sight of One Direction.
Unfortunately for Neymar his World Cup ended soon after that, and so did mine. Perhaps he'll get to celebrate another Brazil win in Lapa outside a petrol station.
I'm sad to be back but have since been able to watch matches with English commentary and appreciate the once in a lifetime experience I know I have been lucky to have had. So goodbye Brazil 2014, it's been emotional and I'll always remember you. There's even still a little bit of Copacabana sand in my handbag.