Blunt Brazil?
Our man in Brazil Simon Gillett reflects on whether Brazil, architects of the Beautiful Game as we know and love it, have lost their sparkle. The Samba Boys are in a period of transition as we assess their squad ahead of the Copa America.
Last Updated: 30/06/11 3:58pm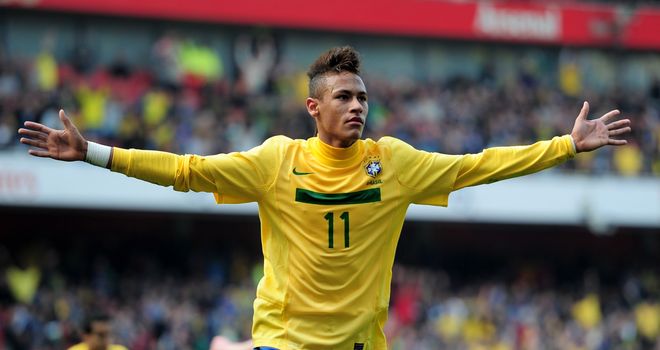 Back in May, Brazil coach Mano Menezes announced his squad for two friendly games. The first match was against Holland on June 4 before a deserved testimonial for Ronaldo versus Romania later in the month.
The significance of these friendly games was that they were the final ones before the initial 28-man squad was reduced to a core of 23 players selected to represent Brazil in the upcoming Copa America in Argentina, which kicks off at the weekend.
Both friendlies were poor games and the Brazil team were booed off after a limp goalless stalemate with Holland preceded a lacklustre 1-0 win over Romania. Watching both games it became apparent that this current group is a work in progress and does not yet possess a natural leader. Indeed, it is not clear who might step into that role. An obvious candidate is Lucio but it remains to be seen if he will be first choice. Many predict he will be for the Copa America but it is widely agreed that the future of Brazil is David Luiz and Thiago Silva.
Additionally, for the first time in recent memory, it could be argued that Brazil is lacking a true star name, someone of the calibre of Romario, Ronaldo, Ronaldinho, or even Kaka. There is no doubt that Brazil is blessed with many quality players but currently they do not possess a recognised world class talent. Kaka was World Player of the Year back in 2007 but since then has struggled, particularly in the build up to the World Cup and in the past campaign. He is not a guaranteed first choice at Real Madrid and doubts remain about his desire and ability to rediscover his finest form following a series of serious injuries.
Back in Brazil, Neymar and Ganso are seen as the current great hopes and they certainly have talent, underlined by their significant roles in helping Santos win the Copa Libertadores. However, in order to project themselves onto the world stage they need to deliver at international level and probably should move to one of the top leagues in Europe.
It will be interesting to watch the Brazilian team evolve and see how they perform in the Copa America and to see if a natural leader starts to emerge. The team is under pressure and needs to deliver results. Mano Menezes is trying to build a team ethic, in much the same way that predecessor Dunga did, but there is nonetheless a great opportunity for a player to have a great tournament and set himself up as the new leader.
Here, we run through Menezes' squad for the forthcoming Copa America.
Goalkeepers
Julio Cesar was considered one of the best keepers in the world, if not the best, last year leading up to the World Cup. He was instrumental in Inter Milan's treble, but since a poor World Cup his form has dipped. The two reserve options, Jefferson and Victor, are both based in Brazil. Jefferson is a reliable performer who has been rewarded for his steady form at Botafogo, and Victor is an up-and-coming prospect from Gremio.
Full-backs
Daniel Alves is a class act and is arguably the player in the current squad who most consistently performs at their best level. At Barcelona he helps form the creative basis of the team together with Messi, Xavi and Iniesta, but there are some doubts about his defensive ability and his temperament. For a long time Alves' rival for the right-back spot has been Maicon. Similarly to Julio Cesar, Maicon's form has dropped this season, most noticeably when Gareth Bale took him apart in two UEFA Champions League games.
The two selections at left-back demonstrate that it is a real problem position for Brazil. Ever since Roberto Carlos retired no single player has emerged to claim the spot. Andre Santos is average - solid if unspectacular - and the choice of the versatile Adriano was a surprise to many.
Centre-backs
Thiago Silva is the standout player in this position. He has just been voted the defender of the year in Serie A after helping AC Milan win the Scudetto and is a naturally gifted player - composed on the ball with an ability to read the game well. There aren't many better centre-backs in the world at the moment.
David Luiz is also extremely talented but the feeling remains that he is not the finished article yet - he needs to curb his impetuosity. Lucio is a great leader, has been a loyal servant to Brazil, and won't let anyone down, but he is not the future. Luisao is club captain at Benfica, is reliable and steady but not a world beater.
Midfield
Together with the forwards this is traditionally an area of strength for Brazil. However the current list doesn't contain a single player to really get the blood pumping. Ramires and Lucas seem to be Menezes' preferred pairing, and are both good players. They possess excellent 'engines', are disciplined, and like a tackle, but these are hardly traditional Brazilian attributes. Ramires is the most technically gifted but he needs to add more goals to his game, whilst Lucas needs to improve his range of passing. Sandro is a player similar to these two, and is an excellent prospect coming off the back of a very encouraging first season with Tottenham. They are all still young so do have time to develop into world class players.
Paulo Henrique Ganso is the player identified by many Brazilians as the key midfielder. He is extremely talented and has got it all. He is excellent on the ball and often dictates the pace of his team's play. He plays at Santos, with Neymar, and has had an excellent couple of years. He has been earmarked as the next Kaka and if he fulfils his potential he is certainly world class material. Elano, another Santos player, has been included following some good performances in becoming the top scorer in the Sao Paulo Championship. A trusted player but again, he is not the future.
Further down the list is Elias, who switched to Atletico Madrid in January after a couple of good seasons at Corinthians and is another decent prospect. Jadson is a player Menezes seems to like but is no world beater. The youngest member of the Brazil squad is Lucas, from Sao Paulo, who is definitely a hot prospect. He had an excellent U20 Championship for Brazil, together with Neymar, but has only played 30 odd times for Sao Paulo.
Unquestionably gifted, he looked classy in a cameo performance off the bench against Scotland at the Emirates. However, like a lot of the players on the list, he is unproven at international level.
Forwards
Again this is an area of traditional strength but there is no standout name. Robinho has never delivered on his potential and is unreliable. He goes missing in important games and is not top drawer. Pato could be, he is young enough and talented enough. He had a good season alongside Robinho for AC Milan, but was hampered by injuries. Fred is a good player - an example of a player who went to Europe immature, did reasonably well for Lyon, returned to Brazil more reliable and led Fluminense to the league title last year.
The great hope is Neymar. He has been on the scene for a couple of years now, seems to cope well with the pressure of being a young star whose every move is monitored, and most importantly, has consistently delivered on the pitch for Santos - including scoring in the final of the Libertadores. As with Ganso, there is a feeling that it is time for him to move onto a bigger challenge to try and establish himself as a major world star. It will be interesting to see where he ends up and how he progresses.
Exclusions
Gomes: Following his error strewn season it is perhaps not surprising. Will be interesting to see what next season holds for him and if he can win back Spurs supporters' trust.
Rafael and Fabio: Both versatile, skilful and quick, young full-backs who have had promising seasons at Manchester United.
Kaka: Was hampered by injury at the World Cup and has had an injury hit season at Madrid. Menezes has spoken to him and agreed to leave him out so that he can focus on getting fully fit and benefit from a complete pre-season programme at Real.
Ronaldinho Gaucho: Playing for Flamengo he has been overshadowed by his team-mate Thiago Neves. Has lost a yard of pace but still has great touch and vision. Not the future and seen as a luxury.
Hulk: Perhaps a surprise that he has not been included following his fine form in Porto's successful season
Conclusions
Whilst recognising that Brazilian domestic football, helped by a booming economy, is improving, it doesn't compare to the level of the top European leagues and the Champions League. With the next World Cup to be played on Brazilian soil the weight of expectation on the Brazil players will be immense. This summer's Copa America is an opportunity for one of these players to emerge and stake a claim as the leader of the national team.
The question remains though, as to whether Brazil actually needs a recognised star player.
Whilst it clearly helps to have a player at the peak of their form, sometimes it can add unwanted side-effects with an even greater media circus and level of expectation. The argument might be that it is better to have the whole group of players at a steady level rather than one individual flying.
Indeed, this seems to be the route that Menezes prefers - he seems pretty settled on this group of players - but the Brazilian public are used to having massive star names wearing yellow.