World Cup: Brazil's striker vacuum could yet prove costly
Brazil squeaked through into the quarter-finals with a penalty shootout victory over Chile but they look anything but assured. Daniel Storey worries that their lack of quality options up front will derail their bid...
Last Updated: 29/06/14 3:20am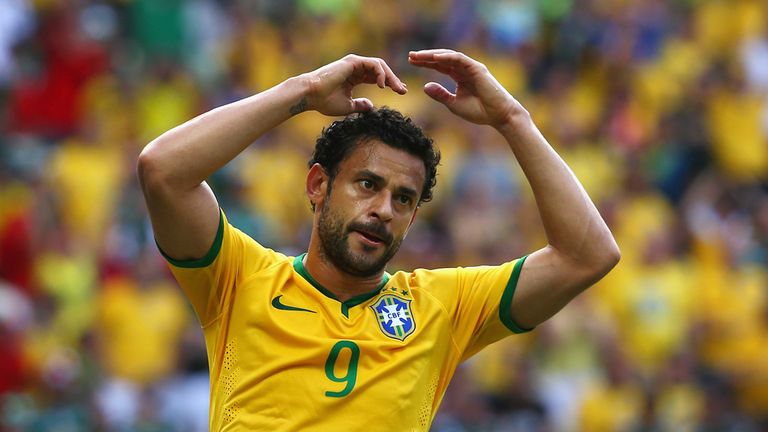 If there was any concern that this phenomenal World Cup was about to take an instant turn for the cagey with the arrival of the knockout stage, such worries were blown away by the most frantic and fervent 120 minutes imaginable.
If there was any match to sum up the sheer majesty of this tournament, it was this. Julio Cesar was the hero, but the hosts only squeezed through by a margin small enough that Hulk may not be able to fit his body through.
At times during the first half it felt as if we were watching a match in the school playground rather than on football's greatest stage - full-backs appeared on the opposite wings, holding midfielders surged towards goal. If both sides were nervous and reticent, it certainly failed to show - this was South American football at its most exhilarating best.
Defeat was harsh on Chile, who have displayed such vibrancy and brio during the past fortnight. They seemed initially unnerved by Brazil (or perhaps the incredible atmosphere in Belo Horizonte's Mineirao Stadium), playing the ball too long past their creative midfielders in a bid to ease the pressure, but from the moment Alexis Sanchez was gifted the ball and an equaliser after some Brazilian profligacy, they fought toe-to-toe with their more illustrious opponents. Mauricio Pinilla's shot in the embers of extra-time came inches away from lighting the blue touch paper on Chile's World Cup dream, and extinguishing Brazilian hope.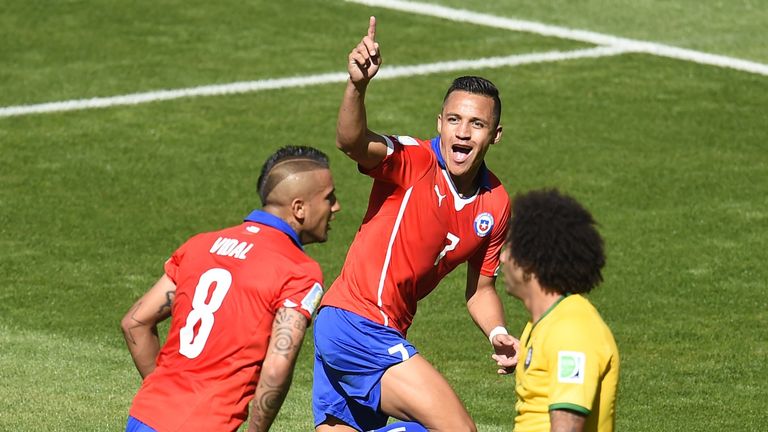 Chile's sense of unity and togetherness is as obvious as any other country in the competition, creating a team far greater than the sum of its parts. A central defensive pair comprised of a Cardiff City central midfielder relegated from the Premier League last season and a full-back released by Nottingham Forest should not for solidity make, but the commitment and determination showed be both indicates why it is so difficult to break down (or dislike) Sampaoli's team. The image of Medel in tears as he left the pitch with a leg injury that had been bandaged up four times during the match could be displayed in the England dressing room, if we were choosing to be particularly pissy.
Brazil may have progressed through to their 15th World Cup quarter-final, and a nation issued a collective sigh of relief, but there will be huge anxiety that this is a campaign destined to end in the failure that anything other than a sixth title would constitute - this appears to be a team too reliant on the genius of one man to justify their favourites tag. They may have maintained their unbeaten competitive home record which now stands at 62 matches, but this was no jogo bonito - Brazil turned in their lowest passing accuracy of any World Cup match since 1966.
Little difference
In midfield, Luiz Felipe Scolari chose to replace Paulinho with Fernandinho in what was viewed as a popular change, but the modification made little difference to the fluidity of Brazil's central midfield, in which Luiz Gustavo has been the only adequate performer. Fernandinho made just six passes in the entire first half, five of which went backwards, and by the time he was substituted with 20 minutes remaining had committed more fouls than he had completed passes in Chile's half. Not quite the drive Scolari was hoping for.
However, the issues in midfield pale into insignificance when Brazil's strikeforce are being scrutinised, with Hulk and Fred both making the likes of Leonidas, Vava and  Ademir turn in their graves. 
Hulk at least grew into the game and was arguably Brazil's top performer in extra-time, but he has a habit of bursting past an opponent before either shooting wide of target or running down a blind alley. His erring first touches are forgivable in the final third but less so in his own, and it was his mistake that allowed the concession of the equaliser.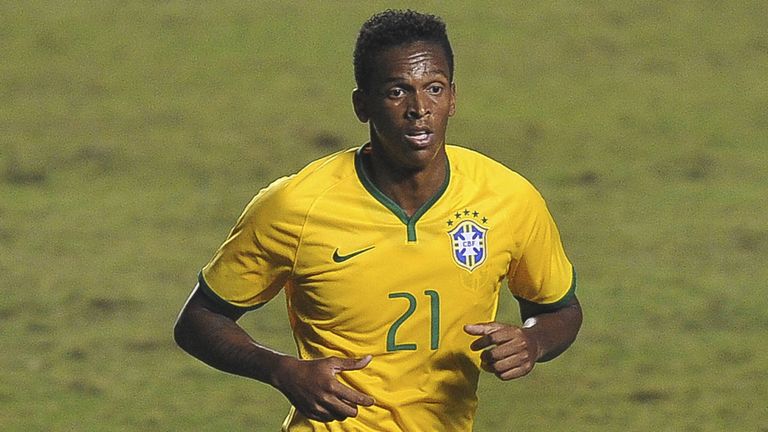 Fred, meanwhile, looks a shadow of the player that scored five goals in last year's Confederation Cup, a lack of meaningful movement and control leaving him isolated and on his heels when opportunities arise. He failed to have a single shot on target before being removed to a chorus of boos from the Brazilian fans thoroughly underwhelmed by such mediocrity. It is now just four shots on target in 312 tournament minutes.
This was supposed to be Fred's big moment. Playing in his home city of Belo Horizonte, this was intended as the stage on which he proved the doubters wrong, demonstrating his worth to his manager, public and the watching world. Instead he looked almost like a competition winner, blinded by the lights of the stars around him. 
The worry for Scolari is that there is very little Plan B. Fred's replacement Jo is a figure of fun in England following his disastrous spell with Manchester City (and slightly better efforts at Everton), but they remain Big Phil's only two options. In a country of 201 million, that's a fairly frightening thought.
This is not a tournament blessed with great talent in the no. 9 position, with no. 10s instead taking their place on the pedestal of those treated as our icons, but it is Brazil where this vacuum seems to be most evident. For the neutral this makes them utterly fascinating to watch, but one can't help feel that an adoring Brazilian public will be left bitterly disappointed - this is a flaw threatening to derail their date with destiny in the Maracana on July 13th.
Watch all the best World Cup stars in Champions League action on Sky Sports 5 next season. Activate our brand new channel by clicking here.