World Cup: Despite the stereotypes, Brazil are happy to win ugly - it's losing ugly they might not be able to forgive
An intense quarter-final between Brazil and Colombia resulted in a 2-1 win for the hosts in Fortaleza on Friday thanks to goals from Thiago Silva and David Luiz. It was a match that emphasised the fact that Brazil are prepared to do anything to win this World Cup, writes Adam Bate.
Last Updated: 05/07/14 1:30am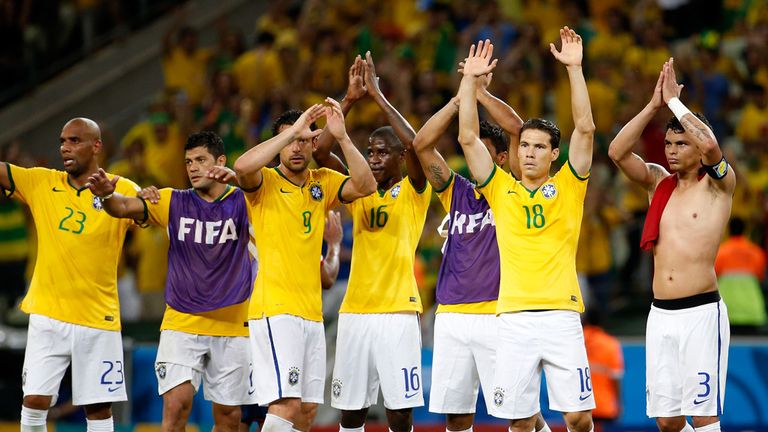 They say winning ugly is the mark of champions. Sometimes it's just ugly. Friday in Fortaleza saw Brazil clamber into the semi-finals of the World Cup bruised and battered but still alive.
Fernandinho might be finding remnants of James Rodriguez underneath his fingertips for days to come. It's not been at all pretty from the hosts. But nobody should really be surprised.
Stories of Samba football continue to prevail. They are the commentator's shorthand. Television producers can whack on that Nelinho goal, throw in some familiar Pele clips or the sight of Bebeto cradling his arms to the sound of Mas Que Nada and it's job done – instantly understandable. Brazil. Jogo Bonito and all that. It's a pleasant fiction.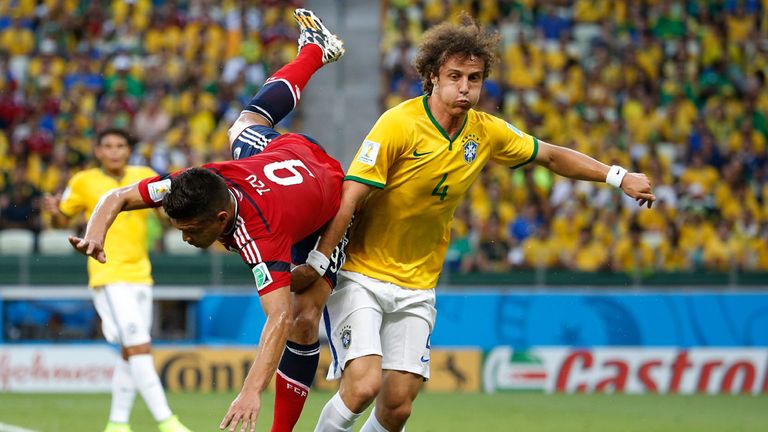 However, much like Shergar it hasn't been seen in earnest since shortly after the 1982 World Cup, and with the stakes so high this was the last place it was likely to reappear. Brazilians know this. It's the rest of the world that seems to suffer from collective amnesia every fourth summer.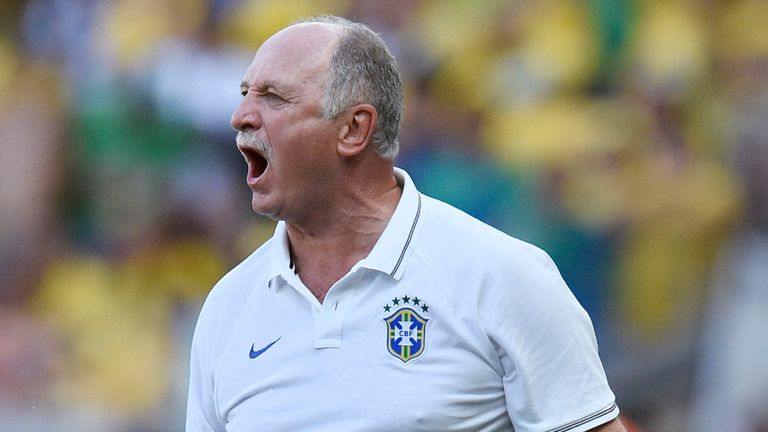 The presence of Luiz Felipe Scolari directing proceedings ought to be the first clue. Like a grizzled army commander tasked with one more mission, Big Phil wasn't invited along for his charming personality. He's here to deliver a sixth World Cup win by any means necessary and with this line up the free-and-easy approach just isn't going to cut it.
Brazil are not a great team and it looks like it's going to be too late to find any kind of fluency amidst this pressure. But there are numerous methods for flaying a feline and never any doubt that Scolari's side are prepared to employ them.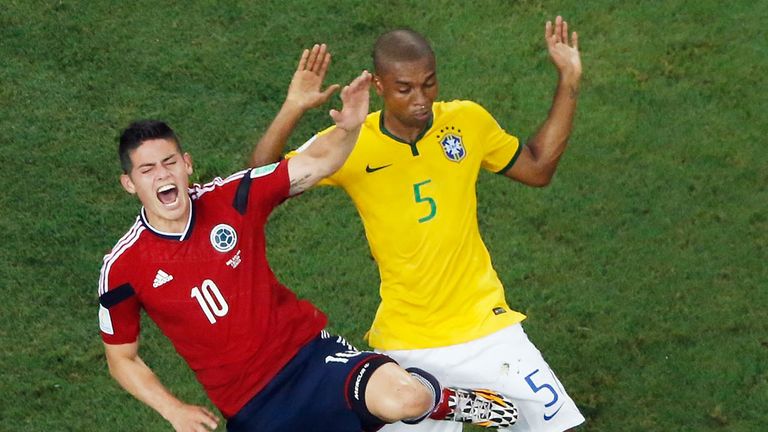 Colombia's James Rodriguez has proved singularly entertaining at this World Cup, perhaps the standout player. Evidently, Brazil had plans for him and when the brilliant No.10 was afforded so little protection in the early stages of the match, the attempts to restrict him became unpalatable.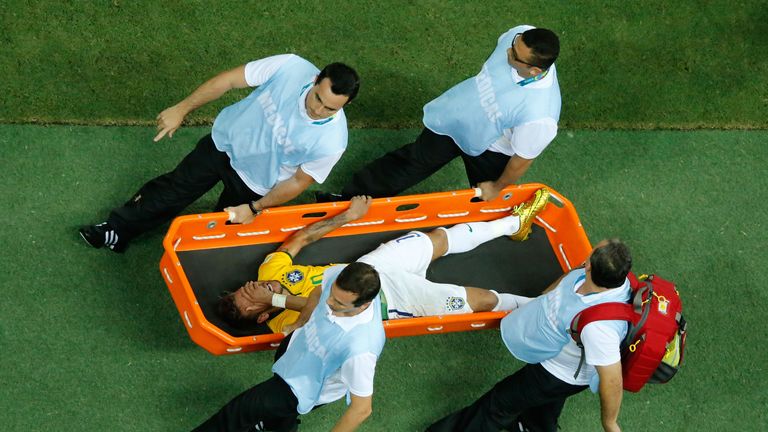 Brazil conceded more fouls – 31 – than they have in any World Cup match since 1966 and yet received only two bookings. One for a foul by Thiago Silva on the goalkeeper and the other for a goalkeeper, Julio Cesar.
It was a weak refereeing performance and Brazil did not escape unscathed. While the leniency facilitated Brazil's physical dominance in midfield it also saw Juan Zuniga deliver a knee to Neymar's back that has ruled the 22-year-old out of the rest of the tournament. Desperate stuff.
Desperation
As it turned out, Brazil's own desperation proved compelling viewing. The sight of Marcelo bringing the ball out of defence, shorn of options, summed it up as he opted to launch the ball aimlessly up the field... And was cheered. David Luiz repeated the trick moments later. The cheers grew louder.
History tells us that Colombia had never beaten Brazil but that didn't stop those in yellow playing like underdogs. From the two set-piece goals – the latter a supreme effort from Luiz - to the crunching challenges and desperate clearances, it had the hallmarks of an upset victory, with the supporters willing them on every step of the way.
It highlights the fact that nobody is under any illusions regarding the list of priorities. Brazil is a big country and opinions differ: Some think they must win. Other believe that they must play well… and win. Jose Pekerman pointed out the subtle difference between the two teams in his post-match interviews. "Brazil needed the victory and we aspired to it," said the Colombia coach.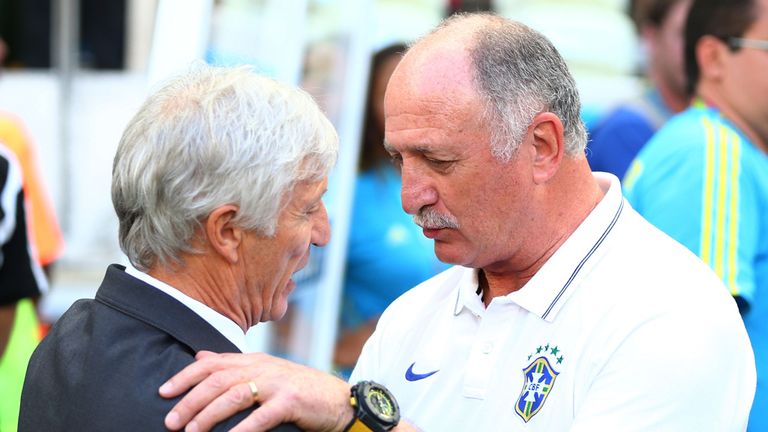 Necessity may be the mother of invention but it's apparently no relation to inspiration and that'll be in even shorter supply for the semi-final clash with Germany. Not only is captain Thiago Silva suspended but Neymar's back injury robs Brazil of their star turn. If the hosts get over the line they'll be falling over it in relief - a burden unloaded.
Oscar is likely to be expected to provide greater creativity in Neymar's absence, but his role among the infantry against Colombia is symbolic of the approach thus far. The Chelsea attacking midfielder has made more tackles – 25 – than anyone else at the tournament. As he told reporters after the game: "We will do everything to win this World Cup."
Nobody doubts him. It's ambition laid bare. The catharsis of collective national therapy conducted against the backdrop of the Maracanazo of 1950. Redemption was supposed to come with worldwide acclaim for Brazil's beautiful game. Now winning ugly is the best case scenario. Losing ugly doesn't even bear thinking about.
Watch Neymar and James Rodriguez in Champions League action on Sky Sports 5 next season. Activate our brand new channel by clicking here.