Football Expert & Columnist
Running out of time
Arsenal's woes could worsen if they continue to let their stars' deals run down, says Jamie Redknapp.
Last Updated: 17/02/12 4:53pm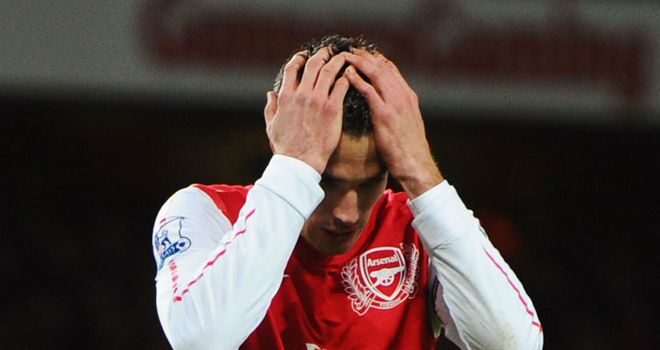 Arsenal were never going to win the Champions League this season, but the manner of their defeat to AC Milan will have hurt everyone at that club and none more so than Arsene Wenger.
We often wax lyrical about Arsenal's style of football, but they were completely outplayed, outfought and, worst of all, outpassed inside the San Siro.
That would have really disappointed Wenger because his philosophy has always been to get the ball down and play, but I don't remember them creating any clear-cut chances.
It surprised me because I looked at the teams at the start and thought for the first time in a while the Arsenal side was starting to take shape, at least defensively.
The back four they had out is probably as good as they've got with Bacary Sagna and Kieran Gibbs at full-back and Thomas Vermaelen back in the centre of defence alongside Laurent Koscielny.
The only surprise for me was that Wenger didn't start Alex Oxlade-Chamberlain in midfield. Yes, he's young, but he's not a kid in footballing terms, he's a man.
He's burst onto the scene in the same way that Wayne Rooney did, he understands the game and there's no doubt in my mind that he's going to be a star. So to start Tomas Rosicky in his place was a bit of a shock.
For me, Rosicky is in the Andrey Arshavin mould in that he's never really cut it at Arsenal, especially in the big games. He's always been on the periphery and has never really been the star man.
And when you're going away in Europe and you're looking to keep things tight, he's not the sort of player that you need. That showed against Milan.
A year ago Arsenal beat Barcelona 2-1 at the Emirates, but they had Samir Nasri, Jack Wilshere and Cesc Fabregas playing that day. A year on they had a midfield which included Rosicky, Aaron Ramsey and Mikel Arteta.
Arteta is a good player, but he's no Cesc Fabregas.
Angry
Arsenal fans sound pretty angry right now because they're desperate to see their club win trophies and it's not happening.
A lot of the blame is falling at the feet of the manager, but I don't think it's as simple as that. In the last few years Arsenal simply haven't been able to compete in the transfer market with Manchester United, Manchester City, Chelsea or even Tottenham for that matter.
Instead, Arsene Wenger has had to try and keep things tight to balance the books, so you can't be too critical in that respect. If you want to compete at the top level, you have to have top players, not just coaches, and they cost a lot of money. Money that Arsenal haven't been willing to spend.
I can understand the fans' frustrations, though, because I played against unbelievable Arsenal teams like the 'Invincibles' and they were absolute monsters.
People like Patrick Vieira, Sol Campbell, Dennis Bergkamp and Thierry Henry could play against you any way they wanted, because they were so powerful. You couldn't outplay them and if you wanted to turn up and have a war with them, they would stand up to you and battle.
But you look at the current crop and you ask yourself 'where are the leaders?' Who in that team is going to drag them through a difficult period?
Alex Song plays defensive midfield, but he doesn't think he's a defensive midfielder. He thinks he's an attacking midfielder. He doesn't look at the opposition and think 'I'm going to stop you from playing today'.
When I look at that team now I think what a difference Scott Parker could've made and I'm not just saying that because my dad ended up signing him for Tottenham. This isn't about Tottenham and Arsenal, it's about signing the right players and he's one who Arsenal could've afforded, but chose not buy.
I think he would've been absolutely perfect for that football club and not just on the pitch, but off it, too. You only have to look at the impact he's had this season. And it's not just with hindsight, because it was so obvious at the time as well.
Everyone has their principles and Arsene Wenger prefers to buy young players who are technically gifted. But every now and then there has to be a signing that you make which breaks with your philosophy for the good of the team.
Contracts
I don't think they've helped themselves with their handling of contracts for their big star players, either.
We all talk about how well run a club Arsenal are, but they've struggled in this area in recent years. They let Nasri enter the final year of his contract before selling him to Manchester City, while both Theo Walcott and Robin van Persie only have 15 months left on their current deals.
You shouldn't allow players like that to get to that stage. They should always be tied down to long-term deals because if they're not, the players hold all the cards.
They've got themselves in a situation now where van Persie could leave the club on a free in 15 months' time, so what do they do now?
If he loves Arsenal and it's his club and he wants to stay there forever, then he will sign a new contract. But nights like Wednesday will give him an excuse to think about leaving.
And if Arsenal are forced to sell him what sort of message does that send to the fans and other players? You become a selling club.
The most important piece of business Arsenal can do over the next 12 months will involve the Dutchman and whether he stays or goes.
It's not all doom and gloom, though. They've got the FA Cup trip to Sunderland to look forward to and they're in that all-important fourth Champions League spot.
They've also got a local derby against Tottenham coming up, which - if you get the right result - can be the sort of game that can really turn your season.