Adam targeting cup success
Liverpool star Charlie Adam believes winning the Carling Cup could be the first step towards a successful future for Kenny Dalglish's side.
Last Updated: 23/02/12 4:40pm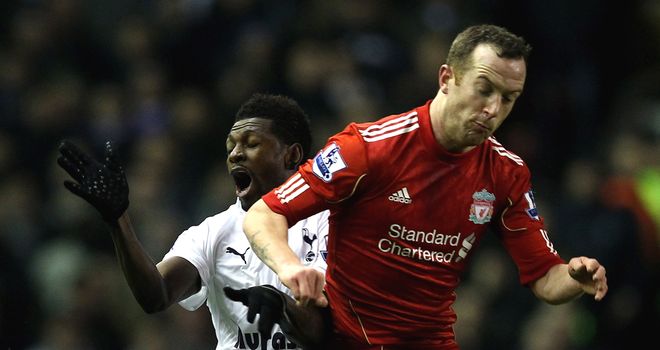 Liverpool star Charlie Adam believes winning the Carling Cup could be the first step towards a successful future for Kenny Dalglish's side.
The Reds have not won a trophy since lifting the FA Cup six years ago and Sunday's match against Cardiff is the club's first final since the Champions League defeat by AC Milan in Athens in 2007.
Liverpool are big favourites against the Championship club and Adam believes his team must seize this opportunity.
"For me, it will be a proud occasion. This club is a massive club that has won trophies at home and abroad," said the former Blackpool midfielder.
"When I came here, I said I wanted to win trophies. Fortunately the final of the first competition of the season has come around, and we are in it.
"We've had to work hard to get here and we will do our best to enjoy the occasion but the only way we can do that is by winning it.
"To be part of a team which is successful is great. We are on the first step towards success, and if we can do that, then great.
Opportunity to win
"When you get the opportunity to win a trophy, you have to take it.
"You can see from the selections the manager has made right throughout this competition that we have wanted to win it from day one.
"Other teams maybe don't play as strong a side as they could, but we have said from day one that we want to win every competition we enter, and we are still involved in three competitions now."
But it has not been plain sailing for Liverpool this season with Dalglish having to bed in numerous new signings.
For many, the arrival at Anfield has been a significant step up and Adam is willing to admit it has been a challenge to adapt to the high-pressure environment.
"At the end of the day you know the expectations as soon as you walk through the door," added the 26-year-old Scotland international.
"You see the players that have played here, and the amount of trophies that have been won. The expectation is here.
"It takes time for players to settle in, but we have a wonderful support that will back the team to the hilt no matter how well they are playing.
Challenge
"You have to fight every week to get into the starting 11 at this club. It is a challenge that everybody has to take - it doesn't matter who you are.
"As long as the players are giving 110% for the fans, the supporters will accept that.
"We try to do that every week and there have been very few games this season where we have let ourselves down.
"As a group of players hopefully we can achieve something special."
And Adam is particularly grateful for the support he has received from Dalglish, who tried to sign him in January 2011 before finally landing his man in the summer following Blackpool's relegation.
"He (Dalglish) has put a lot of faith in me," added Adam.
"He brought me here and I owe a lot to him because he gave me the chance to sign for such a wonderful club.
"Kenny is very different to Ian Holloway (the Blackpool manager). But I learned a lot from Ian Holloway and I am learning a lot from Kenny Dalglish. No two people are the same."