Football Expert & Columnist
Gunners misfire
Arsenal were defensively impressive but toothless in attack at Stoke, Jamie Redknapp told Sky Sports.
Last Updated: 26/08/12 4:29pm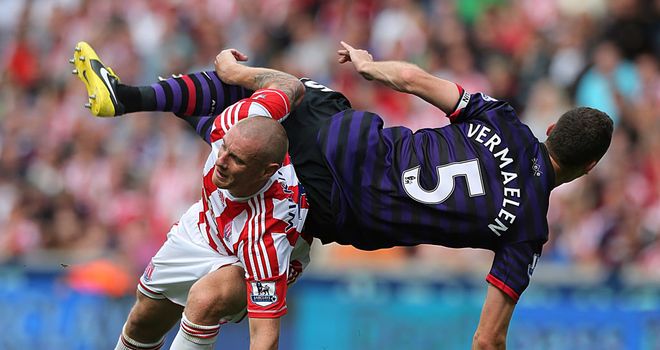 Arsenal can take positives from their performance at Stoke, but their attack is looking toothless, Jamie Redknapp told Sky Sports.
The Gunners have often struggled with the physical threat of Tony Pulis' side, but Arsene Wenger's men stood firm at the Britannia Stadium, keeping Peter Crouch quiet all afternoon on Super Sunday.
However, the visitors rarely looked like finding the net and that will be a concern for Arsenal fans, said Redknapp.
"Arsenal can take plenty of positives for their defensive display," he said.
"Per Mertesacker and Thomas Vermaelen handled Peter Crouch beautifully. They didn't really have any problems all afternoon.
"However, it just isn't happening for Olivier Giroud up front at the moment; he's snatching at things.
"Last year he got 25 goals in the French league, but it just doesn't look like it's happening. Perhaps that's the pressure of Robin van Persie's departure.
"I was disappointed in both him and Lukas Podolski, to be honest. Changing Robin van Persie's 30 league last year for those two, at the moment I'd say they've got problems in that area.
"Santi Cazorla's come in and been exceptional but he didn't do a lot in the second half and for me those two aren't in the same league as Van Persie."
Crowd calmed
Gary Neville agreed with Redknapp that Arsenal had defended well and pointed out that by shutting out Stoke they'd kept the crowd quiet too.
"That's the best I've ever seen Arsenal control Stoke," he said. "For the first time, coming away from the Britannia, they'll be thinking to themselves they handled them in areas of the pitch they've never handled them before.
"Stoke fans get the team up when they get the second balls and the set-pieces come in, but Arsenal handled every set-piece and that completely killed the crowd.
"Stoke couldn't create any momentum and I think you have to give Arsenal great credit.
"Stoke worked hard but couldn't get a foot in the game."