Football Expert & Columnist
Bring back Owen
Liverpool must send out an SOS to Michael Owen after a "disastrous week", says Jamie Redknapp.
Last Updated: 03/09/12 8:28am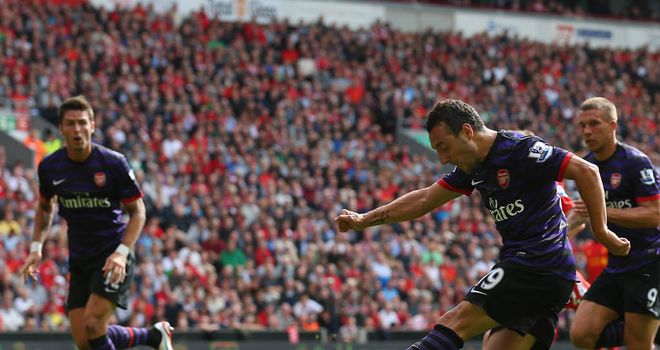 Liverpool must send out an SOS to Reds legend Michael Owen after a "disastrous week" on and off the field, according to Sky Sports' Jamie Redknapp.
The Reds ended a frustrating week - in which they failed to sign a new striker on deadline day despite letting Andy Carroll go on loan to West Ham - with a 2-0 defeat to Arsenal at Anfield.
On transfer deadline day Brendan Rodgers missed out on Clint Dempsey, who moved from Fulham to Tottenham, leaving Luis Suarez and Fabio Borini as the only recognised strikers in his squad.
And former Liverpool and England midfielder Redknapp believes Rodgers must now bring back ex-England striker Owen after making a major mistake in allowing Carroll to leave without a replacement in place.
"If I was them the first thing I would do is go and get Michael Owen now," he told Sky Sports. "He is free agent. They need to do something because at the moment there are real problems for Brendan."
Owen is currently without a club, despite being heavily linked with a move to Stoke in recent weeks, and therefore is free to sign for a club outside of the transfer window. And for Redkapp an Anfield return for Owen, who scored 158 goals in 297 games for the Reds, is the only option left for Rodgers.
Disastrous
"It has been a disastrous week," Redknapp told Sky Sports. "People talk about the plan B; the plan B is now at West Ham. What they have done this week and the pressure Brendan Rodgers has put himself under, by letting Andy Carroll go, is beyond me.
"It is almost like you are playing roulette. If you are not going to a replacement you have to get Clint Dempsey but they have not got him so you keep Andy Carroll.
"Anybody who was watching West Ham yesterday, and particularly Liverpool fans, will be thinking, 'what are you doing?' Borini and Suarez are Liverpool's only recognised forwards. They have put themselves in a really difficult position now."
Sloppy
Redknapp described Liverpool's performance in defeat to Arsenal as "really sloppy" and criticised the roles of Glen Johnson in the Gunners' first goal - scored by Lukas Podolski - and Jonjo Shelvey and Pepe Reina in Santi Cazorla's strike.
Redknapp said: "Shelvey had to see the run and, like Johnson in the first goal, doesn't do enough. Pepe Reina as well, it was poor goalkeeping. It was not good enough. One of the best goalkeepers in the world has to save that."
The former Red, though, was also quick to praise the Gunners, primarily midfielders Abou Diaby and Cazorla. Diaby, in particular, put in a commanding performance in midfield and appeared a natural replacement for Alex Song, who departed for Barcelona during the transfer window.
Perfect
"I have always liked him," Redknapp said. "Unfortunately his career has been injury-ravaged but when he plays he has that lovely mix of finesse and power.
"His whole game was pretty much perfect. He went through the whole repertoire; touches, power, running away from people, incisive passing, Cruyff turns. He has everything in his game. He was a different class."