Football Expert & Columnist
Rivalry and respect
Liverpool can beat Manchester United on an emotional Sunday at Anfield, says Jamie Redknapp.
Last Updated: 21/09/12 3:52pm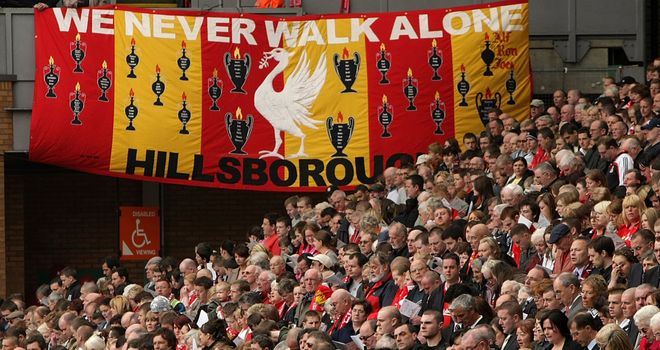 Liverpool against Manchester United is always the biggest game on the calendar for those two clubs - but following last week's report from the Hillsborough Independent Panel, Sunday will be a tremendously significant day for the home side and their fans.
This will be the first Anfield game since investigators concluded a police cover-up had taken place following the Hillsborough disaster which took 96 lives at the 1989 FA Cup semi-final between Liverpool and Nottingham Forest.
When that announcement was made last week it was a hugely momentous day for Liverpool - and the special tribute paid by Everton on Monday night ahead of their match with Newcastle showed how the tragedy affected the whole area.
However, the respect shown at Goodison Park was exactly what I'd have expected after getting to know the city's people during my 11 years there as a player.
Coming from Bournemouth I didn't know what to expect going to a big city like that, but the people blew me away with how friendly they were and how they get around each other in times of difficulty. They're special people.
I signed for Liverpool three years after Hillsborough and every day I walked past the eternal flame and every day I was reminded of the tragedy. To send your kids to a football match, a place where you expect them to be safe and have a great day out watching an FA Cup semi-final, and then to never see them again is terrible.
To have that compounded by never finding out why it happened or who was to blame - and for the Liverpool fans to be made to feel they were the culprits - is nothing short of disgusting.
Those families have kept their dignity, stuck to their task and never given up hope. The report is 23 years late, but at least now they can start to get the answers they want.
United are of course Liverpool's great rivals but they are a club who have experienced tragedy in their history as well. Kenny Dalglish recently told me that Sir Alex Ferguson and Sir Bobby Charlton turned up at Anfield shortly after Hillsborough to offer their support. That shows that, beyond the rivalry, there's a real respect between the two clubs.
Hopefully we are talking about that after the game, rather than one or two individuals in the crowd who try to ruin the occasion for everyone.
Electric atmosphere
On the pitch there won't be any love lost though. I've played in North London derbies but Liverpool v Manchester United is the game in England. The atmosphere is red hot; it's electric.
In the weeks building up to the game, as a player, you can't even pop out to get a newspaper without someone stopping you to say 'win this game for us'. Whether you're English, Danish, Dutch or Uruguayan, you know how important this game is.
Liverpool have won three out of the last four of these derbies at Anfield and Brendan Rodgers will be well aware this could be the turning point in the season for him.
I thought there were a lot of positives for Liverpool in their 1-1 draw at Sunderland and I particularly liked seeing Raheem Sterling on the right. We've become accustomed to seeing left-footed players playing on the right - Lionel Messi has mastered the art - and tactically I'd like to see Sterling playing there against United on Sunday.
Key battles
Sterling's a good player and I think there's a weakness there for United. Sterling has got the pace to go down the line or he can cut in and cause Patrice Evra problems, assuming the Frenchman gets the nod ahead of Alexander Buttner. This will be Evra's first time back at Anfield since his clash with Luis Suarez - yet another sub-plot to this match - and he'll no doubt be a little nervous after what happened last year.
Of course whether Evra and Suarez shake hands will be another talking point before kick-off. To be honest I would like to see the pre-match handshakes removed completely. Since they've been introduced they've just caused problems. It puts footballers in a difficult position and to make someone shake someone's hand if they don't want to doesn't seem fair to me.
It seems people want to keep it there because it brings more interest - but I don't think it's positive and I don't think it adds anything to the football match. If people want to shake hands after the game then great, if not then fine.
Focusing on Suarez's football, I have to say I've been a little disappointed with him this year. It seems he's desperate to show everyone what a good player he is, but ends up dribbling the ball until he loses it.
But he's a good player and I like watching him - and I think Nemanja Vidic and Johnny Evans could be good match-ups for him. They are both players who defend very upright and if Suarez can get them one-on-one he can do some damage. Vidic isn't quite right at the moment - which isn't a surprise considering his long lay-off - and he's been sent off three times against Liverpool, twice at Anfield.
His battle with Suarez and Evra's match-up with Sterling will be the key battles Liverpool have to win to be victorious on Sunday - and I think they can do it.
United aren't quite firing on all cylinders yet and there's going to be a lot of emotion before the game and the crowd are going to create an incredible atmosphere. If Liverpool's players can feed off that - and not be distracted during the game by the occasion - I think they can edge a very tight game 2-1.