Football Expert & Columnist
Poles apart
A morale-boosting win over San Marino will help England ahead of a tricky tie in Poland, says Jamie.
Last Updated: 11/10/12 5:50pm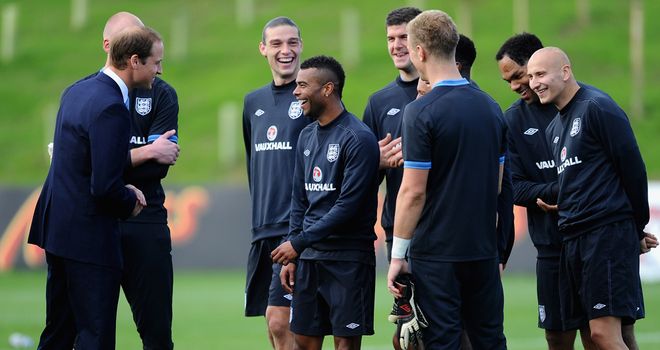 After dropping two points at home to Ukraine in their last World Cup qualifying game at Wembley, England will no doubt score a morale-boosting win over San Marino on Friday, ahead of a much tougher trip to Poland next week.
San Marino are the lowest ranked international team in world football, sitting in joint 207th with Bhutan and the Turks and Caicos Islands. In their Euro 2012 qualifying campaign they lost every one of their 10 games, conceding 53 goals and scoring none, including an 11-0 defeat to Holland.
Perhaps it is time for FIFA to consider a pre-qualifying process, where teams such as San Marino have to qualify to reach this stage. It would certainly save a lot of time. However, it's a tough call because, for their players, taking on England at Wembley on Friday night will be the pinnacle of their careers and they most likely wouldn't get that opportunity if they didn't automatically reach this stage.
But whatever happens down the line it's important for England to do a professional job on Friday, rack up plenty of goals, avoid any injuries and go to Poland full of confidence ahead of Tuesday night's game in Warsaw - because that will be a far harder task.
Check out the latest football betting odds at Sky Bet
It's not going to be much of a spectacle on Friday night, though; England will be faced with a wall of San Marino players for the full 90 minutes. Usually you'd say if the bigger team could get an early goal the lesser opposition would have to come out and play, but I can't see that happening in this match. England could go 2-0 or 3-0 up early on and San Marino will still sit back and defend.
However, Poland will pose a bigger threat. It seems England are drawn with Poland in almost every tournament and there's a lot of history between the sides - they're usually tough games for England, too.
This current Poland outfit are a physically strong side with plenty of six-foot-plus players. Fortunately for England Poland captain Jakub Blaszczykowski is out due to injury but up front Borussia Dortmund striker Robert Lewandowski will cause problems.
Manchester City fans will recognise him after he played against them in the Champions League last week and I saw him score a great goal against Ajax recently. He reminds me a little of Dimitar Berbatov - although he's more dynamic - with the way he brings people into play. He's Poland's talisman.
England still have the quality to beat Poland but it will be a difficult trip. Matters haven't been helped by the 1-1 draw at home to Ukraine in September. It hasn't exactly put England on the back foot but it has put a little more pressure on the matches with Poland because a defeat in Warsaw would leave England needing to go and get a win in Ukraine and then beat Poland at home to ensure they go through, which isn't ideal.
Rooney's role
Certainly a key man for England in that game will be Wayne Rooney and on Thursday afternoon it was announced he'd captain the Three Lions for the game with San Marino.
In the build-up to these fixtures the Manchester United man had spoken about the senior role he feels he has in the side and this announcement is a real statement of intent by Hodgson, saying to Rooney 'there you go, when Gerrard decides to retire from international football, you could be the one to take over'.
For me the safe option would have been the goalkeeper Joe Hart. He's very mature for his age and could have led England in the same way Iker Casillas has for Spain.
However, Roy has made a bold move and, for me, gone with the far more dangerous option. The England captaincy has been a poisoned chalice in recent years and it's no secret Wayne has had his problems for England - you only have to look at the Montenegro game in qualifying for Euro 2012.
But perhaps Hodgson has looked at David Beckham's captaincy of England. Beckham also had highs and lows with the national team, just like Rooney, and was at a similar stage of his career when he got the armband. And, with Hodgson now looking to a new era with England, perhaps he sees Rooney as the leader of that group.
It's a real boost for Wayne to get the armband for this game and I hope this can help take his game to the next level for England, as it did with Beckham. But being England captain comes with a lot of responsibility and if this goes wrong the press will really get their teeth into this one.
Jamie will be providing his weekly tips at Sky Bet
Cole's legacy
Another England player who has been in the spot light in the build-up to these games has been Ashley Cole. I'm sure he regrets what he posted on Twitter last week but I thought it was strange his apology to the FA was so quickly accepted and the FA Chairman David Bernstein said the matter was closed. It seems odd to me Cole can say something like that, say sorry and it all be ok.
Unfortunately events such as that off the field will affect Cole's legacy. He will move into a select group of players if he features against both San Marino and Poland by winning his 100th cap in Warsaw and he's the best left back we've ever produced in England, without a doubt. He's all-action, he makes goals, he's a great defender and there's no weakness to his game; as a player he's sensational. But unfortunately that's not all people will remember him for when he retires.
St George's Park
The other big story surrounding England this week was the opening of St George's Park - the new centre of excellence in Burton. It's exactly what we need, for the development of more coaches more than anything. I don't think we should get too hung up on the idea we're suddenly going to start producing Lionel Messis and Andres Iniestas straight away because that will take time. But what we will be able to do is produce better coaches for youngsters starting out in the game.
Personally, I'd also like to see the FA take this opportunity to develop a structure for England sides at all international levels and say 'from U15s we're going to play a system and we're going to stick with that right through to the first team'.
If we want to produce these lovely, technical players we need to start playing a style of game that supports that. Or if we're going to go for a 4-4-2 because that's how Roy Hodgson likes to play then fine, but we should stick with that throughout the age groups.
It frustrates me when I watch the U21 team play one system and then a few days later the senior side play a completely different system. When a player has to make the transition from U21 to first team it would be seamless if the teams employed the same style. At the moment it looks like they're all going in different directions.
I know there are certain games and certain times when formations and styles change and you need to alter the way you play, but I'd like to see the coaches in England stick to a style and we can look to produce players who play in those positions.
This is also a chance to teach coaches to tell kids when they've got the ball not to just lump it forward but try and get our kids playing in all areas of the field. If they make mistakes well, unlucky. At that age it doesn't matter - it's at U21 level and first team levels when it counts.