Football Expert & Columnist
Past his peak
Rafa Benitez won't be able to get Fernando Torres firing - injuries have taken their toll, says Jamie Redknapp.
Last Updated: 01/12/12 10:08am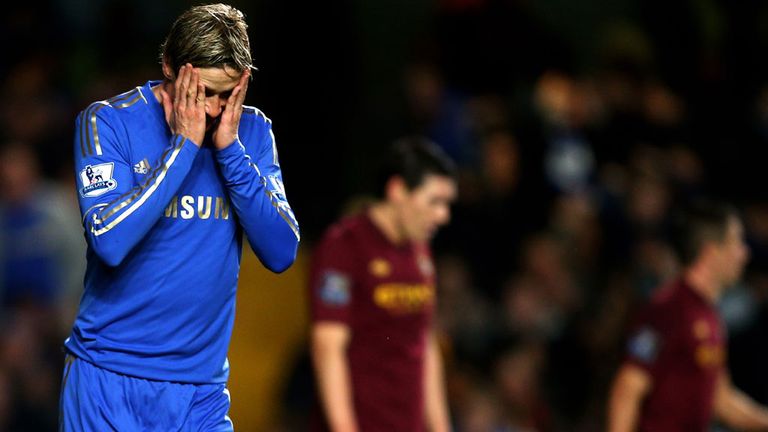 When Rafa Benitez arrived as Chelsea's interim boss last week some people suggested he would be able to help his former Liverpool ace Fernando Torres end his goal drought - but the Spanish striker's problems will not easily be resolved.
In his first 180 minutes playing under Benitez again, Torres' frustrations in front of goal have continued, with Chelsea drawing blanks at home to Manchester City and Fulham.
That doesn't surprise me because, in my opinion, Torres' failure to hit the heights he reached when he first arrived at Anfield is not down to who his manager is but the impact a string of injuries have had on his body.
Towards the end of his time with Liverpool it seemed a downturn in quality from the Spain international was caused by his desire to leave the club but, having seen how he's played at Chelsea, it proves it was much more than that. Injuries have taken their toll.
Certain players are superstars at a young age and hit their peak at 20, 21 years of age - but hamstring strains and groin injuries are like kryptonite for these players; they can strip them of that extra yard of pace which would take them away from their marker.
We saw it with Michael Owen and now we're seeing it with Torres. I can't remember the last time I saw Torres run away from a defender, get his body across them and score - his ability to do that used to set him apart. If he got in front of you it was 'goodnight' because he was so strong there was no stopping him. But now people can catch him - and once that happens you're just a mere mortal.
If it falls on his right foot in the box he'll score, because he can still finish, but, as good a player as he is, he hasn't got the little skill or trick to get out of trouble and that's why he's not the player he was. And I don't think we'll see that Torres who lit up the league in his first season or two at Liverpool ever again.
Suggestions Benitez could resolve his problems were misplaced - and besides, if you look at his goals at Liverpool, it was Steven Gerrard, not Benitez, delivering him the goal scoring chances.
Chelsea have tried everything with him now, and I think it's time they accept they need to look for another option in January - and unfortunately Torres can't complain if they do go and get someone like Falcao when the transfer window opens.
I remember an interview Torres did last year when he said he wasn't getting the supply he wanted - well now he has Eden Hazard, Juan Mata and Oscar and he's still not scoring. Chelsea made him the main man, got rid of Didier Drogba and the pressure of having the Ivorian ready to come on and take his place - and he's still not scoring.
It must be hard for him but Chelsea need to realise it isn't the manager, it isn't the supply line, it's Torres. Like Owen, when you lose that pace you become only a good player, instead of the great one that he was.
Benitez no joke
As for Benitez, he certainly didn't get a warm welcome from the Chelsea fans on Saturday. At the moment a lot of people are saying he hasn't got a clue - but that's not true. You don't take a team to two Champions League finals, win one and nearly win the other - which Liverpool could have done if things had gone their way - without a clue.
People shouldn't turn this guy into a joke figure because he's anything but that. He knows how to organise a team tactically as well as anybody. When he was at Liverpool he'd take them to places where you thought they had no chance and get a result.
Two goalless draws isn't an ideal start but he has had very little time with the players so we shouldn't judge him too quickly. I can understand the criticisms and if I was a Chelsea fan I wouldn't be happy either - he broke their hearts a few times when he was with Liverpool.
It was certainly a strange decision, as I said in my column last week, but they had to get someone in. Chelsea need to finish in the top four this season and with Tottenham creeping up behind them the Blues fans mustn't let the anger they have for Benitez's appointment affect positivity towards the team. Football's hard enough without having your own fans on side and their two performances under Benitez have suffered because of that.
It wasn't long ago I was watching Chelsea win 4-2 at White Hart Lane, playing brilliant football and, despite not fancying them at the start of the season, I started to buy into the idea of them winning the title. But what's happened in the last few weeks has certainly affected them.
Hammers a hard test
And things don't get any easier this weekend. A trip to Upton Park to play this West Ham side is as tough as it comes. Although Sam Allardyce's side have lost their last two, they've only lost one at home this season. They are a powerful team, physically very, very strong and Chelsea, without John Terry and Frank Lampard, two strong men, could be vulnerable at set pieces.
West Ham will put the ball in the box as often as possible, they'll be looking to hit Andy Carroll, Kevin Nolan will be running off him and Matt Jarvis will be whipping in crosses from out wide. It will be a real battle. The Chelsea team of Jose Mourinho were able to win battles like this and also play teams off the park, but this current Chelsea side can't get embroiled in a war; they're not set up for that. If they stick to their principles they can get a result, but if they get into a war West Ham will beat them.
I suspect there may be more misery for Rafa and another draw to add to the two he's already got. Man City only left Upton Park with a point and I think Chelsea will do the same after a 1-1 draw. This is a really tough place to go and West Ham have got the best line-up they've had for five or six years there.