Football Expert & Columnist
Decision time
Roberto Mancini doesn't know his best XI - and it is affecting City's campaign, says Jamie Redknapp.
Last Updated: 07/12/12 5:44pm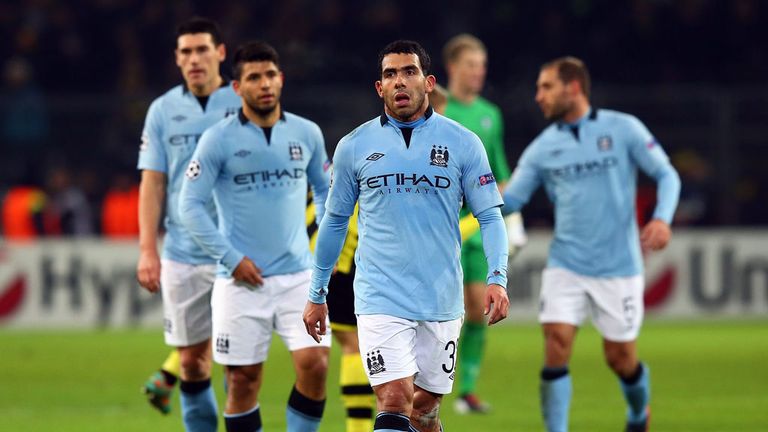 With Rafa Benitez and Chelsea experiencing all sorts of problems, it seems the Premier League is now a two-horse race - and the leading contenders go head-to-head live on Sky this Sunday.
Last season only goal difference separated Manchester City and Manchester United at the top of the table, with Roberto Mancini's side just edging one of the most thrilling title races in years. And the pair seem set for another close battle in this campaign.
Much was made of goal difference deciding the title but it was their two league meetings which were really crucial. City won both of those encounters and went on to clinch the crown. You can be sure neither side will be willing to give their arch rivals an inch come Sunday.
Following City's European exit, retaining the league crown is now so important to Roberto Mancini and his side. There is an argument which says it will help them, that they can now focus solely on the league. But no European football at all could cause problems, too.
Mancini has such a big squad and without Champions League or Europa League football there will be a lot of talented players not getting much action now this season. I suspect he's going to have a lot of unhappy players on his hands. But they've got an embarrassment of riches and that is the challenge of managing a squad with so many big names.
Selection
However, in other ways, it may help Mancini. When I look at Man City I don't know what their best team is - and I'm not sure Mancini does either. If he wants to win something this season he may just have to say 'let's get some continuity in this team, this is my eleven' and stand by them. If it means upsetting one or two, well, unlucky.
Wherever you play on the pitch you work with someone else and it is much easier if you know where their knockdowns are going to go, where and when to cover them and you appreciate each other's movement. Manchester City aren't getting that at the moment; they're not building any relationships with each other and that's causing problems.
That issue has been most clearly reflected in their frontline, where Carlos Tevez, Sergio Aguero, Edin Dzeko and Mario Balotelli are all vying for a place. After 23 games last year they'd scored 65 goals, this year they've got 40. That's a lot of goals to be missing out on.
I bet Robin van Persie doesn't even need to look at the Manchester United team sheet before big games, there's no point, he knows he's starting. Tevez, Dzeko, Aguero and Balotelli - they haven't got a clue whether they'll be playing. And that's not easy for players.
United are experiencing a similar problem with their goalkeeping situation. Sir Alex Ferguson can't choose between Anders Lindergaard and David de Gea and it isn't helping United's backline.
They had a strange game last week against Reading where, after going behind for the 14th time in all competitions this season, they battled back and won a seven-goal thriller. All the goals came in the first 34 minutes but, apart from that, the match was indicative of their season to date.
Neither Lindergaard nor De Gea are particularly commanding goalkeepers, unlike previous Old Trafford stoppers, Peter Schmeichel and Edwin van der Sar, and with Ferguson rotating them that's affecting everyone around them.
If you were playing United at the moment you'd focus on set pieces, go into real detail for free-kicks and corners, because their defensive organisation is a weakness at the moment.
I'm sure that's what City have been doing this week as that's what worked so well for them last season when these sides met at the Etihad and City captain Vincent Kompany headed the winner from David Silva's corner.
In that match Ferguson picked a team to go there and consolidate, rather than take City on. I remember Ji-Sung Park played, along with Ryan Giggs and Paul Scholes, but Yaya Toure was too powerful for the South Korean and they had to change it just before the hour. City's personnel were simply too quick and dynamic.
Ferguson won't make the same mistake again, though. He knows he handed the initiative to City with that defeat last season and he'll be more positive this time.
Point
However, a draw suits both managers - and I think this one could finish 1-1, which is a 6/1 punt at Sky Bet. Neither side are at their best at the moment, Mancini will be more than happy to maintain their unbeaten record and Ferguson will look at it as a point gained.
Of course, for City, a win over United would help the fans quickly forget their problems in Europe. It's the sort of game where you can silence your critics and all that's gone before can be forgotten.
Lose, though, and their failings in the Champions League and the amount of money they've spent will resurface again. The stakes are high.
Find out what else Jamie is tipping up in his Red Hot Tips here.