Football Expert & Columnist
Newcastle need to get back on track but Manchester City will have too much, says Jamie Redknapp
Man City will bounce back from derby defeat to deny Newcastle a much-needed win, says Jamie Redknapp.
Last Updated: 14/12/12 5:02pm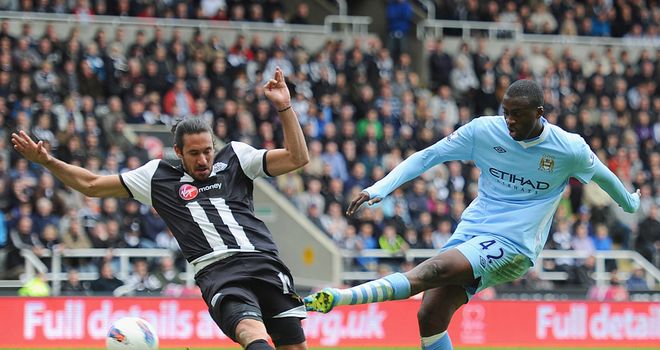 Newcastle are on a tough run of form but the visit of Manchester City on Saturday gives Alan Pardew's men the chance to jolt their season back into life.
Last year the Magpies finished fifth in the Premier League, were unfortunate not to sneak into the Champions League spots and an opening day win over Tottenham in this campaign suggested they'd be challenging for the top four once again.
However, their line-up has been continually disrupted by injuries and suspensions since that win over Spurs and they've regularly been unable to field Demba Ba, Yohan Cabaye, Cheick Tiote, Fabricio Coloccini and Tim Krul - the spine of their 2011/12 season - at the same time.
From suspensions for Coloccini to a long term injury for Cabaye - who is a real loss - Pardew has been dealt one blow after the other this season.
I don't believe their spot in the Europa League has helped either. That competition always seems to affect teams' league performances and, if you have a small squad, or one hit by injuries to key players, the travelling and extra games soon take their toll.
As a result of those problems they've only had one win in ten games - a 3-0 defeat of a Wigan side down to 10 men for nearly 80 minutes - and lost five of their last six; a terrible run has left them just two points above the relegation zone.
While I'm certain they won't go down (they have too much quality and will pick up some results soon) Newcastle will be desperate to get something out of this match to give themselves something to bite on and to get that fantastic home support behind them for the tricky Christmas period.
However, that's easier said than done with champions Manchester City coming to St James' Park.
Positives
Despite their stoppage-time defeat to rivals United last Sunday, City can take a lot of positives out of that match - which was a fantastic game of football.
City started the game brilliantly and the first time Joe Hart touched the ball was when he was picking the ball out of his net at 1-0 down. They conceded a second and, in truth, should have been three behind as Ashley Young's 'goal' should have stood - but after the introduction of Carlos Tevez on 51 minutes they became a completely different prospect.
The last time Tevez started alongside his Argentina team-mate Sergio Aguero City beat Aston Villa 5-0 and they scored two each. Surely it is time to unleash those two together again, because, they once again combined to lift City's performance levels on Sunday.
Aguero really comes to life with Tevez alongside him. He must look at Mario Balotelli's lack of work rate and movement and think 'if it's alright for him to get away with that why can't I?' Balotelli sets a bad example, while Tevez brings work rate, energy and City looked like they could cut through Manchester United with him on the pitch.
City could easily have won the game when they got it back to 2-2 and there was some brilliant football in the last 35 minutes of that game; it was played at such a high tempo but with so much skill as well.
It's just a shame what happened at the end with the coin hitting Rio Ferdinand. That stole the headlines, otherwise we'd be marvelling at one of best Premier League games of all time.
Samir Nasri took plenty of criticism after that game - and rightly so - but City should feel good about their performance. They'll also have good memories of going to Newcastle last season, where Yaya Toure scored a brace in their 2-0 win in the penultimate game of the season which set up that dramatic final day against QPR.
I reckon they'll have more good memories of St James' Park after this weekend as well - I'm going for a 2-1 win for City.