Football Expert & Columnist
Belgian Blues
Everton will miss banned Marouane Fellaini against resurgent Chelsea, says Jamie Redknapp.
Last Updated: 29/12/12 10:26am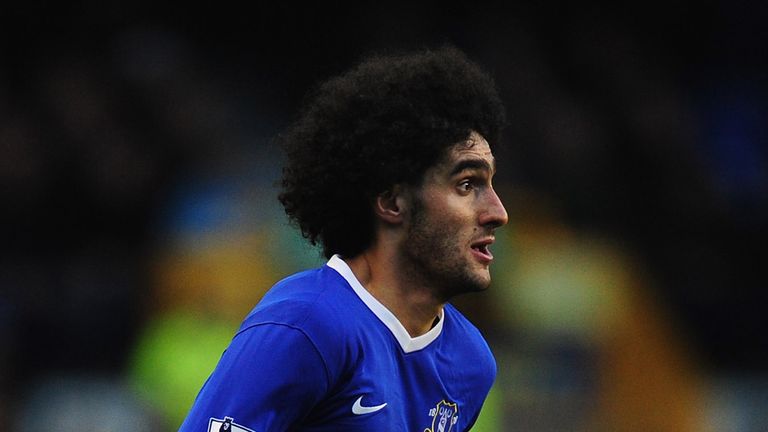 Despite being without the suspended Marouane Fellaini Everton secured back-to-back wins over Christmas - but they may just miss the big Belgian against Chelsea.
When Fellaini received a three-match suspension for head-butting Ryan Shawcross David Moyes must have feared his absence could de-rail his side and upset the balance of the team because the tall midfielder has been an integral part of their success this season.
However, the squad have responded to the challenge to earn wins over West Ham and Wigan and sit fifth in the league - and that's credit to the manager.
We've seen Victor Anichebe come in, score against West Ham and make a difference. He's not come back into the side with an attitude because he's not been playing; he's thinking 'I'm going to carry on the great work everyone else has been doing'. That's an example of the great work ethic and team spirit Moyes has developed at the club - and it's not easy to create that.
Much like Stoke, who celebrated a 3-1 win over Liverpool on Boxing Day, which stemmed from their effort and commitment to the cause, Everton are reaping the benefits of a fantastic team spirit.
They also have a squad of a good age, again like Stoke. Aston Villa are struggling for consistency this season, but you get that when you have a team packed with kids. Moyes and Stoke boss Tony Pulis, though, are in a position of strength because they have players who know their jobs, who are committed to their tasks and who are urged on by a passionate home crowd who don't allow them to slip below their standards. If you don't buy into the work ethic at Everton the fans won't have it.
It's going to be really difficult for them to break into the top four as I feel Spurs and Arsenal just have a bit more quality and strength in depth - and with the money they've spent that's no surprise - but if Moyes can repeat his January transfer window masterstroke of last season, when Nikica Jelavic came in and scored some important goals, who knows?
Year on year, Everton are getting better and better and this is probably the best team Moyes has had at the club - however, you need your big players for the big games and I suspect, with Fellaini on the sidelines for the final match of his ban, they may struggle against Chelsea.
Blues on form
The London side are on a high after drubbing Villa 8-0 and then winning at Norwich, where Manchester United have lost this season. They're keeping clean sheets, scoring goals and you can't do better than that.
Juan Mata is the obvious danger man and the one Everton must stop. He's up there among the top contenders for Player of the Season so far, while Frank Lampard added experience to their midfield against Villa and Torres - although not back to his best - has improved under Benitez (although he couldn't get much worse!).
Benitez has also moved David Luiz into midfield which is looking like an inspired decision. I'm not jumping on the band wagon but from day one I said the Brazilian would be better suited to midfield.
Good defenders think about the consequences of their mistakes but I don't think Luiz does that - and that's cost Chelsea goals. However, with two centre backs behind him, he can be a brilliant midfield player because he's got all the attributes you need: he's got a great touch, he's quick, he runs with the ball, he's good in the air, he can protect the back four and he can score goals.
He's got the lot and with him in midfield, rather than defence, Chelsea are a better side.
Whether they are good enough to push for the title, we'll have to wait and see. Manchester United are 11 points ahead of them after their late win over Newcastle. I felt if United had drawn that game Chelsea may just have had a chance - and for neutrals a rekindling of the rivalry between Benitez and Sir Alex Ferguson would have been fantastic.
However, Javier Hernandez's late winner gives Untied a healthy cushion and they've got the bonus of playing City and Chelsea at home in the second half of the season.
Chelsea just need to keep on winning to keep the pressure on and hope United and City slip up further down the line. That's easier said than done against a talented, hard-working Everton side but I feel this may be just one game too far without Fellaini for David Moyes men and reckon Chelsea will win this 2-1.