Football Expert & Columnist
Home comforts
Chelsea have stalled in front of a critical home crowd and need their fans onside when Arsenal visit, says Jamie.
Last Updated: 18/01/13 4:11pm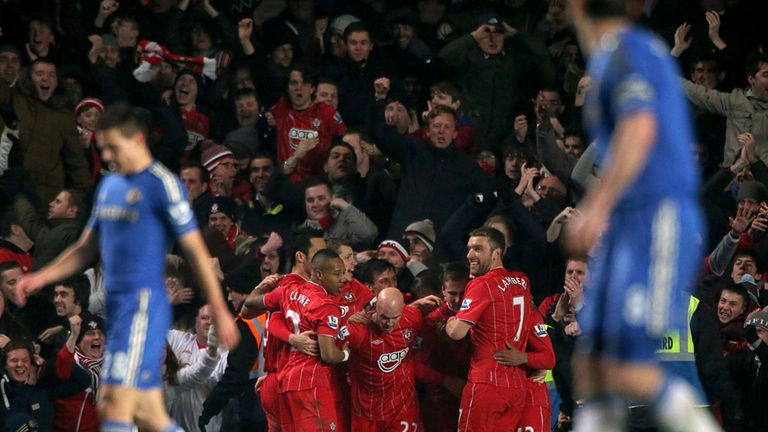 When Chelsea travelled to Arsenal in September and beat their London rivals 2-1 they looked like title contenders. Ahead of the return match at Stamford Bridge this Sunday, they're a team devoid of confidence on their home patch, with the boos from their own supporters still ringing in their ears after surrendering a 2-0 lead to relegation-threatened Southampton.
Chelsea had followed up that win at the Emirates with a 4-2 victory at Tottenham, who were really flying at the time, and we marvelled at their transition from a direct, physical outfit to a slick passing team packed with smaller, technical players.
But, four months on, Manchester United and Manchester City have gone clear at the top of the Premier League and the Blues are looking over their shoulder at the chasing pack pursuing them for the remaining Champions League places.
There's been a lot of talk about tactics and personnel at Chelsea - and the absence of John Terry hasn't helped - but confidence, or a lack of it, is central to their poor recent home form, which has seen them lose without scoring to QPR and Swansea as well as draw with Southampton in the past month.
Jamie's backing Chelsea and Arsenal to draw 1-1 - 6/1
The fans' negativity towards the manager is affecting the players, so while they can go to the Britannia, as they did on Saturday, and produce a tremendous 4-0 win, on Wednesday night at home to Southampton the players looked nervous, petrified to get on the ball and make the team play.
Rafa Benitez was a bizarre appointment as interim manager, given his Liverpool connections, and he's not impressed the Chelsea fans with a string of puzzling decisions, such as standing by the desperately out of form Fernando Torres and taking off Frank Lampard with the team in need of a goal late on against QPR and Southampton - a player, don't forget, who on countless occasions in the past ten years has bailed Chelsea out.
The club is also without a clear plan, which has been highlighted by Pep Guardiola's decision to join Bayern Munich in the summer. They sacked Andre Villas-Boas last season, brought in Roberto Di Matteo, somehow managed to win the Champions League against all the odds and that seemed to reaffirm their philosophy that change brings success.
So when Di Matteo struggled this season they got rid of him and brought in Benitez, without any thought or consideration about the fans. However, their slip-ups in the league have shown you need a bit more care and consideration about how you run the club to be successful, and you need to appreciate continuity is a key ingredient in long term success.
No doubt, at the end of the season, they'll look at the likes of Guus Hiddink or perhaps Jurgen Klopp at Borussia Dortmund, who's a good manager. But is Klopp ready for Chelsea? If you're not then it's a very difficult, tough place to coach because there's a lot of politics at that club. Guardiola must have looked at them and thought 'why would I want to go manage there, it's absolute chaos?'
Contrasts
Arsenal, in contrast, have stood by Arsene Wenger through thick and thin - but I believe he's facing one of the toughest challenges of his career to qualify the Gunners for the Champions League this season.
Myself and Graeme Souness are in agreement that reaching the top four last season is among Wenger's greatest achievements at the club, given the strength of Tottenham. This season Spurs are even stronger and Everton are well in contention for a Champions League place as well. On top of that, Arsenal are without Robin van Persie who virtually fired them into the top four single-handedly last year.
Check out the latest Premier League odds with Sky Bet
You wonder who is going to play that talisman role for Arsenal this season; Theo Walcott has had a good spell but can he maintain that? Meanwhile, Olivier Giroud and Lukas Podolski have done ok, nothing more, nothing less.
Jack Wilshere is their shining light and he popped up with a vital winner for them against Swansea in the FA Cup on Wednesday. They played with Abou Diaby and Francis Coquelin in midfield and that allowed Wilshere to play a bit further forward - a role I like him in - where he made things happen.
I expect them to play a similar formation on Sunday and he could cause Chelsea's backline problems but, at the other end of the pitch, Demba Ba will equally be a threat to an Arsenal backline which, despite the return of Laurent Koscielny and clean sheet against Swansea, will struggle to keep Chelsea out for the full 90 minutes.
It's a big game for both teams: Arsenal need to close the gap on Chelsea, Spurs and Everton, while it's an opportunity for the hosts to strengthen their place in the top four. Being a local derby, I'd expect the Chelsea fans to be behind their team, despite their grievances with the management, and that will help the home side. But I still think this is going to be a tight encounter, so I'm going for a 1-1 draw.