Football Expert & Columnist
Arsenal can edge new champions Man Utd, says Jamie Redknapp
Top four-chasing Arsenal will get a vital win over a relaxed Man Utd on Sunday, says Jamie Redknapp.
Last Updated: 26/04/13 4:18pm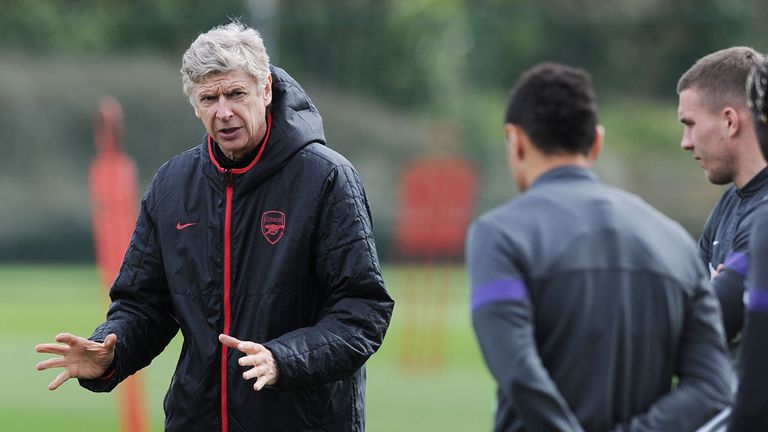 Although, really, the United players should be giving Arsene Wenger one as his decision to sell them Robin van Persie has been key to United reclaiming the Premier League title from Manchester City!
This is a good time for Arsenal to play United, though. While the Gunners are still battling Chelsea and Tottenham for a place in the top four, United wrapped the title up on Monday night and we've seen them enjoying themselves since then.
Of course, they're still professionals and will want to win the game but I suspect Sir Alex Ferguson may give a few fringe players a run out and may even rest Van Persie.
After all, what has Van Persie got to gain by playing in this match? United have nothing else to play for, he doesn't need to prove anything to Arsenal and he's just going to get a load of stick.
So, with all that in mind, Arsenal have plenty of factors in their favour this weekend and they need to take advantage.
Their win at Fulham last week will hardly make the list of top ten Arsenal performances under Wenger but it was exactly what they needed to do. And that's what the rest of the season will be about for Arsenal - ticking the games off one by one, grinding out the points they need to ensure they're in the Champions League next season.
We saw last season how they are able to produce those results at this time of year and they'll need to do it again as Tottenham and Chelsea will fight them all the way for those all-important third and fourth spots.
Crunch
Spurs travel to Wigan and, despite going nowhere for 70 minutes against City last week, their three second half goals could really be a catalyst for them to return to their best form just in time for the run-in. If they'd lost that match I think they'd have been out of the race - but I reckon the win will give them momentum.
Chelsea, meanwhile, play Swansea and I'd expect them, like Spurs, to pick up all three points. The pair of them meet on Wednesday May 8 in a real crunch match which could play a big part in determining who makes the cut.
Arsenal, though, just need to keep on racking up the points - although they will miss the suspended Olivier Giroud on Sunday.
Ok, he's not been a revelation this year but he does give them a bit of presence up front. We've seen in the Champions League this week with Robert Lewandowski at Borussia Dortmund and Mario Gomez at Bayern Munich that a front man like that gives you a focal point, you can play off them - and Arsenal's better results of late have come with Giroud playing that role.
However, I think motivation will be the key factor in this match and I reckon Arsenal, who are desperate to get that Champions League spot, will edge it 2-1