Fergie's best quotes
After the surprise announcement of Manchester United manager Sir Alex Ferguson's retirement, Sky Sports picks out his best quotes.
Last Updated: 08/05/13 6:29pm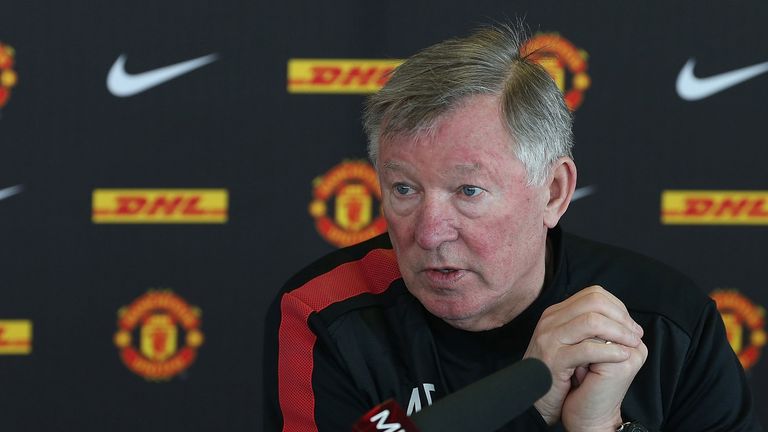 It was a sad day for the Red half of Manchester when, after 26 glorious years as Manchester United boss, Sir Alex Ferguson announced he will retire at the end of the current season.
It will be a fitting end to his tenure as he will lift his 13th Premier League title at Old Trafford on Sunday.
Over the years he has had a love-hate relationship with the media, but his thoughts and opinions have always got the world watching and listening, whether they agreed or not.
Here are 26 of his most memorable quotes that have caused us much humour and aroused much debate over the years, and contributed to the person behind the success.
"I can't believe it. I can't believe it. Football. Bloody hell," he exclaimed after winning the European Cup on May 26th, 1999.
"Only true champions come out and show their worth after defeat - and I expect us to do that," he said after being beaten by Arsenal for a second time in the league 2006 season.
"I'm privileged to have followed Sir Matt because all you have to do is to try and maintain the standards that he set so many years ago," an emotion Ferguson said after equalling Sir Matt Busby's Premiership record.
"At the end of this game, the European Cup will be only six feet away from you and you'll not even able to touch it if we lose. And for many of you that will be the closest you will ever get. Don't you dare come back in here without giving your all," Ferguson's team-talks were to the point.
"My greatest challenge is not what's happening at the moment, my greatest challenge was knocking Liverpool right off their perch. And you can print that," he said in response to Alan Hansen questioning Sir Alex Ferguson's future as Manchester United manager in September 2002.
"It was a freakish incident. If I tried it 100 or a million times it couldn't happen again. If I could I would have carried on playing," Ferguson said trying to play down the David Beckham 'boot incident'.
"He was certainly full of it, calling me Boss and Big Man when we had our post-match drink after the first leg. But it would help if his greetings were accompanied by a decent glass of wine. What he gave me was paint-stripper," Ferguson admitted he wasn't a fan of Mourinho's early offerings.
"I remember the first time I saw him. He was 13 and just floated over the ground like a cocker spaniel chasing a piece of silver paper in the wind," Ferguson said of a young Ryan Giggs.
"He was towering over me and the other players were almost covering their eyes. I'm looking up and thinking 'if he does hit me, I'm dead'," even he admits being intimidated by Peter Schmeichel.
"I bet him he wouldn't get 15 league goals and I'm going to have to change my bet with him. If he gets to 15 I can change it and I am allowed to do that because I'm the manager. I'm going to make it 150 now," (on Ronaldo).
"It can be difficult to pinpoint who would make it as a manager. For instance, nobody here thought Mark Hughes would become a manager, never in a million years, and we all thought Bryan Robson was a certainty to be a top manager," he said of his former players.
"The pace of the game demanded a referee who was fit. It is an indictment of our game. You see referees abroad who are as fit as butcher's dogs. We have some who are fit. He wasn't fit. He was taking 30 seconds to book a player. He was needing a rest. It was ridiculous," Ferguson's comments regarding Alan Wiley's fitness.
"I think he was an angry man. He must have been disturbed for some reason. I think you have got to cut through the venom of it and hopefully he'll reflect and understand what he said was absolutely ridiculous," was Ferguson's response to Rafael Benitez's 'fact' rant.
"You must be joking. Do I look as if I'm a masochist ready to cut myself? How does relegation sound instead?" he jokingly questioned when asked if Liverpool would win the title in 2007.
"The crowd were dead. It was like a funeral out there," he said of the lack of atmosphere at Old Trafford.
"In the tunnel Wenger was criticising my players, calling them cheats, so I told him to leave them alone and behave himself. To not apologise for the behaviour of the players to another manager is unthinkable. It's a disgrace, but I don't expect Wenger to ever apologise, he's that type of person," giving it both barrels to Arsene Wenger after Pizzagate, 2004.
"It's City, isn't it? They are a small club, with a small mentality. All they can talk about is Manchester United, that's all they've done and they can't get away from it," Ferguson said after seeing the 'Welcome to Manchester' poster featuring Carlos Tevez in a Manchester City shirt.
"Sometimes you have a noisy neighbour. You cannot do anything about that. They will always be noisy. You just have to get on with your life, put your television on and turn it up a bit louder," again referring to United's rivals in last season's ill-fated campaign.
"Sometimes you look in a field and you see a cow and you think it's a better cow than the one you've got in your own field. It's a fact. Right? And it never really works out that way," he said questioning the morals of Wayne Rooney's 2010 contract delay.
"The players couldn't pick each other out. They said it was difficult to see their team-mates at distance when they lifted their heads. It was nothing to do with superstition. This club went 26 years without winning the league and we didn't think about changing the red shirts. It's nothing to do with that at all," speaking about the infamous grey kit back in 1996.
"I can't understand the Leeds players. I'm absolutely in support of their manager (Howard Wilkinson). He doesn't deserve his players. If they had played like that all season they'd be near the top. They raised their game because they were playing Manchester United. It was pathetic. I think we can accept any club coming here and trying their hardest, so long as they do it every week," the quote that started Kevin Keegan's 'I'd love it' rant.
"Would Kenny [Dalglish] have signed for Blackburn when he was a player? I know what he would have done if United and Blackburn had both come in for him," explaining his true feelings on Alan Shearer's decision to join Blackburn instead of United.
"I will be leaving Manchester United at the end of the season and that is it," he said 11 years ago!
"It's getting tickly now - squeaky-bum time, I call it," he said talking about the title run-in with Arsenal in 2003.
"I am very excited. I think we have got the best young player this country has seen in the past 30 years," he said after signing Wayne Rooney in 2004.
"I won't be doing a Bobby Robson and be a manager when I am 70. It is just knowing when to quit. Football is like a drug which is difficult to give up," for the record he is 71.