Football Expert & Columnist
Football Season Preview panel convinced Gareth Bale will move to Real Madrid
Spurs are a selling club, says Jamie Redknapp, who is convinced Gareth Bale is off to Real Madrid.
Last Updated: 31/07/13 9:36am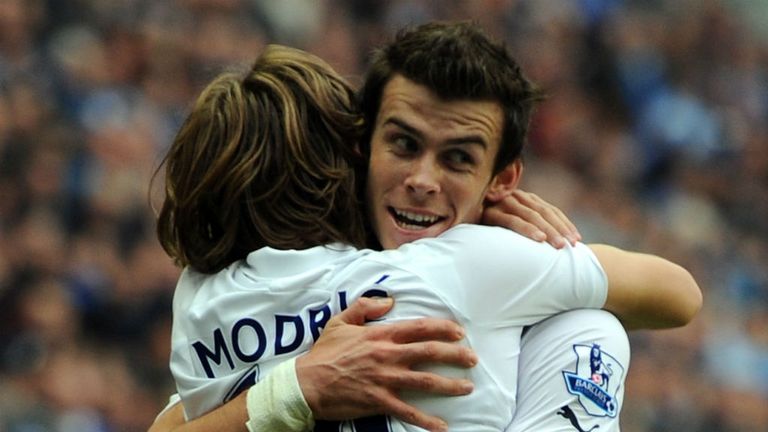 The Tottenham ace's superb performances during the 2012/13 campaign have caught the eye of the Spanish giants and Real have reportedly launched an £85m bid for the Welsh winger.
Despite Spurs stating the player is not for sale, former Tottenham midfielder Redknapp says the North London outfit is a 'selling club' and Bale will follow the likes of Michael Carrick, Dimitar Berbatov and Luka Modric through the exit door.
"At the end of last season I thought he'd still be a Tottenham player - but the way the landscape is now, things have changed," Redknapp told the Sky Sports Football Season Preview.
"Tottenham are a selling club and history would suggest that - go back to Carrick, Modric, Berbatov...
"Spurs also sell at the right price, though, and Bale is probably going to become the most expensive player ever. There will be a conversation between [chairman] Daniel Levy and [owner] Joe Lewis and I can only see one outcome and that's Bale will be a Real Madrid player."
If Spurs do accept Real's offer Redknapp is certain the Wales international will opt to switch to Spain and said any player in the world would relish the chance to test themselves at the Bernabeu.
"Real Madrid are the biggest club in the world - how can he turn it down?" said Redknapp.
"From what I'm gathering, in the last few weeks at training, his mind is ready to move now and what a challenge this is for that young man.
"To go and play for Real Madrid, Champions League football... It's a very difficult one for him to turn down."
Now or never
Graeme Souness also expects the PFA Player of the Year to leave for Madrid and says Bale must seize his opportunity to move to one of the giants of world football - because the chance may not come again.
"Real Madrid are such a lure and one that any player would find hard to resist and as a player you're thinking 'this might be my only opportunity'," said the former Liverpool captain.
"You can get injured, you can lose form... Go back three years and he's someone you'd have never thought would reach anywhere near the levels he is at now.
"But in those three short years he's become the hottest property in football; he's someone who excites, he's a door-opener, he's a match winner and he's a very special player.
"But he'll think 'it is now or never'."
Impact
Gaizka Mendieta, who played for Real's arch rivals Barcelona in 2002/03, reckons Bale has all the attributes required to thrive in La Liga and suggested that if the 24-year-old is eager to make the move it would be in Tottenham's interest to sell.
The former Valencia man says the huge sums on offer could give Spurs an opportunity to add a variety of top players to their ranks, while an unhappy Bale could disrupt the team next year.
"I think Bale would have a major impact," said Mendieta.
"When Real Madrid comes and knocks on your door it's hard to say no and it seems like it's going to happen sooner rather than later.
"For the qualities of Bale, La Liga could be great for him, and also the way Real Madrid plays.
"[New Real Madrid boss] Carlo Ancelotti has already moved Cristiano Ronaldo and is playing him up front, which allows Bale to play on both sides or in behind. Real Madrid would have a fantastic squad for next season.
"For Spurs, it would have been different if they were in the Champions League because then you build the team around Bale to be competitive, to challenge that tournament and the Premier League as well.
"But with that money you could build a new team for this season, the next season and for the future.
"And you don't want to keep a player who doesn't really want to stay in that team. It's going to have an effect on the rest of the dressing room."