Football Expert & Columnist
Tottenham must find attacking solutions to end goal drought, says Jamie Redknapp
Spurs have the best 'keeper in the league but must take more risks up front, says Jamie Redknapp.
Last Updated: 08/11/13 12:43pm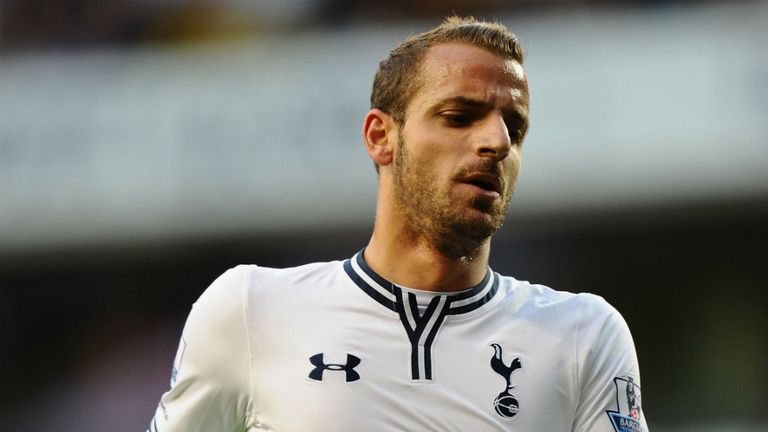 The problem is Tottenham fans are accustomed to exciting football - in the past, whether their sides have been good, bad or indifferent, they've always adopted an attacking style.
So, despite Villas-Boas' Spurs sitting in the Champions League places after 10 games, there is some discontent in the stands at White Hart Lane - but I get the feeling they'll improve.
When you look at the players they've got, they're better than a 1-0 team - a scoreline they've registered four times in the Premier League so far this season.
They just need to take the handbrake off and take some more risks.
The only time there's excitement is when Andros Townsend picks up the ball but, because Spurs are getting the results at the moment, the fans are having to suffer it.
If those 1-0 wins start turning into 0-0s or defeats, Spurs fans will start saying: 'We're paying good money, the club spent £100m on this team, we want some excitement'.
Where's the Luka Modric, Rafael van der Vaart or Gareth Bale? Erik Lamela has been in the same gear since he arrived in the summer and can't get in the team at the moment.
If it wasn't for the form of Townsend there would be big questions asked about why Spurs spent £30m on a player who can't even make the starting XI.
Defence
Fortunately, the defence is doing ever so well.
Spurs have defended brilliantly this season, as their seven clean sheets show - and, for me, Hugo Lloris is the best 'keeper in the Premier League at the moment.
There has been a lot of talk this week about him being knocked out against Everton and that may be good for the game in the long run and make people more careful dealing with these situations in the future.
But, putting that incident aside, he's shown this season he's a fantastic goalkeeper.
Tottenham play a very high line but he's a sweeper-keeper and is brilliant on the ball. He's so quick off his line, brave, and certainly one of the reasons why Tottenham are defending so well.
It's at the other end of the pitch they need to find some solutions as they have only scored nine times in the league this season.
Roberto Soldado is a good finisher but he's not like Wayne Rooney, Robin van Persie or Sergio Aguero, who make their own goals. He needs service and good deliveries into the box.
With left-footed Townsend playing on the right he very rarely goes to the byline and crosses it in. The England winger is more interested in cutting inside and having a shot or playing an in-swinging cross.
If you look at Soldado's goals last season for Valencia, though, seven of the 24 he scored in La Liga came from right-footed crosses from the right or left-footed crosses from the left. He's very good at nipping in front of his marker and finishing from close range.
But he must find the way Tottenham are currently playing, with the wingers swapped over, very frustrating. He must wonder where he's going to get goals from because so far this season three of his four strikes have come from the penalty spot.
This is all part of the great debate about whether managers or directors of football should be buying players.
Managers can be given players by chairmen and directors of football which aren't the type of player they want or who don't suit the system they want to play. But the managers know the team better than anyone else.
With Soldado, for instance, you need to be getting crosses whipped in. But if they haven't got anyone doing that Villas-Boas is left with a dilemma to get the most out of his forward.
Inconsistent
Newcastle, meanwhile, apart from teams in the relegation zone, have conceded more goals than any other side this season in the Premier League, so perhaps Tottenham will see this as a good chance to get on the front foot.
Alan Pardew must go back to his office after Newcastle games and think: 'What have I got here?' as they're so inconsistent
I've watched some horrific performances from them this season - against Man City they lacked fight and their defence was all over the place - But then, against Chelsea, who were looking really good, they won comfortably.
It must be hard for Pardew to fathom what his best team is.
That win over Chelsea was a great response after losing to rivals Sunderland but they need to build on that now and unfortunately for them they would have preferred a much easier game than Tottenham away.
This is going to be tough for Newcastle and I reckon Tottenham will win by the odd goal. I'm going for a 2-1 win to the hosts.